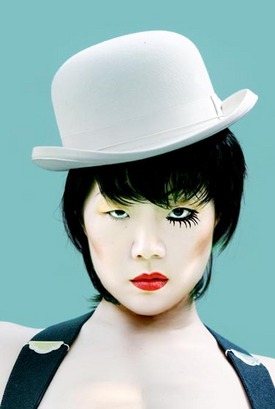 My crush on Margaret Cho (image via) just went ultra, with the utterly fucking fabulous article about her Sensuous Woman show in today's SF Gate Asian Pop column by Jeff Yang — and the fact that Maragaret's blog had become a full-on vlog of the Sensuous Woman tour and features slideshows and hilarious backstage antics. Tattoos and all, indeed. Here's a snip from the great Asian Pop piece,
(…) As she told tattoo blog Needled, her ink symbolized that "I own myself, and I can modify and create myself better and more perfect … and being a survivor of childhood physical and sexual abuse, as well as a myriad of eating disorders, this was an entirely revolutionary concept."

And now, she's doing it through the rawest form of revelation of all — getting down, dirty, and disrobed. "To me, this whole thing is so far removed from sex — it's about freedom, it's about self-esteem, it's about making visible what was invisible before," she says. "In the show, I have a little person, Selene Luna, the "Pocket Venus"; I have someone who's very voluptuous, Miss Dirty Martini. And there's me, of course. I want to show the full range of size that women can be, and to show people who are so beautiful, but are never seen in a sexual context at all."

But if the show sounds like nothing but a series of scantily-clad object lessons, that's completely off the mark. Cho's goal isn't in delivering a party line, but in lining up a party that delivers — and "The Sensuous Woman" does, with raunchy humor from transgender standup Ian Harvie, Gay Mafia Comedy Troupe member Kurt Hall (channeling gay rapper LISP), and delirious dyke Diana Yanez, who pairs with Cho in a dozens-duet called "My Puss" — throwing down vaginal volleys like "My puss is so fantastic, your puss it smells like burnt plastic" and "My puss so fine, I flaunt it. Your puss so old, it's haunted." It's catchy, it's got a beat and you can dance to it.

But the star attraction is still Cho herself — who takes on topics ranging from Britney Spears ("Britney did not look fat at the VMAs. She looked beautiful. If that's fat, there's really something wrong with America. She looked high, oh yes. But not fat") to Idaho Sen. Larry Craig, portrayed as a closet queen so desperate that he forages for penis in every nook and cranny, panhandles for leftover penis, and salvages abandoned penis so it doesn't go to waste.
Link.
Oh — and this just melted my laptop. In my lap.