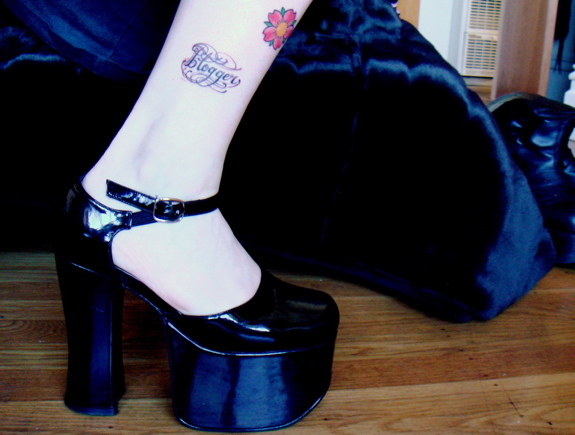 I'm done filling in for Jonno at Fleshbot and I had a blast, even with the evils of holiday/Santa smut (which we're all *totally* sick of at Fleshbot — another anorexic Eurochick in a Santa hat and I'm going to barf). I really, really love doing that kind of blogging and hope to do more of it in some fashion next year — and my favorite posts were The Enchanted Doll (for the beauty), Gallery 4D and Santa Claus Porn (Dot Com) and Naomi Campbell's Nude "Livescan" (for the fun I had writing, more than the actual links), Explicite-Art Blog (for the yummy free hardcore Euro porn), and Scary Holiday Sex Toy Gift Suggestions (for the horror, the horror). More horror: I found what I think is home of the new goatse (click at your own risk, for reals).
Holidays suck — I'm alone and a little sad-feeling. But, after waiting for two long months for my appointment with Scott Sylvia, I got tattooed yesterday (see above photo — it's really me), went to sleep in bandages, took this photo out of the shower, and then took this full-length nude shot of my new tattoos before getting dressed today. I was secretive and only told three friends about getting my tattoos, kind of because I wanted it to be *for me* and I did it by myself. They are the markers of a very intense year for me, one where I felt burnt down to the ground in many ways, and also more alive and open to beauty than ever. I've been by myself a lot lately (everyone is off with families for the week/end) and I'm just sort of rattling around the blogosphere. It's the anniversary of the exalted and the detrimented. Funny bit: I paid for my tattoos with my first Hearst/Chronicle check — they paid for my 'blogger' tat. It's the little things.
But you want some fun and dirty holiday erotica — yes? Me too! While I'm getting permissions and gearing up for a few holiday podcasts, check out the holiday erotica I have in the archives:
* Open Source Sex 24: Hot(ter) Holiday Smut (MP3) From The Merry XXXmas Book of Erotica by Alison Tyler — "Santa's Favorite Elf" by Molly Laster, with spanked feminine behinds and spontaneous lesbian exhibitionism; "Trimming The Tree" by Alex Mendra, featuring handcuffs and forced blowjobs; and N.T. Morley's "Christmas Morning", including a very unusual sex toy as a prelude to intense anal sex. Happy holidays!
* Video slideshow option: sexy and fun photo slideshow by Siege (Daily Siege @ Nerve.com)! Download the video file to watch and listen, only 30MB: http://violetblue.libsyn.com/media/violetblue/open_source_sex_24.m4v
* Open Source Sex 22: Holiday Erotica (MP3) Cozy up with some hot holiday erotica! Reading from The Merry XXXmas Book of Erotica, I dish out two explicit gems starring, well… holiday erotica anti-heroes, if you will. In "Here Comes Santa", a young woman escapes her crazy family and finds solace in a local sex toy store, buying herself a *big* holiday gift. In "'Tis The Season", an office worker with a very negative holiday attitude gets an attitude adjustment on his knees in the supply closet at the hands of a surprising blonde… Slightly snarky, hip, and fun stuff — just what the season calls for.
And, super older, with sketchy audio quality:
* Open Source Sex 3: Filthy Dirty Holiday Podcast (MP3) I was going to podcast the first three chapters of N.T. Morely's The Castle, but I decided, hey, 'tis the season — I've got some really hot holiday erotica. Check out two dirty stories about couples that cook up some very naughty holiday surprises in stories by Ayre Riley and Xavier Acton.
Update/sidenote: this is the 900th post for Tiny Nibbles! w00t!
Update 2: Scott blogged my blogger tat on Laughing Squid, yaaaayyy1