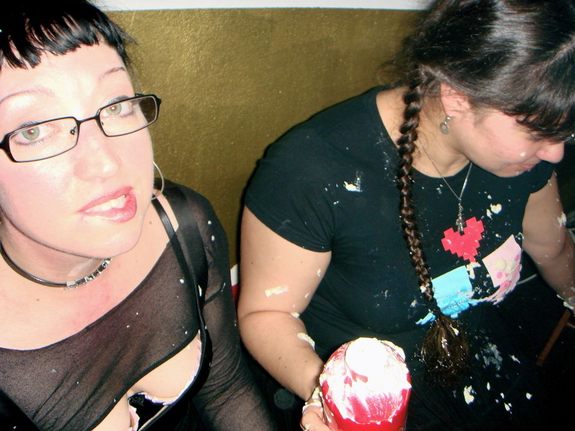 It's just after lunchtime and I'm sitting in the Roboexotica exhibition space on a lovely green vintage couch, actually literally in an installation that evokes modern retro cocktail culture. This is the definitive flavor of Roboexotica; it's the kind of festival that blends European socializing where nothing is rushed and the distinctive culture fetish that many hip young Euro artists have for Americana — but most of all, these are definitely the people whose conceptualizing of robots is strongly influenced by The Jetsons and Tiki cocktail culture sensibilities.

* * * * * * *
Whether or not the people at Monochrom and the dozens of students and artists who made all the Roboexotica pieces watched the Jetsons growing up, the future-kitsch atmosphere and playful attitude is clear. Once the doors opened last night, the spacious museum rooms filled with all kinds of people who bemusedly interacted with the mostly-functioning, alcohol-serving cabinet of curiosities on exhibit. Robots drove around bumping into chatty guests to deliver popcorn. Complicated machines delivered glasses down conveyor belts onto lazy susans to receive automated mixtures of ice and alcohols. Drinks were automatically mixed and set alight with a sizable burst of flame. Machines smoked cigarettes, and one even used facial recognition to map the human face before launching cigarettes toward the mouth a la our (SRL's) Pitching Machine. A garnish trebuchet launched cherries at me and my companions from across the room all night, never landing in our cocktails but often pelting us in the shoulder or stomach at humorous intervals in our conversation — the floor was littered with cherries by the end of the night.
It was a very fun space to be in — and there was live music (video game themes), and even families visited to see the machines. At one point I found Simone and myself being interviewed by a Wired reporter, and contrasting the human-machine interactions we create in SRL versus the human-machine mixer that was happening all around us. In SRL we confront with technology; in the Roboexotica space humans and machines have a wholly different interaction, one where stereos are in hi-fi and the romance of social cocktail hours is conjured with whimsically applied technologies. Um, and they get you drunk.
By the end of the night, it was an alcoholocaust. The floor was sticky (it still is), people were laughing *and* crying, there was kissing and cavorting, the bar was drained of alcohol (even at a pricey 4 Euros a pop) and the cocktail robots left standing and still functional by the end of the night ran out of booze. One injury was reported when a tussle resulted in a broken finger (poor Simone!), and I'm sure I wasn't the only one who woke up with an SRL machine sized hangover.
In the other room right now, Austrian TV people are touring and interviewing Monochrom and the few cocktail-bot makers who are here; I can hear the clunk-clunk-clunk of the icepick armchair being demonstrated, likely for the cameras. You can smoke everywhere in this town and my hair reeks of cigarettes and pipe smoke; it'll take me days after I get home to get the smell out, I'm sure.
I'm having a great time in Vienna, which is a very, very fun and accessible town. It's nice to have some downtime to hang out with my old friend Eddie and catch up on GETV life with Podtech (I'll be guest reporting for GETV later), and it was interesting to realize we hadn't been out of the country together since we did the 1999 Tokyo SRL show. Like me, Eddie was also invited by Monochrom to the festival — but what's interesting to me is that of the people who were invited, I'm the one actually doing the least. I helped a little with the flaming robot. And this friday I'm going on the Taugshow for a 20-minute TV segment (about me!). But that's it — other invited guests are expected to give talks and do panels. All I'm expected to do is be me, doing what I do, in this space. Blog.
I am a human blog, but you knew that. Now, if someone could just bring a robot that can sniff out and locate fine aged Scotch, I'd be all set.
Now Eddie and Jonathan have joined me on the green couch, laptops all in a row, cocktail robots in idle (on ice!) until tonight. The press asked everyone, 'why a cocktail robot'? The answer, of course: "Because robots are brilliant! And alcohol is brilliant! So they must be even more brilliant together!"
In a little bit we're off to see the pathology museum — Johannes is taking a bunch of us. Yay!