I've been getting a lot of mail about not being able to access all of my podcasts in iTunes, so here are a few screencaps — click to enlarge:
** Update: London Boy made me a present — this link launches iTunes and opens it to Open Source Sex! Thank you!
Type in "sex" and you get this:

Type in "Violet Blue" and you get this:

Type in "Open Source Sex" and you get this:

As you can see, it looks like I only have one podcast. But if you click the little arrow next to "Explicit", you get the full monty: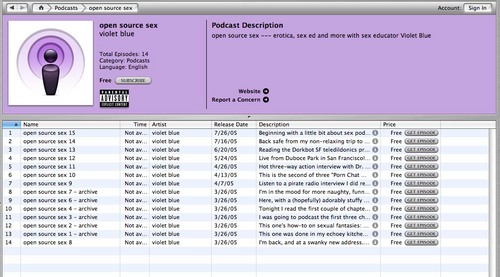 It's so cool to have the parental advisory label on my podcast. Oh, Tipper, your legacy will live forver!