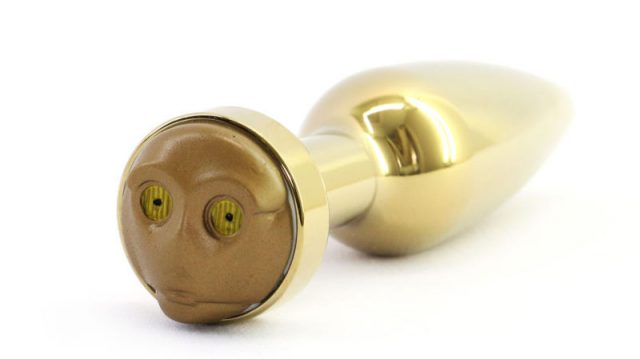 "The company, Geeky Sex Toys, has a history of making… geeky sex toys. Last year, as Mashable noted, it produced a series of Pokémon-inspired sex aids. There are also toys based on Rick and Morty (Dick and Horny), Power Rangers (The Mighty Moaning Anal Rangers), and Guardians of the Galaxy (Orgasms of the Galaxy). But the new "Star Toys" line is on another level and inspires some… questions."
* We Have Some Serious Questions About These Star Wars-Themed Sex Toys (io9)
"Today, PSVR game Fate/Grand Order VR feat. Mashu Kyrielight was released in Japan. It already has a VR porn parody, and the side-by-side comparisons are unexpectedly accurate. Well, save for the sex parts. Those aren't in the PlayStation VR game."
* Just Released PlayStation VR Game Already Has Porn Parody (Kotaku)
やっぱりDMM配信版のVRマシュの方がいいな pic.twitter.com/rMeJi3FwmK

— へっぽこ@FF14ハデス鯖 (@heppoko_san) December 6, 2017
"A federal appeals court ruled Tuesday in favor of a Virginia man who, as a teen, was once ordered by a lower court to be photographed while masturbating in the presence of armed police officers. That warrant was ostensibly part of an ongoing sexting investigation into the then-teen, Trey Sims, who had exchanged explicit messages with his then-15-year-old girlfriend. Her mother reported the incident to the Manassas City Police Department in January 2014."
* Forcing kid to masturbate for cops in sexting case was wrong, court finds (Ars Technica)
Find this post interesting? Support its creation on my Patreon page.
"In a windowless room at a two-story soundstage in San Francisco's Mission District, a group of women from different worlds met for the first time. Judd, every bit the movie star in towering heels, leaned in to shake hands with Isabel Pascual, a woman from Mexico who works picking strawberries and asked to use a pseudonym to protect her family. Beside her, Susan Fowler, a former Uber engineer, eight months pregnant, spoke softly with Adama Iwu, a corporate lobbyist in Sacramento. A young hospital worker who had flown in from Texas completed the circle. She too is a victim of sexual harassment but was there anonymously, she said, as an act of solidarity to represent all those who could not speak out."
* TIME Person of the Year 2017: The Silence Breakers (TIME)
"While homosexual anal sex between consenting men was legalised 50 years ago in the UK, the heterosexual equivalent became legal only at the millennium in England and Wales and was highly illegal in 1960. (The 2001 film Bridget Jones's Diary celebrated legalisation with a pretty explicit scene between Renée Zellweger and Hugh Grant.)"
* How huge gamble by 'Lady Chatterley' lawyers changed obscenity law forever (Independent)
It's almost here. #Hamiltoe pic.twitter.com/QkX3j9GR5w

— Lee Roy Myers (@leeroymyers) December 6, 2017
"[Terry] Crews said Venit stared at him from a distance and stuck out his tongue in an "overtly sexual" manner before approaching him. "I stick my hand out and he literally takes his hand and puts it, squeezes my genitals," he recalled. "And I jump back like, 'Hey, hey!' … I go, 'Dude, what are you doing?'" It didn't stop there."
* What About Your Friends? Why Hollywood's Abandonment Of Terry Crews Is Unacceptable (BET)
"On November 22, nominations for the GayVN awards, a prominent gay erotica industry honor, were announced after a seven year hiatus. Hunter was nominated in three major categories, a highlight after another busy year in the competitive world of gay porn. But the next day, Hunter publicly turned down his nominations and denounced the awards show on Twitter, due to the inclusion of a "Best Ethnic Scene" category, made up exclusively of minority performers. "
* The Gay Porn Industry is Still Super Racist (VICE)
Much gratitude to our thoughtful sponsor, Nubile Films.
"Glamour spoke to 15 women who work in different facets of the sex industry—porn performers, dominatrices, and cam models—about their choices to enter the business. Even beyond the financial freedom and the ability to travel that their career paths afford, many of them emphasized how they use their platforms to draw attention to social causes, highlight the contributions of marginalized communities, and help destigmatize sex."
* 15 Sex Workers on Why—And How—They Got Into the Business (Glamour)
"After dealing with health care providers who assumed she couldn't have sex and constantly questioned her lifestyle and partner choices, her first goal was was to help able-bodied people understand that folks with disabilities aren't children and can be trusted to know what their own bodies need and can handle. "We have agency over our own bodies," she said."
* The Sex Educator Teaching BDSM to People With Disabilities (Broadly/VICE)