"Sen. Ted Cruz (R-Texas) on Wednesday dismissed the reaction to his official Twitter account "liking" a pornographic tweet, saying … "I am saying that consenting adults should be able to do whatever they want in their bedrooms. The media and the left seem obsessed with sex, let people do what they want."" This runs contrary to Cruz's 76-page legal brief defending the Texas ban on the sale of sex toys, in which he said the government should be granted "police powers" for the purposes of "discouraging prurient interests in sexual gratification, combating the commercial sale of sex, and protecting minors." Furthermore, using "obscene devices," the state argued, was akin to "hiring a willing prostitute or engaging in consensual bigamy."
* Cruz on porn tweet: 'The media and the left seem obsessed with sex' (The Hill)
See also: Ted Cruz Doesn't Believe You Have the Right to Masturbate (Vanity Fair)
See also: Porn stars hate Ted Cruz (YouTube)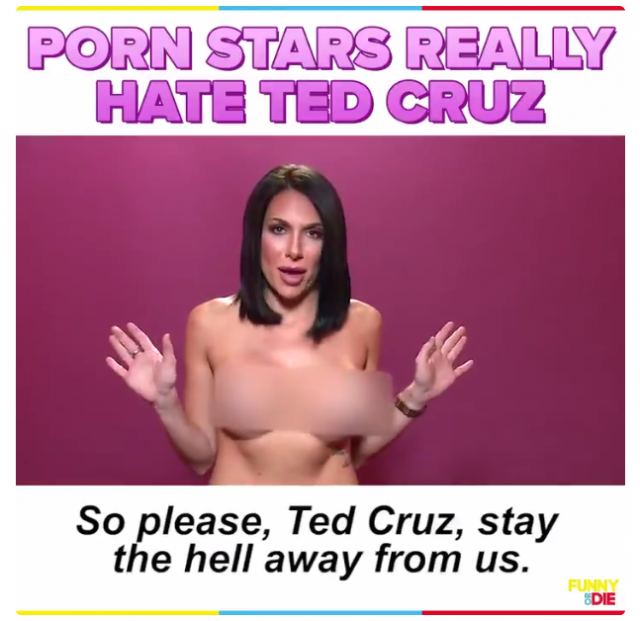 Find this post interesting? Support its creation on my Patreon page.
Not sure anyone here knows the difference between sex trafficking and sex work, and that's disturbing. "Bitcoin is often described as an anonymous way to pay online, but a group of researchers says that data revealed through the cryptocurrency might help track down sex traffickers. In a paper presented last month at the Association for Computing Machinery's annual conference on knowledge discovery and data mining, researchers analyzed sex-related ads placed on the controversial classified listings site Backpage. "
* Researchers Say Bitcoin Data Could Help Spot Sex Traffickers (Fast Company)
"Five nurses at Denver Health Medical Center were suspended for three weeks after they inappropriately viewed a deceased patient's body and talked about it, a hospital spokesman confirmed to Denver7 Investigates Tuesday. A tip to Denver7 said the nurses disciplined admired the size of the deceased patient's genitals and at one point opened a body bag to view parts of the body."
* Denver nurses suspended for opening body bag to admire man's genitals (Denver Post)
"Mario Ambrose Antoine, a Kansas City-area man who posed as an adult producer and talent agent to dupe women into having sex and film them, was sentenced today to 10 years in federal prison without parole. Antoine admitted to federal prosecutors that he defrauded at least 10 victims in a scheme that lasted for five years up until this past October."
* Man Who Used 'Porn Auditions' to Con Women Sentenced to 10 Years (XBIZ)
"The unions, which have a combined membership of over 600,000, are calling for the UK to adopt full decriminalisation, similar to the approach adopted by New Zealand, which since 2003 has provided sex workers with legal protections. As it stands in the UK, it is illegal for people selling sex to share premises or organise work with others."
* Major unions are getting behind decriminalisation of sex work in the UK (Left Forward)
Much gratitude to our thoughtful sponsor, Nubile Films.
Coming up: @humpfilmfest @vextape @CineSinclaire @CineKink @LdnPFF @Sky_D @ShineLouise #CrashCourse & more! https://t.co/9LJWB5l7eN pic.twitter.com/modEOvGJJy

— PinkLabel.TV (@PinkLabelTV) September 14, 2017