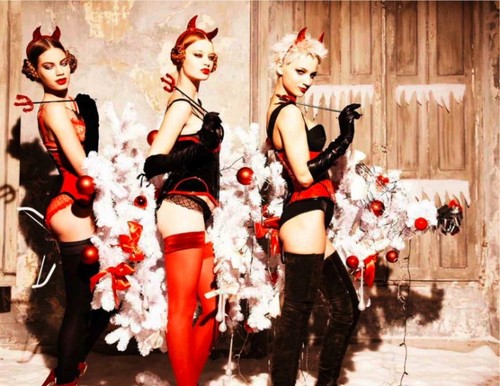 "George Michael has died of heart failure, according to the singer's longtime manager Michael Lippman. … Though he would not come out as gay officially until 2007, Michael was open about bi-sexuality and matters of sex in general … it was his first solo album Faith, which was released in 1987, which catapulted him to a virtually unprecedented level of fame. Beginning with racy first single "I Want Your Sex," which was banned by some radio stations due to its sexually suggestive lyrics (American Top 40 host Casey Kasem would not say the song's name on the air) and its video relegated to late-night plays on MTV, but still shot to No. 2 on the Billboard Hot 100, Faith's title track would lock in what would later become one of the best-selling albums of all time."
* Singer-Songwriter George Michael Dies at 53 (The Hollywood Reporter)
"… if you're getting paid extra to fuck somebody just because they are a specific race, yikes, it's hard to say that's not racist. I've heard some performers say they don't make the rules, but nobody is forced to capitalize off a racialized fetish … It's kind of strange sometimes because you'll see behind the scenes, everybody might be treated fine. But then when the DVD or scene comes out, it'll describe the non-white performers in a demeaning way or the scene with a more "diverse" cast might have lower production value. Not every performer of color will mind, but I know a lot of us do, and that's why I started shooting for myself only. I get to control the scenarios, my wardrobe, and the overall way I'm depicted."
* How to Make Ethical Porn in an Industry Built on Racism and Fetishization (VICE)
"One of the first comprehensive surveys on the subject estimates that about 1.3 million American adults (about one in every 189) currently identify as transgender."
* How many U.S. adults are transgender? (CBS News)
Please help support this website and its sex-positive mission on Patreon.
Happy Holidays from all of us at Pink&White ✌✊@ShineLouise @sydblakovich @jizlee @chrislowrance @ajapornfilms @tristancrane pic.twitter.com/7423EQvW4C

— Pink & White (@PinkWhite) December 25, 2016
The article doesn't mention that "last year" means it's actually data from 2015. Still interesting, just not as current as I'd hoped. "Below are the strangest, most awkwardly shaped, and least pleasant objects that America has shoved into its various holes."
* What Did We Get Stuck In Our Rectums Last Year? (Deadspin)
"Porn website CamSoda is launching BlowCast, a service that it's calling the "iTunes of Blowjobs" … adult performers can record themselves performing oral acts upon smart dildos. That footage, combined with the sensor data, is then sold to customers looking for a different sexual experience. Rather than developing its own hardware, CamSoda will leverage the gear produced by Dutch teledildonics startup Kiiroo."
* CamSoda launches a store for 'digital blowjobs' (Engadget)
""India is in the throes of a sexual revolution," declares Ute Pauline Wiemer, who cofounded LoveTreats last October with her husband and local partner Balaji T. Vijayan. This Bangalore-based sexual wellness startup claims to be growing rapidly with its home base, Mumbai, Hyderabad, Delhi NCR and Chennai as its top markets. Among its highest selling items are—vibrators, flesh lights, body paints and spunky wedding hampers. And half the buyers are women. "Women across India are shattering stereotypes, often against the will of their families and stringent societal norms, to reclaim their sexual rights," says Ute."
* What Women Want: An Open Online Closet Of Sex Toys (Outlook India)
Much gratitude to our thoughtful sponsor, Nubile Films.
Main post image: vintage Ellen Von Unwerth.