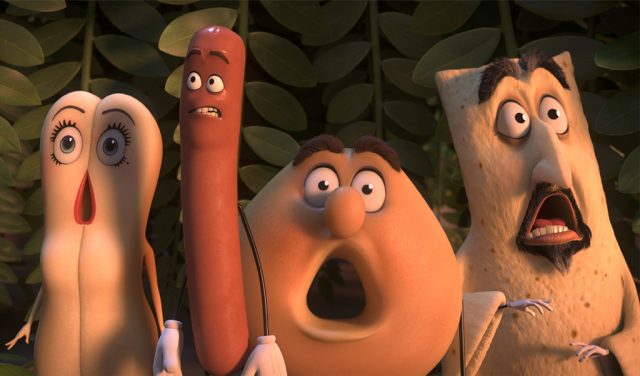 "An upcoming California ballot initiative could expose porn actors who perform without condoms to lawsuits and privacy violations. … This is according to a judge's ruling Wednesday in a hearing on the final ballot text for Proposition 60, which mandates the use of condoms in porn filmed within the state and allows any resident in the state of California to sue, and collect financial penalties from, producers and distributors of condomless adult content. It also requires producers to disclose their legal names and the addresses where filming takes place."
* Judge: Condom Bill Could Mean Lawsuits Against Porn Stars (Voactiv)
"Now there's a new study making the rounds that claims to offer empirical proof that today's young adults also have terrible sex lives. … As Stanford sociologist Aliya Saperstein has noted, such surveys tend to use heteronormative language and often don't reflect contemporary understanding of sex and gender as two distinct categories with more than two options. … Another problem, which the researchers noted in their paper, is that the definition of what constitutes "sex" is left up to the GSS respondents to decide."
* That study about millennials having terrible sex lives is probably bullshit (Vice)
Thanks to our sponsor in Spain, women-run Lust Cinema.
A true sex-positive pioneer who passed away last week. Thank you for all your work with @goodvibestoys. https://t.co/o51u824Jxj

— BitchMedia (@BitchMedia) August 12, 2016
"Domain name service company Rightside today said it recently sold two .live adult entertainment domains for six figures apiece. Sex.live sold for $160,000, while Porn.live was acquired for $120,000, said Rightside, which noted that the domain names rank among the highest for new gTLD domain name sales."
* Sex.live, Porn.live Domains Sell for $280K (XBIZ)
"Sausage Party is a raunchy R-rated movie for adults only. (We repeat, it's a raunchy R-rated movie for adults only!) It's full of cussing, politically incorrect stereotyping, a drug addict (James Franco) tripping on bath salts and hot dog buns with mouths that look like vaginas. And for that, it's the perfect movie to see this weekend."
* Why You Really Should See Sausage Party This Weekend (E! Online)
Much gratitude to our thoughtful sponsor, Nubile Films.
You can pre-order now and thank you for supporting https://t.co/c45KSonSuF #tv via https://t.co/LW9ilJ1tqO pic.twitter.com/t9mfXJ95bG

— Buck Angel® (@BuckAngel) August 12, 2016
"The digital get down is trying really hard to be as close to the real deal as possible — adult entertainment companies are now encouraging their viewers to strap on, plug in and participate. And cam girls say that the incorporation of virtual reality headsets is probably the future of porn, based on their personal experiences."
* Live Cam Girls Say Virtual Reality Is the Future of Porn (Mic)
"An insider tells E! News that behind closed doors, things are getting hot and heavy at Rio's Olympic Village. "It's pretty intense… some athletes wait until after their competition [to party] and then others have hookups between practices because they say sex actually helps them reach for the gold." Our source continued, "For the most part, these athletes are protected and careful because the condom stock is endless. They are extra careful this year because of Zika.""
* Find Out What Happens Behind Closed Doors at Olympic Village (E! Online)
"Banks and financial service companies for years have put barriers in front of adult entertainment performers, covertly declining services to them because of their occupation as sex workers. Now, it appears there is one more service — Airbnb — that has put a foot in the door to those in the business of adult entertainment."
* Porn Stars Say Airbnb Booted Them Off Service (XBIZ)
I love what we're seeing at sponsor Abby Winters!
Make me squirtle 💦 pic.twitter.com/Om4XLJjDxx

— L U L U (@Lulureynoldsx) July 25, 2016
"[Dallas News spent a] week analyzing [Secret Service FOIA] documents and pulled out vignettes which are shared with this story. … A supervisor choked a female subordinate because she rejected his sexual advances. … A supervisor offered a subordinate a larger office in return for sex. … A male agent's gun was stolen by a male prostitute he solicited online. The gun was never recovered. …"
* Dallas woman discovers new Secret Service sex scandals through public information requests (Dallas News)
"Florida may be known for sun, sand and, um, well… you know, but British tourists are now being told to refrain from the unprotected variety of the latter due to the Zika virus. … Tourists who are in the state are being told to abstain from sex without a condom for up to eight weeks."
* Tourists urged to abstain from sex in Florida (Local 10)
"The 3rd U.S. Circuit Court of Appeals on Thursday denied the Justice Department's petition for a rehearing over a three-judge panel's decision over 18 U.S.C. §§2257 and 2257A, the federal statutes that govern performer record-keeping for sexually explicit content."
* 3rd Circuit Won't Rehear 2257 Case (XBIZ)
WARNING. Someone is using the @Cherrystems name to lure sex workers to his apartment in NY. THIS IS A SCAM!! Please RT for sex worker safety

— Kate Sinclaire (@MsKateSinclaire) August 10, 2016