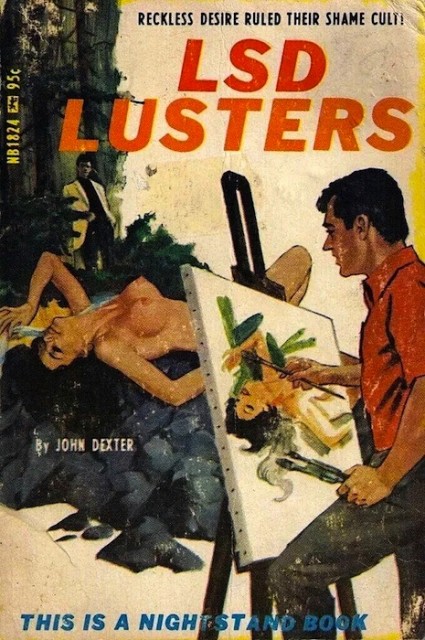 "If you're going to fuck a total stranger, you're probably going to want them to be attractive, so Heaven Circle vets its guests, even operating a tiering system with extra special parties for the sexual elite. A "sex olympics" is currently being planned, where the best performers from parties around the world will come together for a sort of fantasy team orgy. The mix at the parties tends to be mostly swinging couples, with a few single men and women thrown in too."
* The rise of the sex party in the age of sex positivism (Independent UK)
"The very best thing about [new TV series on Starz] "The Girlfriend Experience" is that you can't point to anything else like it on television. … The stigma of getting paid for sex is present within the show, but beyond the fact that there is real danger for Christine, in her new calling becoming well-known, the morality of the issue isn't on the table here. What the creators do feel interested in figuring out is what kind of person would be honestly, legitimately attracted to this work, and what kind of impact it might have on them."
* Review: 'The Girlfriend Experience' Season 1 Dares You To Judge It (Indiewire)
"As someone who's not very well-acquainted with porn, feminist or otherwise — I'm not against it, but it turns me off more than it turns me on — I wasn't sure what to expect arriving on the Los Angeles set of "Girl/Boy 2," [Dana] Vespoli's latest creative endeavor. .. Released in 2013, the first "Girl/Boy" played extensively with gender fluidity, featuring a sex scene with the androgynous actor Jiz Lee, who happens to be the inspiration behind the sequel."
* I Spent All Day On A Porn Set And This Is What I Learned About Women (Elite Daily)
"A new law in France makes it a crime to pay for sex. … France's sex workers union strongly opposes the legislation, saying it puts them at greater risk. The new law, which has been billed as a comprehensive approach to reducing sex work, has received a mixed response from rights groups. It also repeals a 2003 ban on solicitation by sex workers."
* In France, It's Now A Crime To Pay For Sex (NPR)
Random plug: The GaymerX Kickstarter is in its final days, well worth a few bucks!
"If your three main interests are other queer women, cats, and poetry — which: duh, of course they are — I've got some good news for you. Writer Anna Pulley and artist Kelsey Beyer have tag-teamed to create a miraculous little tome called The Lesbian Sex Haiku Book (With Cats!). It's exactly what it sounds like, my friends: 146 pages of hilarious, heartbreaking, wise, and wondrous haikus and punny, funny cat illustrations to accompany them."
* "The Lesbian Sex Haiku Book (With Cats!)" Is Everything You Care About (Autostraddle)
"Allowing myself to explore stone sexuality was like coming home. Finally sex made sense. Finally all the things I knew, all the things I could do, all the ways I wanted to act sexually came together. I didn't feel like I was following arbitrary rules. I didn't feel like I was "faking it" til I made it. I knew how to do this, I knew how to find my own pleasure in it. I knew how to take it where I wanted to go. And I knew how to manage my own bodily sensations in a way that just felt good."
* What Is Stone? (Kink Praxis)
"Porn is depicted as a kind of physical thing that grabs people," Dr. Smith said. "This is part of the problem. It's treated as if it's an intruder." And in the U.K., the political debate over pornography is just as heated as the one over immigration. Smith asserted that in addition to favoring a complete ban on pornography, the government has pushed to eliminate sex education. "You don't deal with pornography by banning it. You regulate it within the industry. You create ongoing sexual education programs that are not just for kids."
* UNLV's University Forum Lecture series delves into porn and politics (Las Vegas Weekly)
Let's all try to call someone this today. Thanks.

"Vintage Men's Underwear Ads" https://t.co/X2niTd2Yz7) pic.twitter.com/F9jFtFwxoU

— pourmecoffee (@pourmecoffee) April 9, 2016
"Male sexuality is intensely under attack, in the increasingly vitriolic social dialogue related to pornography. Though women watch and make pornography, most of the current debates focus on aspects of masculine sexual behaviors."
* Shaming Men Doesn't Build Healthy Sexuality (Psychology Today)
""Sex addiction really doesn't exist. There was a proposal to add it to the DSM (Diagnostic and Statistical Manual of Mental Disorders), but it was refused and rejected. Hypersexuality is usually a symptom of some other pathological problem. If the person has lost impulse control such as in bipolar disorders or the person has deviant behavioural patterns like in personality disorders, then there is the need to increase sexual behaviour and so-called hypersexuality," psychiatrist Dr Geoffrey Walcott said."
* Hypersexual disorders (Jamaica Observer)
"In the book [Sex in the Museum], she walks readers through more than a decade of exhibits — some highly scientific, some heavy on pornography, others with an eye cast mostly toward history — and explains some of the larger curiosities, including the fact that such museums exist in the first place."
* What 12 years at the Museum of Sex teaches you (Chicago Tribune)
"The adult entertainment industry is a different world for most people. Weekend met some of the people working in the industry. They say it is just their job and that they are as professional, motivated and engaged as anyone else is in their work. The two sex workers, stripper and porn star Weekend interviewed do the job by choice and are keen to dispel myths about their industry. They meet people at their most vulnerable and have learnt a lot about themselves and others through that interaction."
* Adult entertainers keen to dispel myths (Daily Telegraph)
"Here's a fun parlor game to play with your (inebriated, adult) friends: Pull out a smartphone with "safe search" disabled, and try disproving the 34th rule of the Internet. Rule 34, according to long-standing legend, goes something like this: If it exists, or can be imagined, there is Internet porn of it."
* Is Rule 34 actually true?: An investigation into the Internet's most risqué law (Washington Post)
Main post image via LSD Orgy Expose: Have an Acid Flashback With These Psychedelic Book Covers (Dangerous Minds).