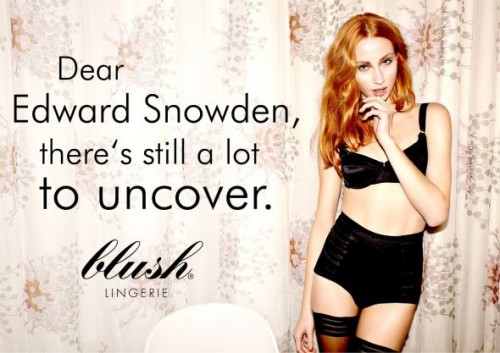 Lingerie company Blush Berlin (not to be confused with Blush Lingerie, as Mashable did when reporting this item) is combining America's global surveillance meltdown – NSA, Prism, and Edward Snowden – with its lingerie lines in a new ad campaign. Blush Berlin is no stranger to controversy, and we can either call this capitalizing on (trivializing?) a terrible situation, or raising awareness in outside channels.
Blush Berlin wrote on its Facebook Page,
Dear Edward Snowden,
Instead of hanging around in Moscow or Ecuador, why don't you come to Blush Berlin? We offer you the best asylum you can have. We have a bed and champagne. And we really treat the intimates of other people with great care.
You may remember the last time I posted Blush Berlin: On the first anniversary of the Pussy Riot concert in the Cathedral of Christ the Savior, Blush Berlin staged lingerie/skimask, one-woman protest march through icy Moscow's Red Square in support of Pussy Riot. Previous to that, I shared their nipple-tastic, public prancing in Paris video.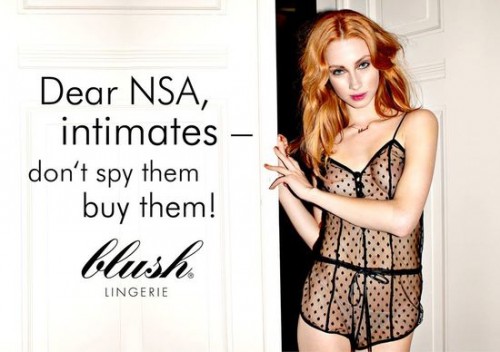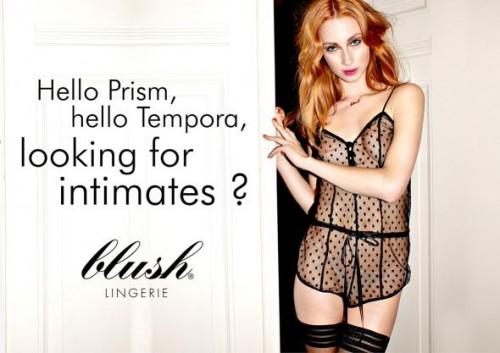 FYI, Blush Berlin's goodies can be obtained at Liaison Dangereuse, a new find that is now going to drive me crazy with WANT.