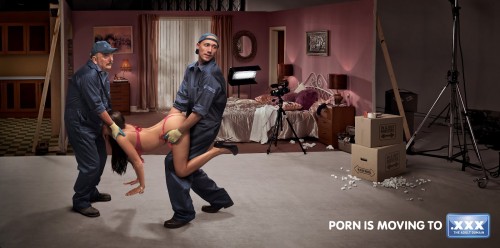 Hmmm… What's insulting, reductive and straight-up shitty about the new ads for .XXX?
Maybe that porn is not, in fact, moving its prime .com real estate to .XXX?
Maybe that women are not pieces of sexualized furniture?
Maybe that the women in porn are people – not objects 24-7?
Maybe that a representation of a permanently sexually receptive woman is rapey?
Maybe that some porn webmasters are also women?
Maybe that all of these things are an inaccurate representation of porn?
I'm just guessing. Feel free to add your opinion in the comments.
It's not much better than the first round back in December, which has *interesting* African-American stereotypes in it.
The other two new ones: