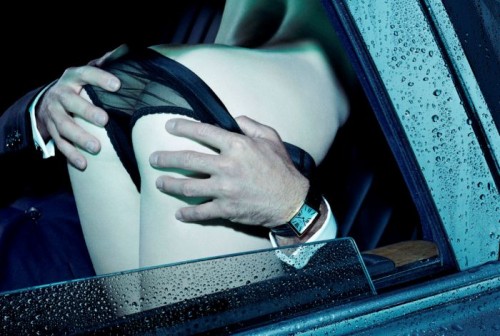 On April 28, my contact at NetGeo emailed me with previews of their channel's upcoming "Taboo" episodes – and many of them are about sex and fetishes. I was excited, as I'm longtime friends with an Emmy award winning NatGeo director, and I've come to expect quality and respect for any topic their teams take on.
I was astonished to see that this was not the case with their "Sex Addiction" episode of the "Taboo" series – airing tonight (May 9).
As I wrote on CBSi's ZDNet in The Controversy Behind Internet Porn and Criminal Behavior,
National Geographic is preparing to run a sex- and Internet porn addiction scare segment (Taboo: Sex Addiction, May 9). Their choice of experts shines a troubling light on the aging brand's credibility.

NatGeo relies on the claims of Doug Weiss, a Christian "sex addiction expert." Weiss runs a big business on sex and Internet porn addiction – despite the fact that he has no curriculum vitae online, nor a single peer reviewed publication to his name.

In the NatGeo Taboo teaser, Doug Weiss frames himself as an expert on neurobiology – while getting his facts wrong about dopamine and sex, in addition to mentioning enkephalins, which have no known role in orgasm.
I have some recommended reading – academics and PHd's have recently posted the following articles, some expressly out of alarm about what National Geographic is about to tell their viewers about sex- and Internet porn addiction. Because what they're going to tell people is false.
Especially read the first link, where everything claimed in the NatGeo episode about sex- and porn addiction and science is thoroughly, scientifically debunked.
If you decide to watch more than the trailer for National Geographic's "Taboo" episode "Sex Addiction" – then make sure you know your facts before getting lulled in by NatGeo's reputation into believing the con men claiming that porn is like a drug.
"One more thing I would point out is that all the books on porn addiction or by and for Christians who are co-opting scientific language to fit into their sense of "The Devil Made Me Do It" when it comes to porn use." –Jessi Fischer
Porn Is Like Drugs, A Chemical Addiction?
If you don't have time to read the whole debunking, take a minute to read the excerpt below. Academic Jessi Fischer explains the chemistry of porn addiction in Explaining Porn Watching With Science – in great detail. Excerpt:
(…) The term "sex addiction" is the new darling of sensational media. The narrative of an addict is a compelling one, their struggle with external forces in the world leaves much room for pity. After all, this isn't their fault but the fault of the pesky stimulus hijacking their tender neurological reward circuitry. Right?

(…) The story is that orgasm and novelty trigger dopamine, we feel rewarded and are then driven for even bigger 'hits' of porn. (What does that even mean? You can't quantify a porn clip for intensity.)

While dopamine is involved in the reward system, it doesn't work quite like that. Dopamine is a motivator for the reward, not the reward itself.

(…) So the idea posited by the sex addiction set is utterly false: your brain is not rewarding you with dopamine. Your brain uses dopamine to motivate you. And amazingly, humans can release dopamine when the reward is months or ever years away.

One of the other claims made is that porn "burns you out" on sex with other people because it "hijacks" your system by hyperstimulation of your reward system, subsequently burning out the sex part of your brain making sex a pleasure-less activity. The problem is, there is no specific sex part of your brain. Sexual excitement and arousal involve several parts of your brain structure: nucleus accumbens, cingulate cortex, insular cortex, amygdala, hippocampus, and the Paraventricular Nucleus of the Hypothalamus (PVN). Nor are there orgasm specific chemicals as any chemical involved in orgasm is involved in some other function.
There is much more in Explaining Porn Watching With Science. Also examined are several recent academic, peer-reviewed studies on internet pornography, Mayo Clinic case studies, potential negative effects of porn use, and the oft-suggested comparison of porn use and heroin.
I'm more than deeply disappointed with NatGeo. I've put my personal reputation behind National Geographic, once helping with research for a proposed documentary on transgender life. I don't think I'll be doing that again.
Photo: Minuit by Miles Aldridge.