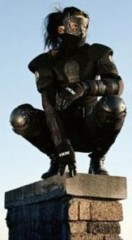 The Long Island Serial Killer has dismembered and murdered possibly up to ten women, and all of the victims are sex workers. Many feel that because they are sex workers the victims (and any potential victims) have not been treated respectfully (or seriously) by the press – and some say, the police as well.
Real life superhero vigilantes in New York – the New York Initiative – have decided to step in and have sworn to do everything they can to protect sex workers from the Long Island Serial Killer. They are offering brute-force, no questions asked protection – because they believe police are inadequate:
The Long Island Killer is out there. He's a scary bastard, and it's starting to seem like he is focusing on you pretty ladies because some people are slower to report you missing, and also because apparently the law doesn't respect your personal choices and that means cops are slower to follow through when it comes to you. Well, I'm here to say FUCK THAT. We respect you as human beings, we believe in personal freedoms and think that you're doing something that is absolutely your choice to do.
Members of the New York Initiative are trained in martial arts, and use weapons. They can be found on the New York Initiative Facebook Page, and have also issued a statement to sex workers and are offering concrete systems in which they can be employed for protection on this Craigslist New York ad. NYI's posting also promises:
We will react quickly and without hesitation every time, using our considerable contacts to the full extent of their reach.

We also want to extend to you our services as the NYI: Namely, practical martial arts training free of charge, as well as improvised weapons training free of charge (i.e. pens, phones, keys)…Add to this basic to advanced survival skills, or pretty much anything else you want to know about that will keep you safe out there.

We care about you. We want you alive, in this world, just like everyone else. Because you're a human being, and you are deserving of love. The NYI loves you, and we're here to bust the asses of any asshole trying to hurt you.

This is just one of the ways we can get the Long Island Killer off the streets, as well as make what you do safer.

Let me say one more time that we won't involve law enforcement unless you are in serious danger. The logs will be kept personal and private, because what do the police need to know about your personal life, right? It's just a date, for cryin' out loud.

Be safe out there, whatever you choose. You are no longer alone.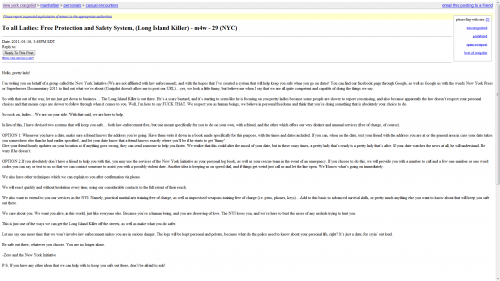 Click the above image for full-size text; NYI has specifically requested that people spread the ad, and its message far and wide, and encourage reposting. The group was featured in the documentary about real life superheroes, "Superheroes" by Michael Barnett (image via). NYI's members also have cool superhero names, such as Dark Guardian, Blindside, BattleStar, Skinner and Shade.
There are more cool photos of NYI in their armor and gear in this Facebook album.