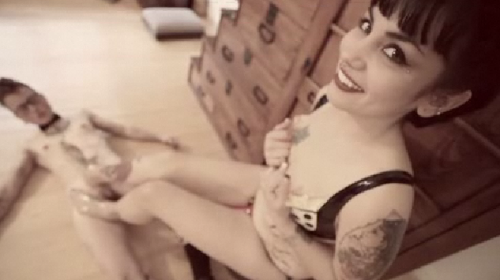 Perfectly timed for Lady Porn Day (TODAY!) AlphaFemmes is finally available at HotMovies! I blogged about AlphaFemmes (click link for hardcore trailer) last year when the trailer was still wet (!), and now it's finally here – lots of people are really thrilled about this! The copy tells us that AlphaFemmes is where,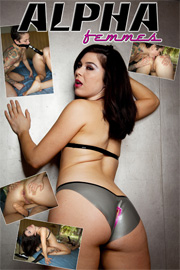 Anna Devia brings her latex-clad fetish femmes to life in her stunning, directorial debut, entitled "AlphaFemmes". Starring April Flores, Ashley Blue, Akira Raine, & Sarah Lee Sinful as the beautifully brutal Alphafemmes, along with Jiz Lee, Syd Blakovich, Puck Goodfellow, and Cadence St. John as their submissive counterparts. Featuring 4 kinky & queer vignettes.
Director Anna Devia wrote me this before distribution, saying:
This film is really close to my heart for a few reasons. For one, this is my directorial debut and I was blessed by the universe to have worked with an AMAZING group of people on it, so it's just very special to me. But the real purpose and importance of it to me is about bringing my personal vision of sexual diversity & queer awareness/visibility to our community, mainstream porn, and the world at large.

In regards to our community – I wanted to address and help to dismantle that whole "femme as the bottom /butch as the top" dynamic that we sometimes mirror from the conditioning of traditional gender roles within society. Along those same lines, I wanted to bring vision and voice to the more kinky (as opposed to vanilla) side of queer culture.

As porn infiltrates the mainstream more and more, I also see the work that we're doing as part of a much bigger picture.