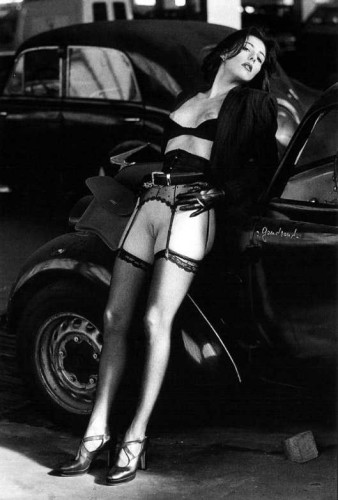 A friend recently told me over dinner that he'd made this super-hot discovery – that wasn't necessarily a "discovery" because the porn was not new, but that he'd just found it and it was so exquisite that he'd been somewhat stopped in his tracks, erotically speaking. It was all about the model. We sat at one of my favorite SF restaurants and he struggled to explain just what it was about this woman and the way she makes the viewer feel. It's her composure, her beauty, her combination of detachment and focus – the layers.
Turns out, he was talking about a model I was very familiar with: Chloé des Lysses. Of all the erotic photo books I sold in the shop and wrote sales copy for when I worked at the Dildo Hut, there was no beating the work of Dahmane (the books were Porn Art and Porn Art 2). The French photographer had indisputable talent, and the combination of taboos and elegance in what comprised the two book's image collections made customers of all genders and orientations simply unable to get enough of the little hardcover tomes. But at the heart of it all was the model: des Lysses. The books were always #1 in the sales charts year after year (even when we thought it was time for a new bestseller), but when the photographer released new work without des Lysses – well, we realized what the magic was. It was her. And when his work didn't feature her, it dropped from the sales charts.
Many think that Dahmane was a scuzzy dude, but I'm not sure why, or if the reasons people say so are true or not. The fact is that they made porn together, and then they divorced. She went on to do more porn, work with Rocco Siffredi, etc. I do know that Chloé des Lysses was a stage name, and she has continued work in Europe as a photographer to this day – and recent photos show that she looks gorgeous, still.
You can find a lot of her with a quick Google, but if you're not familiar, you might like her work. I put a few of my personal favorites – a tribute to Chloé des Lysses – after the jump.
Definitely look at this LiveJournal collection of Chloé des Lysses images.