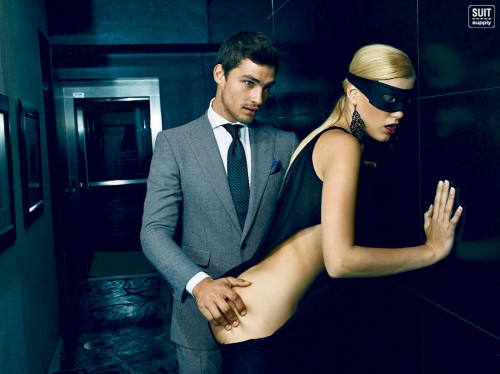 I was sent the post The Cool Factor and The Display of Disinterest (thanks Praemedia), and instantly found the fetishy, modern, dominance/submission themed fashion porn from Suit Supply's new ad campaign really hot. Then I clicked through to Jezebel's post about the ad campaign two weeks ago (hey, I've been busy). I discovered there, that how I feel about these images, while first aroused and inspired and even empowered to enjoy my own fantasies — how I felt about them was Wrong. I was turned on by blatant sexism.
O rly?
IMO Jezebel seems behind the times with this. How women relate to sexual imagery of themselves has changed radically in the era of the open internet. We have stripped the power-over dynamic from even the days of Mad Men and have taken the eroticism as our own. If they find the concept of female sexual submission so offensive — if that is what you read into Suit Supply's scenarios — they could read Women Who Like to Be Dominated in Bed: Talking to BDSM Submissives and be a little less judgmental about fantasies that might belong to those who would be their allies. Female sexual submission does not mean what it did 20 years ago.
Jezebel calls the ads Advertising That Will Make You Want To Shut Your Legs, "creepy and porno-like" and "gross depictions of women in ad campaigns." Here, we're also getting that "porno-like" is also Bad. Got that, ladies?
I beg to differ. Wait — that's Beg to differ. Suit Supply's Shameless campaign was a carefully designed ad campaign made by Carli Hermès (more images — outtakes? — from the shoot at that link).
Now Jezebel is going to hate me, which I'm sure they already did because I am creepy and porno-like. More images are after the jump.
Do you agree with Jezebel?