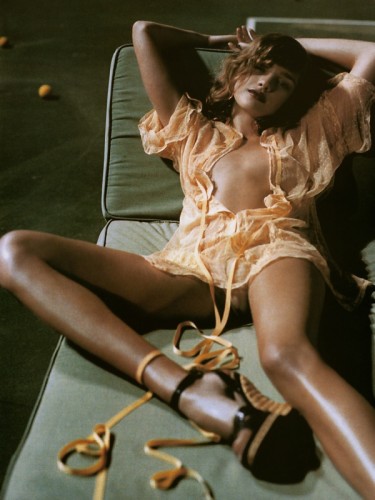 I've had my head down working on a big article; I'm also about to sail into one book deadline followed by another. And I'm loving losing myself in writing and researching sex (though in need of friends and affection, argh). Such as it is. The world of sex news keeps turning. For instance:
* Yesterday was Boobquake. Did you feel it? CNN did, and that's great news for the blogger who had a great idea: to test out the theory put forth by a cleric that indecently dressed women were the cause of the recent spate of earthquakes. They were right! Um, okay, if not, I still think we need to text this as often as possible. (facebook.com, youtube.com, news.blogs.cnn.com, blaghag.com, earthquake.usgs.gov)
* Did you know that Rutgers lab is studying female orgasm through brain imaging? The article is fascinating, and I love that the lead researcher has a great sense of humor about it. (nj.com)
* I love Charlie Glickman's blog. For instance, I learned that "The US is the largest donor in sexual and reproductive health and the Global Sexual and Reproductive Health Act of 2010 would further strengthen U.S. foreign assistance and our global leadership in health." > Support it! (charlieglickman.com)
* ZOMG! I love Kinksterwear! (kinksterwear.com)
* Many of you know I'm a ghetto foodie, and I like to hang out and drink with SF's bad-attitude kitchen staff. Which is why I really enjoyed this article on getting inside the mind of "The Queen of Food Porn." (tvnz.co.nz)
* The horror of Oklahoma's abortion bills has reached epic proportions. I just don't know what else to say. Let me just clarify that forcing a woman who has been raped to undergo vaginal ultrasound before getting an abortion is considered by many as akin to a second rape. Not to mention raping their private, personal information. (examiner.com, alternet.org)
* "Young Arab women wait in an upmarket medical clinic for an operation that will not only change their lives, but quite possibly save it." Welcome to The Virginity Industry. (news.bbc.co.uk)
* What's your city's sexual IQ? Well according to experts in the Chicago Tribune, Chicago's sex IQ is low low low while their STD rates are high… (chicagotribune.com)
* I have pretty mixed feelings about Henry Russell's new book Craigslist Casual Encounters: The Hilarious and Disturbing World of Seeking Sex Online. On one hand it's interesting; I feel like it would be far more interesting if it wasn't from the perspective of someone who thinks the general concept of looking for sex is "disturbing." Still, check it out. (theglobeandmail.com)
Image from Morning Beauty (outstanding!) seen in Fashion Gone Rogue.