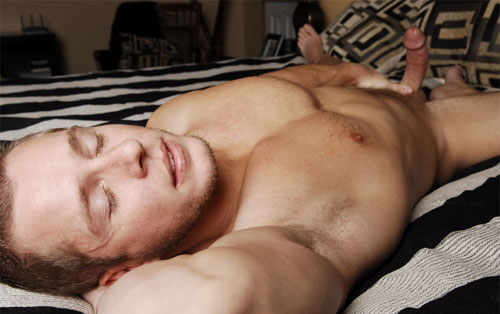 Image from this gallery.
A little while back I posted about and offered up samples from the gay porn company that's been making some pretty hot straight porn — in this week's boyflesh-fest, there's a bit of that, some solo action, and at least one or two bi (male) treats. I combed through the pileup in my inbox and picked my favorites for you. Start with this gallery boy in natural light. Next, four videos of a cute brunette stroking from pool to sofa. And this one's just so smiley and cute and handsome (and well-endowed, image above). Here's a really adorable bisexual gallery with a petite blonde girl and two cute boys. Four up close and personal videos: boy solo. How about four more videos of an amateur bi trio? Then, when the gays make straight porn… you get videos like with this adventurous couple — and this cute, sweet young couple. Awww.
After the jump, I've embedded this video of a hot amateur boy doing a sexy, quiet solo, via Fleshbot: Gay.