Violet's Guide to San Francisco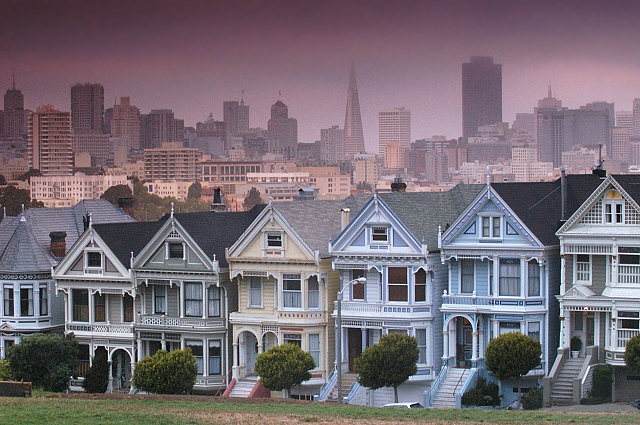 Before you begin, find out what people mean when they talk about our "San Francisco Values".
As my dear friend Chriso aptly puts it, "Run for your life — it's that Rihanna song again!" Chances are good that if you're checking out this guide, you're visiting my fair city for one of our "national holidays": SF Gay Pride (June), Halloween (October), Folsom Street Fair (September), the Castro Street Fair (October), Bay to Breakers (May) or possibly even the SF Fetish Ball (March). I also recommend the less-attended, but oh-so-worthy Shooting Gallery's Annual Erotic Art Show (June) — it's incredible. You might even be here just to visit friends, of for a boring work conference. But if you're here for any of the sextravaganzas we have, it's probably one of the weekends here where (literally) buttloads of tourists visit to celebrate, drink, get laid, feel really good about the world, feel really sad about the world, and throw up in the street by my house. Oh, and the clubs play that fucking Rhianna song a lot.
So, as a proud native San Franciscan, oversexed bi-girl and semi-professional drunk, I'd like to welcome everyone with a little guide to my city. There are lots of fun things to do here, especially if you have a delightfully dirty mind. Make a plan and follow it loosely, like your booty.
A few recent guides from my San Francisco Chronicle Open Source Sex column: Hot spots to have sex in the city * The 10 worst places to have sex in the city * Sleepless in San Francisco – Top places to flirt in The City * Day Shift Strippers – Lazy Saturday in North Beach * A Sexy Pride Guide – 10 Ways to Get Lubed in SF * Local Sex Acts By The Numbers – Looking for Oral? According to Craigslist's Casual Encounters, stay local
Basics: Find your free wifi here. You can get some local news/weather from SFGate, but they are very slow and conservative, so get your local culture/news from the potty-mouthed boozers at SFist. SF Metroblogging is quite plugged in as well, and rocks the house with interesting local writers like Mark Pritchard and Jason DeFillippo. You'll need these: San Francisco by neighborhood; Castro/Noe/Mission district map, downtown map.
During your visit: Eros Guide has a local sex events calendar; Good Vibes has ongoing sex classes and events and so does the Center for Sex and Culture. Check out current underground arts, music and cultural events at Laughing Squid's calendar. Look for all kinds of queer events at the LGBT Center. For general events and goings-on, pick up one or more of these free weekly papers: Guardian, SF Weekly (Weakly), Bay Times (Gay Times). Pick and choose your nighttime activities; my complaint with the nightlife in San Francisco (other than the dearth of clubs) is that it's very separtist — straight bars, a few lesbian bars, lots of gay bars, but very few mixed clubs.
Do something during the day. If you find yourself on saturday wanting to have a truly lovely San Francisco experience, I highly recommend that you visit the Farmers' Market at the gorgeous Ferry Building Marketplace downtown on the water. Go there any day of the week for incredible views that will make the coffee and pastry you just bought taste that much yummier, and it's just amazing to wander around all the shops and ogle all the sexy fresh produce. For the *hardcore* fetishists, the SF Apple store downtown is kinda like that, too. Of course, you can always take a walk — or you can really take a walk with any of SF City Guides free walking tours, and with almost 100 to choose from, there's sure to be one near you or to suit your interests; I recommend the tours Bawdy and Naughty, North Beach by Night, Mission Murals, Castro: Tales of the Village, and the Scalawag and Sin Sites tour. Don't miss our incredible De Young Museum (and it's stellar cafe), the Conservatory of Flowers, the ruins at Sutro Baths, the Exploratorium and the Academy of Sciences/Steinhart Aquarium is great during the day, but note that every third thursday the aquarium has a party from 5-9pm (admission $5) where you can have cocktails, listen to a local DJ and hang out with the penguins.
How to get around: You didn't rent a car during a festival weekend, did you? Oh no, you didn't. If you're in a car, you will see SF through a dirty windshield of anger, confusion and frustration, as during events portions of the city will be blocked off or simply impassable all weekend long. Renting a car any other time is fine, but just be prepared that our one-way streets form multilayered double-helixes of impenetrable logic. The key: never, ever plan on making a left turn and pay for parking — it's worth it. Leave your car on Market @ Castro Saturday after 3pm during Gay Pride or Castro Fair and it will get towed; don't even think of parking it around downtown. You can always ditch the car and take the MUNI underground, MUNI bus or beautiful vintage MUNI railcar ($1.50) — or hail a cab. SF is only seven miles square, so in many cases you might be able to just walk to your destination if you get frustrated. I always wear stylish walking shoes and carry my sky-high fetish heels; switch when you get to the party or club and check your shoes with your coat. You'll be glad you did.
If cabbing, expect to pay around $10-$12 to get from one place to another; more if it's Saturday night, and actually don't even think you can get a cab (even if you call) Saturday night, unless you're staying at a hotel with a taxi stand. Either way, get yourself a little map and familiarize yourself with the neighborhoods Castro, Haight, Lower Haight, Hayes Valley, Downtown and SOMA.
Eating is sexy; I've got recommendations in fun neighborhoods. Vegetarians and vegans should check out this San Francisco VegGuide listing. If you are deadly serious about experiencing the ubiquitous, famous San Francisco burrito, feast your eyes on the reviews at Burritophile: San Francisco.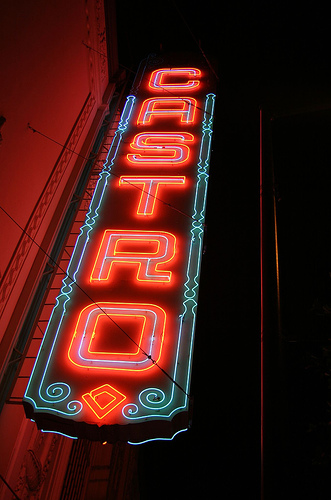 You're in the Castro and you're starving. Asqew is cheap, fast and good and has lots for vegetarians. Pasta Pomodoro is another highly recommended chain with yummy food; whole wheat pasta and lo-carb options as well. Fuzio's is slightly fancier with excellent Italian/Asian fare and great cocktails. Nirvana is hands-down my haunt, though while not cheap has some really incredible Asian fusion creations, lots of vegan and veggie options and cocktails that will spank you, hard (I really like their Mango Mai Tai). The sushi at Osaka Sushi is some of the best in the city — my nipples are getting hard just thinking about their maguro/mango/shiso leaf roll dotted with kiwi/citrus/white wine sauce. Awesome seafood can be found at classy Catch. Thailand Restaurant is a few doors down, and upstairs so you get an amazing view of the street, and they have superb Thai food. For fancy food I also like Tangerine and 2223 (which has sublime sunday brunch and kick-ass Bloody Mary's). Squat and Gobble is a local chain with good prices and good food; rely on them, especially for great breakfast omlettes. Also don't miss Chow or the great, all-around garden spot Cafe Flore. Bombay India has decent Indian food, though not the best (for the best Indian food in the Bay Area, travel to Ajanta in Berkeley). Lime has very stylish mini-food and has been doing a drag party brunch on sundays. Breakfast/brunch in the Castro is going to be hell all weekend long; instead go to the Haight or Mission. My secret on busy weekends like this is to hop on the MUNI underground at Market and Castro and get on any inbound train. Two stops and I'm in West Portal; across the street from the station is a huge Squat and Gobble that is usually empty. The whole trip takes five minutes and costs $1.50.
Here is a general list of Castro restaurants.
You're in the Haight and your blood sugar is plummeting. Hippies are closing in — noooo! Hurry and get to the best deli/cafe in SF, The Blue Front Cafe, where I've been a regular for over 10 years — cheap, with great coffee, salads, dolmas and hummus, out of this world falafels and sandwiches. If they're too crowded, cross the street and get something from People's Cafe — a little more hippie but good. El Balazo and Zona Rosa have drop-dead delicious Mexican food (mostly burritos). All You Knead had depressingly bad diner food but always lots of seating; instead go to Squat and Gobble right nearby (there's one in Lower Haight, too). The best brunch is at The Pork Store, which does have pork but also lots of options for veggies. For a delightful dinner get some African food at Massawa; the cheaper (and just as delicious) version is Axum Cafe, where I've gone for a decade for the warm smiles, terrific food and strong African beer. The best Thai food in SF is in Lower Haight at Thep Phenom — make a reservation.
Hungry in the Mission? If it's brunch time, visit the other, bigger location of The Pork Store — it has a larger menu and lots of seating, with all kinds of weird/cool veggie options. I also love brunch at Boogaloos, though the wait can be long and it's way too loud if you're hung over. For dinner in the Mish, I like the Chinese food at Yum Yum House (they deliver for free), tasty basics at Luna Park and the French specialties (savory crepes/seafood) at Ti Couz. Get an authentic Mission burrito (there's *nothing* in the world like it) at Pancho Villas. Vegetarians should not miss eating at delicious Herbivore. I don't eat in the Mission much in the evenings because I hate trendy eateries and it's full of them (they never stay around long, either). The Mission is a mixed bag; some parts are totally str8 trendy-unfriendly, there are lots of dykes and artists and also plenty of trust-fund babies slumming it. All in the middle of a mostly poor-working class Latino neighborhood actively struggling with poverty and crime. On one street is velvet ropes and valet parking; two blocks over are gangs and really sad young crack whores and junkies, all of which will break your jaw if they're in the mood (this happened to a friend of mine). It's not very safe for women at night, and I get hassled by guys on the street during the day. But there is some really awesone street art; also I've never been to Foreign Cinema but I hear the food is really good, and the snacks at the Oxygen Bar are good but what you really want to go there for is to try the oxygen and to see the weird people getting drunk while hooked up to oxygen tanks.
Starving downtown? My secret spots are Boudin Bakery (mediocre sandwiches, soup, never crowded), Tony Baloney's (1098 Howard st.; cheap and good falafel and sandwiches), the Sony Metreon has a remarkably great food court tucked in the back with all kinds of good food. Cancun Taqueria has my most favorite Mexican food and salsa bar in the world; there's an El Balazo at 54 Mint St, behind the SF Mint off 5th and Market. Also there's a huge Whole Foods with salad bar and fresh food; a Harvest Market with the same (191 8th @ Howard). My biggest dining treat (once a year) is a trip to expensive, exquisite, orgasmic Millennium.
My favorite restaurants, roundup:
Best coffee: Castro Cheesery (Castro)
Thai: Thep Phenom (Lower Haight)
Sushi: Tsunami — ginger sake and yummy ultra-hip artsy sushi (Western Addition)
Deli/Cafe: The Blue Front Cafe (Upper Haight)
Outdoor cafe: Cafe Flore (Castro)
Brunch: Savor (in yuppie hell, Noe Valley district; so worth it)
Chinese: Yum Yum House (Mission)
Pizza: Goat Hill Pizza (Potrero/SOMA)
French: Ti Couz (Mission)
Seafood: Catch (Castro)
Fancy, sexy and delicious: Millennium (Downtown)
Money is no object: The Slanted Door; Zuni Cafe (Waterfront; Middle Market)
Money is a big deal: Zona Rosa's, El Balazo and Asqew (Upper Haight; Castro)
Super-fun tranny performances and great Asian food/cocktails: Asia SF (SOMA)
Sex and shopping — oh yes. First, shoes. San Francisco is a shoe mecca. The Haight is a shoe sophisticate's wet dream, from cheap fetish shoes to bizarre Japanese creations and beyond to drag queen shoetopia. I like Fluevog's, Luichiny (1529 Haight), Shoe Biz, Daljeets (fetish), and Piedmont (your absolute one-stop drag queen stripper shop). Men looking for great men's shoes should shop in the Castro, especially at De La Sole.
You dress like a ho only if you're doing it right. Piedmont is a nice place for slutty stripperwear and they have every kind of pastie you can imagine, but I find them overpriced for clothing I hope gets ripped off me later, so I go down the street to Goth/fetish New York Apparel (lots of the same stuff, cheaper, plus Lip Service clothes), who also has a huge selection of inexpensive tights and legwear.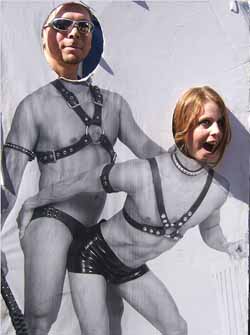 Fetish, rubber, corset, leather and S/M lovers need to pay a requisite visit to Dark Garden, Stormy Leather and Mr. S Leathers/Madame S (awesome leatherfag shop and women's boutique).
Be prepared for sex at all times. You must pay a visit to at least one Good Vibrations store; they have the best selection of harnesses and dildos and dirty/erotic books in town. Walgreens, which is practically on every corner, has the cheapest condoms and lube in town. For cheap lube (and more kinds than you'd ever imagine), visit any of the porn stores in the Castro — there's a lube price war going on, people, and many of these stores are taking a loss with their low prices just to get people in the door. Take advantage. To get cheap vibrators, you'll find some in the boy-centric Castro shops, but the real bargains and selection are in North Beach at "adult bookstores" such as Big Al's (556 Broadway) and Adult Media (Kearney & Clay). Also visit famed local LGBT bookstore A Different Light for books and magazines both naughty and cool.
Get a lap dance for your strap-on. You'll want to visit North Beach anyway, because it's cool and beautiful, has the awesome Cafe Prague, and my favorite strip club is there, the Hungry I. The Hungry I is a fairly typical strip joint but is couples' and women-friendly and no silicone in sight; plus it's where Lenny Bruce performed. The women tend to be friendly and not-skinny, sometimes Goth and tattooed. The Lusty Lady is a no-booze peep show with hot, smart women who own the joint, but if you want cheap and fun lapdances where you can get drunk (on overpriced swill), get your dyke ass over to the Hungry I (and bring me!). We have a couple all-male strip clubs of note which are primarily for a gay male clientele, but are generally friendly toward women, bois and mixed-gender couples — they endure bachelorette parties, so they're seasoned enough to appreciate any clientele that is polite, isn't screaming in their faces, and tips well. I've waited on performers from Nob Hill Adult Theatre, and I grilled them on these topics… again, if you go, take me with you!
Visit a sex club, or three. But what you want is a sex club? Look at this list on Eros Guide for an assortment of local sex clubs and bars; here is Eros Guide's complete San Francisco listings of everything from massage to shopping. The Power Exchange is a giant three-floor sex club (top floor men only; bottom floor dungeon spaces and theme rooms for all genders/orientations but primarily str8 and MTF trans); no alcohol is served and I don't recommend that women wind up around outside the club alone after dark. For dungeon play, visit The Citadel (women's night friday). If you're a gay man looking to have sex in SF, well, you're *so* going to get laid. I'm not a gay man (outside the bedroom) so I'm not hip on all the gay sex clubs, but I have heard fun stories about Eros and Blow Buddies.
I wanna take you to a gay bar. Check this list for gay leather bars. There are dozens of gay bars, especially in the Castro and in SOMA, so you'll have your pick by flavor and mood — and contoversy. Women-friendly gay bars include (my fave) The Metro (3600 16th St @ Market), The Cafe on Market St. (@ Castro) and The Mix on 18th (@ Castro). Here's a nice guide to gay male SF, especially bars; here's one for LGT; also check out this (sadly poorly written) guide to local lesbian and dyke bars and don't forget Wild Side West in your travels. If you're looking for fun MTF tranny bars, you'll want to hit Polk street for Divas (Motherlode is downstairs), Esta Noche, the EndUp, and The Stud is home to tuesday night's Trannyshack so you'll be treated warmly there as well.