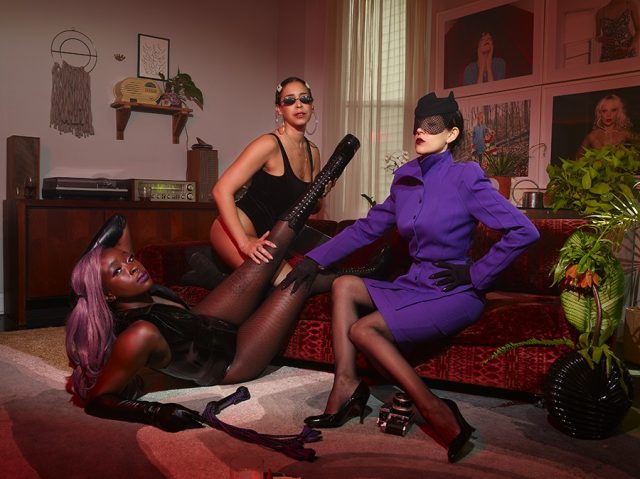 "FOSTA has created tremendous real world damage … Lura Chaberlian has now published a deep dive into how FOSTA is a "hostile law" with "a human cost" for Fordham Law School. The quick summary of the paper is that FOSTA hasn't done anything to help sex trafficking victims, but has created real harms for many women, especially those engaged in consensual sex work … This is a huge collection of evidence around the very real harms of FOSTA. As the paper notes, rather than saving lies FOSTA is "a law with a body count" attached to it:"
* The Human Cost Of FOSTA (TechDirt)
See also: Suicide, violence, and going underground: FOSTA's body count (Engadget)
Remember this story about a high school paper set to profile a student who worked in adult entertainment, and the school's leadership tried to screen/spike the story, and possibly fire the journalism teacher? Great news: the students published the piece! It's terrific. Here it is: "Throughout their high school years, students are often told to follow their dreams and pursue what they love. Despite encountering obstacles — such as a difficult freshman year and leaving her house — Caitlin Fink, an 18-year-old senior at Bear Creek who recently started a career in adult entertainment, is doing just that."
* Risky business: starting a career in the adult entertainment industry (The Bruin Voice)
See also: The Voice shall not be silenced! (The Bruin Voice)
"When clips are inevitably stolen and reuploaded on Pornhub, Cyboid says there's "no realistic way for [performers] to fight it unless [they] sign up with a MindGeek site" as a verified model. And because MindGeek has cornered a huge chunk of the adult content industry, it inevitably forces performers to use its services. This isn't necessarily to their benefit, either. Pornhub's Model Payment Program pays verified models based on views, which ends up hurting performers with niche adult communities, like indie queer and trans creators."
* Don't expect Pornhub to save Tumblr or sex workers (Daily Dot)
Find this post interesting? Support its creation on my Patreon page.
"Much of what appears on popular porn sites is stolen content or films that were produced in unhygienic, unethical, and unsafe circumstances. [But] Feminist and ethical adult-film production houses want to provide porn that's professional, empowering, political, and consensual, and disrupts the usual representation of heteronormative sex in adult films. Ethical porn means fair wages, fair labor practices, no sex trafficking, no pressure, and safe sex for everyone."
* Meet the new pornographers who want to make adult entertainment better for everyone (Chicago Reader)
PHEW. There were right-wing protestors at the capitol today claiming acceptance of trans students meant teaching "obscenity" and anal sex to children… The wignuts lost. "California education officials have approved a framework for teaching sexual health courses that cover sexual orientation and gender identity. The California State Board of Education has approved LGBT-inclusive sexual education guidelines for public and charter schools to use in all grades from kindergarten through high school."
* CA board approves LGBT-inclusive sex ed guidelines (EBAR)
https://t.co/dH9NZL2L4k Who else could possibly embody THE MAGICIAN card other than the incomparable @NATASSIADREAMSX. Heretical Fates with @DanikaXIX @JAWCooper_art @Planetpinto is live on @kickstarter for one more week! pic.twitter.com/NLaWPDfgUg

— allan amato (@allanamato) May 5, 2019
"Whereas 1.1% of Americans identified as bisexual in 2008, 3.3% did so in 2018. In other words, the rate of bisexual identification tripled in just 10 years. And not only that, but gay and lesbian individuals used to outnumber bisexuals—but now there are about twice as many self-identified bisexuals as there are self-identified gays and lesbians. Those are pretty striking changes in a short period of time."
* The Number of Americans Identifying as Bisexual has Tripled in the Last Decade (Sex & Psychology)
Much gratitude to our thoughtful sponsor, Nubile Films.
"A sex toy that was banned from this year's CES tech show after winning an innovation award has been given the prize again, four months later. The Ose robotic vibrator by Lora DiCarlo was originally given the prize by the Consumer Technology Association (CTA) in January. However, the CTA quickly changed its mind and ousted the device, causing outrage. The organisation has now offered a "sincere apology" to Lora DiCarlo."
* CES sex toy reawarded robotics prize (BBC)
I wish I was rich, part one million: "In Eden, Vernon meets with clients for bespoke fittings and displays her jewelry and objets. Erotic paintings and sleek cabinets line forest-like walls, and a Fornasetti leopard keeps watch from the commode beside us. The atmosphere is hushed and relaxed, the color scheme of green chosen for its unisex nature … Reclining in a Gio Ponti chair amid her spotlit handiwork—pastel feather ticklers, necklaces that double as harnesses, bracelets that fasten you to another—Vernon twists her double-sphere massage rings around a manicured finger."
* A sexual anthropologist makes a case for BDSM wellness (Playboy)
Warning for survivors of sexual assault, abuse, and trauma. "…the jury would hear testimony from a Mexican family with four children, three girls and a boy. After Raniere offered to tutor the children, the family moved to upstate New York, where NXIVM was headquartered. "Instead, he had sex with all three daughters and, in order to do it, he turned family against family, sister against sister," Hajjar said."
* NXIVM: Sex, Lies, Porn, Consent at Center of Keith Raniere Trial (Rolling Stone)
"Georgia Governor Brian Kemp signed a bill into law that would ban abortions after about six weeks of pregnancy, which is before most people know they're pregnant … But this is not merely a six-week ban on abortion—it's even more insidious than that. Georgia's bill is actually a personhood law in disguise, effectively criminalizing not just abortion providers, but also pregnant people for having abortions or even miscarrying. It's a near-total ban on abortion."
* The Cruel Genius of Georgia's Abortion Ban (Vice)
Main post image via Chicago Reader — From left: Mistress Velvet, Chelsea Ross, and Alejandra Guerrero.