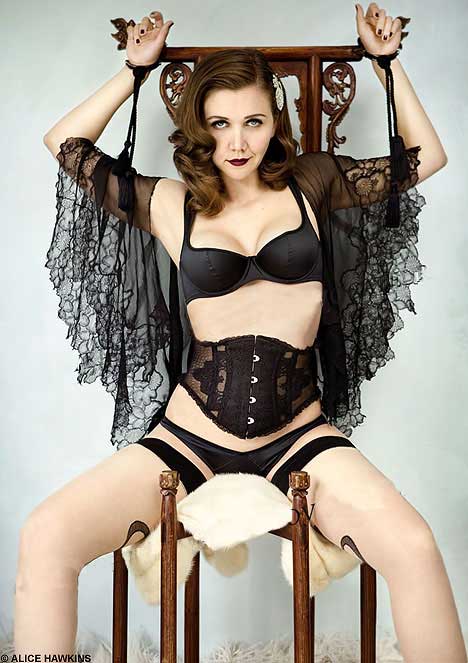 …And I just fell over in a sweaty, twitching heap of lipgloss and glasses and tangled Ethernet cables. You'll remember the last hot, much-blogged Agent Provocateur poster girl vehicle, 'dreams of miss x' starred tiny mctiny Kate Moss. Here's the snip:
Hollywood actress Maggie Gyllenhaal has taken over supermodel Kate Moss as the smouldering new face – and knockout body – of lingerie line Agent Provocateur.

Gyllenhaal stripped down for a series of sexually charged images, which see the scantily clad star splashing about in a bath and even posing in handcuffs.

The indie actress certainly had good training – she first came to attention with her daring role in 2002's Secretary, where she played a personal assistant who enjoyed being spanked by her boss.

She has gone on to appear in World Trade Center, Sherrybaby and Donnie Darko, which co-starred her actor brother Jake Gyllenhaal. Serena Rees, co-founder of Agent Provocateur, said: "Maggie is not an obvious sex symbol."
Link (also includes more hot hi-res images).
'Not an obvious sex symbol'? Talk about not paying attention. (Also: link to Agent Provocateur where the campaign launches next week, and smooches to Mojo for the link!)