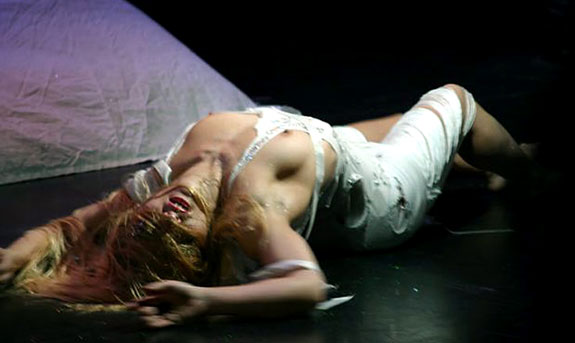 * My two favorite new blogs this week: hoaxdevices.com and xenuday.com.
* Blogfriend Vince at the Liberty Guys emails me this morning to say, "As I suspected – Republican Texas governor Rick Perry's motives for mandating HPV vaccination aren't exactly pure." Vince and I have been having some interesting back and forth emails about the HPV vaccine.
* In the sunday NYT, don't miss A Woman of Many Parts, Some Exposed, a nice article about burlesque dancer and contortionist/performance artist Julie Atlas Muz. She is hotness! Above image via Julie Atlas Muz — and hey girl, if your own hometown paper will do a story on you but won't link to you in all your fierceness, shame on them. Hmmm, that sounds so familiar… (thanks Adrian!)
* Sweet reader Dave sends me this fascinating post on the Science Blog about a study of behavior in "adult bookstores" and the study's perceptions on the effects of sexual stereotypes on customers. I'd love to see this type of study done on a wider level to include shops like Babeland where the stock is respectful about all types of sexual expression and it's a normalized atmosphere. Here's a snip:
"She found two kinds of men who shopped alone: One group entered the store only to purchase or rent pornographic videos, while the other would discreetly browse through the entire store for a prolonged time before making a purchase — if they made one at all.
'Interestingly, of all the men I observed purchasing or renting videos, not a single one appeared to be uncomfortable or anxious in this setting,' she said. 'It was like they were walking into a pharmacy, picking up their medication and walking out.'
(…) Unlike these men, women who shopped alone were not shy, Berkowitz said.
'There was one older woman with gray shoulder-length hair wearing Birkenstocks who felt so comfortable with her sexuality that she waltzed straight into the shop and announced in a voice loud enough for the whole store to hear that her vibrator had broken in use,' she said.
In groups, women displayed such stereotypical feminine practices as giggling and blushing, while some resorted to badmouthing and condemning other women, Berkowitz said. Women are not socially conditioned to flaunt their sexuality, and under the gaze of other females, many felt pressure to distance themselves from certain images and items, she said."
* Chronicle columnist pal Mark Morford sent me this awesome article from last month's Atlantic Online — it's not new, and there's some pretty obvious stuff in it, but if you're interested in following (and like me, developing) the conversation about the future of MSM and electronic media, definitely set aside some time for Michael Hirschorn's Get Me Rewrite.