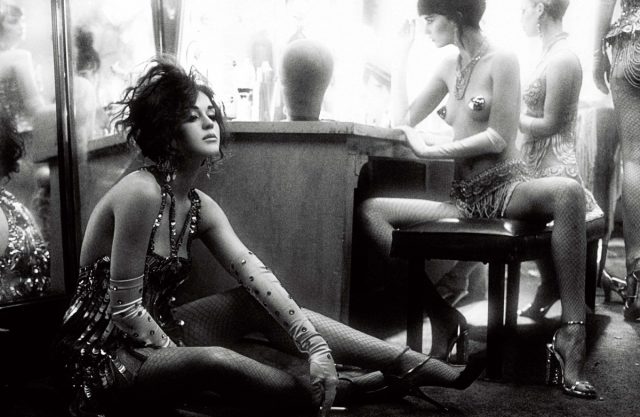 "As the daughter of immigrants, with a record of upholding rights for marginalized communities on several occasions, Kamala Harris should be an ideal progressive candidate. Many sex workers and sex worker rights advocates, however, vehemently disagree … Last year, Harris, the former Attorney General of California, helped champion the Allow States and Victims to Fight Online Sex Trafficking Act (FOSTA), a piece of legislation sex workers and advocacy groups warned would have a disastrous impact on sex workers' lives — and they were right."
* Sex Workers Don't Trust Kamala Harris (Motherboard)
"Anastasia Vashukevich, the model who recorded a former employer of Paul Manafort allegedly discussing US relations with a Russian deputy prime minister during the 2016 election, has promised in a Moscow court not to release any further recordings … After her Instagram posts were discovered in February 2018, Ms Vashukevich was arrested while leading a sex training seminar in Thailand … After being led by bailiffs into a glass defendant's cage on Saturday, Ms Vashukevich asked Mr Deripaska's forgiveness and promised no more revelations."
* Model who alleged Russian meddling in US election tells Moscow court she will not publish Deripaska recordings (Telegraph)
Warning for survivors of sexual assault and trauma. "Bryan Singer's most recent project debuted in November [Bohemian Rhapsody — which chronicles the rise of the rock band Queen] … As one prominent actor told us, "After the Harvey Weinstein news came out, everyone thought Bryan Singer would be next." We spent 12 months investigating various lawsuits and allegations against Singer. In total, we spoke with more than 50 sources, including four men who have never before told their stories to reporters."
* 'Nobody Is Going to Believe You' (The Atlantic)
Warning for survivors of sexual assault and trauma. "The Justice Department's Office on Violence Against Women quietly but significantly redefined what it considers "domestic violence" and "sexual assault" … The new definition says "the term 'sexual assault' means any nonconsensual sexual act proscribed by Federal, tribal, or State law, including when the victim lacks capacity to consent." The previous definition was more expansive:"
* Trump administration quietly changes definition of 'domestic violence' and 'sexual assault' (Raw Story)
Don't let social media companies decide what you see. Fight sex censorship by becoming a patron.
"One month ago, Tumblr made the wildly unpopular decision to ban pornography and adult content from its website … One group Tumblr apparently has no problem continuing to host, however, is far-right extremists, who seemingly survived much of last month's purge unscathed. The website is currently littered with pages promoting Nazism, white supremacy, ethno-nationalism, and far-right terrorism. Despite their often flagrant violation of Tumblr's Community Guidelines, these pages remain largely active and easy to find."
* One month after controversial adult-content purge, far-right pages are thriving on Tumblr (ThinkProgress)
"Emily Morse, sexologist sister of Mike Morse, received special immunity from prosecution … Emily Morse is a reality-show star, host of satellite radio and actress in Los Angeles. She dishes reviews of sex toys and relationship advice on the podcast "Sex with Emily." She became the target of a criminal investigation of federal prosecutors last year. National prosecutors inscribed that they possessed considerable evidence of her participation in money-laundering schemes. She colluded to defraud the IRS."
* Sexologist sister of Mike Morse Received Immunity before Grand Jury (SF Weekly)
"French sex workers have lodged a constitutional challenge to a 2016 law making it illegal to pay for sex, reopening a debate on whether women should be free to sell their bodies. On Tuesday, around 30 sex workers backed by nine associations, including a medical NGO, went to the Constitutional Council to argue the law infringed their sexual and commercial freedom and made them more vulnerable to attack."
* French sex workers seek repeal of ban on paying for sex (France 24)
"Republican state Rep. Gail Griffin, R-Hereford, recently introduced House Bill 2444, which would require electronics manufacturers to preinstall porn-blocking software on all electronic devices bought or sold in the state … To deactivate the blocking software, a person would have to prove they are at least 18 years old and pay a one-time fee of $20 to the Arizona Commerce Authority. Manufacturers or retailers could also charge a fee for disabling it, according to the bill. Anyone who deactivates the blocker themselves would face a misdemeanor charge."
* Arizona Lawmaker Wants Porn To Fund Trump's Border Wall (Huffington Post)
Please give some love to my handpicked affiliate Nubile Films.
8 days till we launch our Indigogo campaign! Get us out the gate with a big bang Feb 1st – Sign up now! https://t.co/g0sRNOrcNi

— Shine Louise Houston (@ShineLouise) January 23, 2019
"Plans are underway for the first Las Vegas Stripper Parade. The three-day conference is being planned for Aug. 10-12, starting with Saturday night's parade on Main Street and featuring "performers of all genders, ages and body types" atop decorated floats and art cars, with Mardi Gras-style gift interaction between participants and spectators. It is touted as "a proud celebration of the art and culture of strippers.""
* Parade celebrating the 'art and culture of strippers' planned for Las Vegas (Las Vegas Sun)
"Trying to navigate the world with a mind that renders almost everyone you see either naked or engaged in sexual congress is less fun than it may sound. It is exhausting, in fact, to spend a whole day in extreme cognitive dissonance about whether or not you want to be in flagrante delicto with a TV presenter, simply because she appeared on your screen that morning. Such is the mind of 24-year-old Marnie, the protagonist in Channel 4's new primetime drama, Pure."
* Extreme sex OCD: Pure, the TV drama that's set to smash taboos (Guardian)
Main post photo: Katy Perry by Mikael Jansson (Fashiontography).