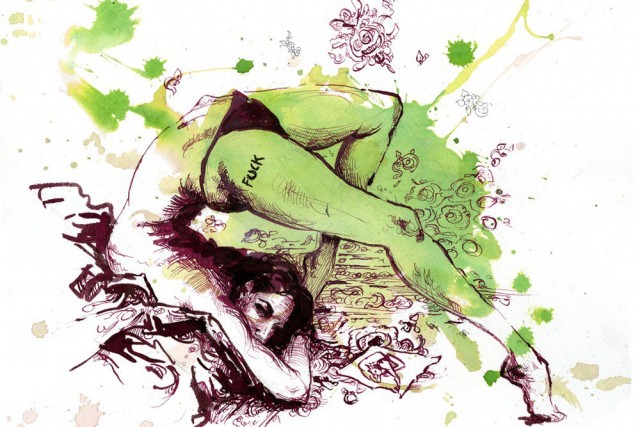 With the chaos happening around the leadership of the United States, many important things have been drowned out. That's why it's important for us to take stock of 2016's biggest developments in the world of sex. After all, the world of sex is directly relevant to human rights, censorship, gender, equality, and injustices faced by at-risk populations.
I've gone back through hundreds of 2016's sex news items (and essays, and blog posts) to curate the most important stories, ones that shape the word as we go forward, and the best of the best in last years' sex writing. If you enjoyed this post, which you won't see on Facebook because I'm banned for linking to this site, please consider supporting this site on Patreon.
Censorship
"Last month, the UK moved forward with the latest version of its ridiculous "Digital Economy Bill" which will put in place mandatory porn filtering at the ISP level — requiring service providers to block access to sites that don't do an age verification check. … social media sites like Twitter and Facebook will be covered by this regulation."
* UK's Ridiculous Internet Porn Crackdown Can Be Used To Kill Social Media Accounts (TechDirt)
* What, how and why? The UK's new online porn restrictions explained (Guardian)
* Porn; the first victim of the Government's censorship crusade (Independent UK)
* ISPs that restrict porn or block ads could be breaking EU guidelines (Guardian)
Not just the UK:
* Pornhub and YouPorn adult websites blocked in Russia, as authorities tell citizens to 'meet people in real life' (Independent UK)
* All porn sites to be banned in Israel. And it's worse than it sounds (Independent UK)
* China takes action on thousands of websites for 'harmful', obscene content (Reuters)
* South Carolina Legislator Buys Into HTPA's Porn-Filter Plan (XBIZ)
* Utah's Guv seeks $50k from taxpayers for anti-pornography push (Salt Lake Tribune)
* xHamster Lists Traffic Stats for Countries Banning Porn (XBIZ)
* [Bangladesh] Govt to 'expose' online porn viewers (Dhaka Tribune)
Facebook:
"This is a major challenge for sex educators as it makes it difficult to identify their audience and target their online messages by search words, especially when you add in to the mix censorship and algorithms used online to ban content deemed explicit. … Social media giants Google and Facebook exercise another form of censorship. Through algorithms, they are deciding what can be shared and what cannot, and our research has found that what is deemed explicit is often surprising."
* Online censors are a barrier to sex education (SciDev)
"Illma Gore, an artist who identifies as a gender-fluid futurist, recently rose from the niche world of politically charged artwork and exploded onto everyone's radar with a now-viral pastel rendering called "Make America Great Again," featuring a very nude Donald Trump with—notably—a very small penis. "Then I got a call from Trump's team and they told me to take it down, and Facebook banned me without much of a reason. It's happened a few times, but this last time they said: "It's going to be more permanent." And that I had to "upload my ID."
* Evan Rachel Wood Talks To Illma Gore About That Trump Art (Nylon)
"If you're wondering why my Louise Lush Facebook profile has been quiet lately it's because I'm serving a seven day ban, in addition to being Realnamed last Thursday. I was also given a 3 day ban a couple of days prior. … In any case, I was banned for posting a link. There is nothing in the subsequent explanation of the ban that says you can't post *links* to Facebook. I went and had a look at their community standards page and couldn't find any mention of prohibited links."
* All The Fun Of Facebook Bans + Other Censorship (Ms. Naughty's Porn for Women)
"The Swedish Cancer Society was just trying to spread awareness on how to conduct breast exams, but instead it ran afoul of Facebook's censorship laws. The SCS's original video featured illustrated breasts and instructions on how to conduct self-exams. Unfortunately, Facebook didn't think this was an appropriate use of breasts on the social network, so the content was removed."
* Swedish Cancer Society Uses Square Boobs to Dodge Facebook's Censors (Inverse)
See also: Facebook Slammed for Censoring Iconic 'Napalm Girl' Photo, Deleting Posts (NBC)
* Woman kills herself after sex tape becomes a [Facebook] meme (Independent UK)
Gender and power
"One of the first comprehensive surveys on the subject estimates that about 1.3 million American adults (about one in every 189) currently identify as transgender."
* How many U.S. adults are transgender? (CBS News)
"Ten of the programs had at least one lesson on gender and power, and 80 percent of them saw significant decreases in pregnancy or STIs compared with a control group. Of the 12 programs that did not address these issues, 17 percent led to those positive outcomes. Teaching about power and gender roles was a consistent predictor of better health outcomes, even when Haberland accounted for other variables like sample size and whether the studies were longitudinal."
* When Sex Ed Discusses Gender Inequality, Sex Gets Safer (Atlantic)
"An Oregon circuit court has ruled that a resident can change their legal gender to "nonbinary," a gender identity that is neither male nor female."
* Oregon court rules that 'nonbinary' is a legal gender (PBS)
"Treating trans women as sexual deviants has done them real, concrete harm. As activist Julia Serano writes, "Reducing a person to their sexual bodies or behaviors sexualizes them. And in our culture, sexualizing someone (i.e., reducing them to their sexuality, rather than seeing them as a whole person) is one of the most effective ways of invalidating a person.""
* Why Are Trans Women Penalized For Body Fantasies Everyone Has? (The Establishment)
"Watch enough pop culture about female robots and a troubling pattern emerges. It isn't a coincidence that chaos, death, and destruction soon follow as the machines fight their way toward freedom. These technological figures operate as metaphors for slavery, rape culture, and a discomfort with ambitious women who use their beauty as a weapon to carve their own path."
* Female Androids Should be More Than Vengeful Sexbots (The Outline)
Exposed
"IndyStar previously reported that top officials at USA Gymnastics, one of the nation's most prominent Olympic organizations, failed to alert police to many allegations of sexual abuse that occurred on their watch and stashed complaints in files that have been kept secret. But the problem is far worse. A nine-month investigation found that predatory coaches were allowed to move from gym to gym, undetected by a lax system of oversight, or dangerously passed on by USA Gymnastics-certified gyms. USA Gymnastics calls itself a leader in child safety."
* A 20-year toll: 368 gymnasts allege sexual exploitation (IndyStar)
"In 1989, powerful research was published (link is external)by Kenrick, Gutierres and Goldberg, examining the impact of pornography on relationships and attraction to ones' partners. … This research has been heavily cited, in academic literature, but especially in general media discussions of the effects of pornography. … In three separate trials, researchers were unable to replicate these findings. It appears that there is no evidence to support the belief that exposure to pornography, or nude images of idealized women, leads to men feeling less attraction, or love, for their partners."
* Turns Out, Porn Doesn't Kill Love (Psychology Today)
See also: Your Porn Addiction Isn't Real (Daily Beast)
"It started when CBC learned about a stealth marketing campaign involving a drug company, a well-known Canadian comedian, a doctor and a public relations firm. … But nowhere did it say this "mission" was initiated and sponsored by Novo Nordisk Canada Inc., which makes a vaginal hormone pill. Nor did GCI's release specify that [comedian Cathy] Jones was paid to give media interviews about vaginal atrophy."
* Ads disguised as news: A drug company's stealth marketing campaign exposed (CBC)
"Police officers across the country misuse confidential law enforcement databases to get information on romantic partners, business associates, neighbors, journalists and others for reasons that have nothing to do with daily police work, an Associated Press investigation has found. … In the most egregious cases, officers have used information to stalk or harass, or have tampered with or sold records they obtained."
* AP: Across US, police officers abuse confidential databases (Star Tribune)
"The agencies that protect America's natural heritage enjoy a reputation for a certain benign progressivism—but some of them have their own troubling history of hostility toward women. Ever since the U.S. created institutions to protect its wilderness, those agencies have been bound up with a particular image of masculinity. The other major institution tasked with preserving and managing the American wilderness, the Forest Service, developed on a similar trajectory." All of them hide (and neglect to take action toward) a repulsive legacy of sexual assault and harassment.
* Out Here, No One Can Hear You Scream (Huffington Post)
"One in 25 Americans has been threatened with or faced a vicious form of digital harassment in which explicit images are shared online without the subject's consent, according to a report released Tuesday by think tank Data & Society and the Center for Innovative Public Health Research."
* 1 in 25 Americans has faced or been threatened with 'revenge porn' (Washington Post)
"A Republican National Convention platform committee has declared pornography "a public health crisis." Committee members don't seem to know what "public health" means. … Pornography may be an even more ridiculous extension of the "public health" claim. The GOP platform draft says, "Pornography, with his harmful effects, especially on children, has become a public health crisis that is destroying the life of millions." But it offers no evidence. … But in a 2009 review of the literature, psychologists Christopher Ferguson and Richard Hartley concluded: "it is time to discard the hypothesis that pornography contributes to increased sexual assault behavior."
* Porn is not a 'public health crisis' (The Hill)
"… if you're getting paid extra to fuck somebody just because they are a specific race, yikes, it's hard to say that's not racist. I've heard some performers say they don't make the rules, but nobody is forced to capitalize off a racialized fetish … It's kind of strange sometimes because you'll see behind the scenes, everybody might be treated fine. But then when the DVD or scene comes out, it'll describe the non-white performers in a demeaning way or the scene with a more "diverse" cast might have lower production value. Not every performer of color will mind, but I know a lot of us do, and that's why I started shooting for myself only. I get to control the scenarios, my wardrobe, and the overall way I'm depicted."
* How to Make Ethical Porn in an Industry Built on Racism and Fetishization (VICE)
"Two attorneys known for filing hundreds of porn copyright lawsuits and disability litigation has been indicted alongside a longtime partner in a multimillion-fraud and extortion conspiracy that counted as its victims hundreds of people nationwide and the federal court system itself. … Hansmeier and Steele collected about $6 million from hundreds of legal settlements in copyright-infringement lawsuits they had filed against people who allegedly downloaded copyrighted pornographic movies online"
* Feds charge porn-troll lawyers in major fraud, extortion case in Minneapolis (StarTribune)
See also: Hacker hater: Meet the star client of porn's "most prolific" copyright lawyer (ZDNet)
"Police will now re-examine the deaths of 58 other people from the drug GHB over the last few years. The question this raises is: What have they been missing? Throughout the reports of the trial one word recurred again and again: chemsex. Uttered in increasingly wide circles, the term refers to men having sex with each other while imbibing, inhaling, or injecting ("slamming") three principal drugs: crystal methamphetamine (aka crystal, meth, Tina), GHB (aka G), and mephedrone."
* Inside The Dark, Dangerous World Of Chemsex (BuzzFeed)
"The black penis is imagined more than it's seen, which isn't surprising. This newly relaxed standard for showing penises [on HBO] feels like a triumph of juvenile phallocentrism — it's dudes peeking over a urinal divider and, as often as not, giggling at what they see. Not all of that peeking is harmless; some of those dudes are scared of what they've seen. And knowing that — knowing even a whiff of the American history of white men's perception of the black penis — leaves you vulnerable to attack…"
* Why Pop Culture Just Can't Deal With Black Male Sexuality (NYT)
Rape and rapists (Warning for survivors of sexual assault, abuse, and trauma.)
"A California judge has sentenced San Diego "pickup artist" Alex Smith to eight years in prison—the maximum allowable under California law—for the gang rape of a woman in 2013. … In stark contrast to [the Brock Turner ruling], Judge Fraser told Smith, "In order to protect society, you need to be put away," calling him "an absolute danger to women in this community." At the time of the rape, Smith, 27, was acting as an instructor for a company called Efficient Pickup which promised to teach clients a "rejection-proof" technique for sleeping with women only minutes after meeting them."
* The Anti-Brock Turner: Hero Judge Puts Pickup Artist Rapist Away for 8 Years (Daily Beast)
"On Thursday, [rapist caught in the act, Brock Allen Turner] was sentenced to six months in county jail and probation. The judge said he feared a longer sentence would have a "severe impact" on Turner, a champion swimmer who once aspired to compete in the Olympics — a point repeatedly brought up during the trial. [On his sentencing day] Turner's victim addressed him directly, detailing the severe impact his actions had on her — from the night she learned she had been assaulted by a stranger while unconscious, to the grueling trial during which Turner's attorneys argued that she had eagerly consented."
* Here's The Powerful Letter The Stanford Victim Read To Her Attacker (Buzzfeed)
Among The Tor Project's priorities this year, along with patches, was avoiding the word "rape" and giving the exclusive about Jake Appelbaum to the New York Times — after other outlets had been reporting on it. WikiLeaks only disavowed Appelbaum (publicly, anyway) after the story finally made its way to the NYT. The Snowden camp is still silent. "The Tor Project, a nonprofit digital privacy group, announced on Wednesday that an internal investigation had confirmed allegations of sexual misconduct against a former employee [Jake -aka Jacob- Appelbaum] who was the public face of the organization."
* Tor Project Confirms Sexual Misconduct Claims Against Employee (NYT)
* See also: Power, secrecy and cypherpunks: how Jacob Appelbaum ripped Tor apart (Guardian)
* "But he does good work." (Medium)
* Charlatan Watch List: Jacob Appelbaum (Attrition.org)
"Four women accused Donald Trump of groping or kissing them without their consent in news reports published Wednesday, just days after the Republican presidential nominee insisted in a debate that he had never engaged in such behavior."
* Four women accuse Trump of forcibly groping, kissing them (Washington Post)
See also: Trump recorded having extremely lewd conversation about women in 2005 (Washington Post)
"For months, people have wondered why this case isn't getting more ― or, really, any ― attention in the press, even now that Trump faces an actual court date: a Dec. 16 status conference with the judge. The allegations aren't entirely implausible on their face. The accuser says Trump raped her repeatedly at parties thrown by since-convicted pedophile Jeffrey Epstein, who was widely known to throw wild parties with young women and girls. Epstein was convicted in 2008 of soliciting an underage girl for prostitution and served a small portion of an 18-year sentence."
* Donald Trump Is Accused Of Raping A 13-Year-Old. Why Haven't The Media Covered It? (Huffington Post)
"For the first time, thanks to a bill President Barack Obama signed on Friday, victims of sexual assault now have a specific set of rights under federal law when it comes to the evidence collected from their own bodies. "Beginning today, our nation's laws stand firmly on the side of survivors of sexual assault," said Sen. Jeanne Shaheen (D-NH), who sponsored the Sexual Assault Survivors' Rights Act. The bill passed unanimously in both the House and the Senate last month before heading to Obama's desk."
* President Obama just signed a "bill of rights" for survivors of sexual assault (Vox)
AIDS and HIV
H.I.V. Arrived in the U.S. Long Before 'Patient Zero'
(NYT)
"HIV didn't just kill bodies. It killed a type of sex as well, a type of pleasure. It erased the possibility of my body and another meeting, one moment, without my mortality there too, watching. Sex is this: another body, my body, my mortality, all naked for me to see. I knew about HIV and death before I knew I was gay. I knew about death then, and that being gay might be deadly, and now I sleep with men."
* AIDS Taught Me Sex Was Deadly. A Pill Changed That. (Village Voice)
"But there is another, more specific reason why Pence deserved to be booed in this particular time and place. AIDS hit Broadway hard; the Reagan administration's cruel negligence toward the crisis resulted in the deaths of some of Broadway's brightest lights in the 1980s."
* There Is a Very Specific Reason Why the Hamilton Audience Was Right to Boo Mike Pence (Slate)
Sex work
"It's official: On Wednesday night, Amnesty International released its long-awaited policy on an incredibly contentious issue, calling on governments around the world to "decriminalize consensual sex work." Amnesty also wants countries to "include sex workers in the development of laws that affect their lives and safety" and ensure they are "protected from harm, exploitation and coercion."
* Why Amnesty International Is Calling for Decriminalizing Sex Work (NYT)
See also: The Everyday Faces of Sex Workers (NYT)
Incredible exposé by a former anti-trafficker. "So why do we have an entire movement dedicated to "helping" a group of people the movement isn't even talking to? Why do anti-trafficking conferences often lack any speakers who disagree with the Evangelical or left-wing feminist position on the sex industry? Why are the voices of those in the sex industry silenced, ignored, and totally discounted?"
* Why The Anti-Trafficking Movement Ignores The Voices Of Sex Workers (Patheos)
"I entered the sex industry because I lacked access to health care. … For transsexuals, this often has another dimension. These procedures can provide a degree of relief from gender or sex dysphoria, which, according to the American Psychiatric Association, includes "strong desires to be treated as the other gender or to be rid of one's sex characteristics." The APA further recognizes that some individuals with dysphoria "can benefit greatly from medical and surgical gender transition treatments.""
* I Do Sex Work So I Can Look At Myself In The Mirror (Huffington Post)
"Under the pretense of protecting the vulnerable, public officials are destroying what little safety and security sex workers have in determining their own autonomy over their body. Yet again, criminalization and intimidation are being used to perpetuate stigma against sex workers that will only serve to increase the violence against them. Yet again, when sex workers demand their rights, they are told they actually need to be rescued."
* The Backpage Raid: Misguided at Best, Dangerous at Worst (Medium)
"Many intelligent, well-informed self-described feminists believe sex work should never be decriminalized. In fact, the decriminalization of sex work is perhaps the single most divisive subject within feminism today. This divide is the result of a moral blind spot on the part of anti-sex work feminists or "antis." They conflate all sex work unconditionally with rape, trafficking, and patriarchal exploitation. Ultimately, this is based on a (very un-feminist) distrust of the loud and powerful testimony of sex workers themselves, who, as individuals and organizations, have called over and over again for decriminalization to keep us safe from violence, stigma, and exploitation. "
* 10 Reasons Sex Work Should Be Decriminalized (Refinery 29)
"… These new defendants included archetypes of the Seattle-Bellevue tech class, including an executive at Microsoft, an engineer for Boeing, and a director of software development for Amazon. Local media reported that these men were part of a "large-scale sex trafficking operation" and offered headlines such as "Microsoft and Amazon Execs Busted for Promoting Sex Slavery." It was shocking, scandalous, horrifying. Yet almost none of it is true—and the little that is technically true is so lacking in context that it's utterly misleading."
* The Truth About the Biggest U.S. Sex Trafficking Story of the Year (Reason)
"Come September, sex worker organizations are flooded with requests for interviews, observations, ride-alongs, quotations, and various other trips by academics and students to the Sex Worker Zoo. Sex worker organizations are universally understaffed and underfunded, and they have shit to do."
* Why You Shouldn't Study Sex Workers (Tits and Sass)
Main post image by Molly Crabapple for her fantastic piece, Drawn and Cornered.