Help the oldest sex blog on the internet keep going strong: Check out my Patreon.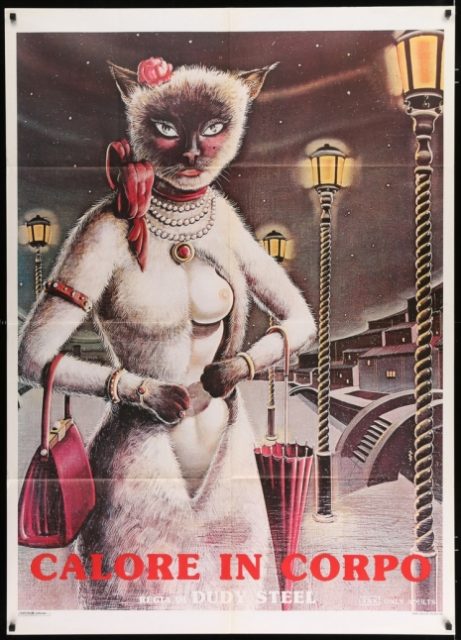 Censorship will be enforced at the ISP level. "The BBFC has told the Guardian it would be required to check if websites contain the kind of pornographic content it would normally refuse to classify. In practice, that means that R18 – the BBFC's most liberal classification, applied to pornographic works that can be shown in licensed cinemas or sold in licensed sex shops only, to adults only – will be the benchmark for what is acceptable."
* What, how and why? The UK's new online porn restrictions explained (Guardian)
""One of the coolest things about being a sex worker is that I have more time than everyone else to focus on radical activism," says Whaley, who models for a subscription-based porn site. "I can take an arrest – that's not going to impede my employability. I have money to fund my activism, and I have the flexibility to go where I'm needed.""
* How Sex Workers Are Fighting Back Against Trump (Rolling Stone)
"Who's coming to Thanksgiving? For Engadget executive editor and Computer Love columnist Christopher Trout, the list includes the following: his father, a preacher from rural Texas; his boyfriend, a cop he met on Grindr; his baby mama, a ciswoman to whom he donated sperm; his baby papa, a transman with whom he once hooked up; and his mom."
* New York Magazine's Sex Lives Podcast: Gay Son of a Preacher Man (NY Mag/The Cut)
"By bringing in mandatory age verification the digital economy bill will force homegrown porn out of business. Feminist, queer and indie porn sites are labours of love. We don't make much money, and can't afford to securely age check every site visitor. We bring much-needed diversity to the adult industry, and disrupt the homogeneity and heteronormativity of mainstream porn. We empower performers, depict authentic self-expression and subvert stereotypes. It's our sites that will disappear if this becomes law – not the behemoths of traditional porn, which are far more likely to be stumbled across by those not ready for that content."
* Restricting niche porn sites is a disaster for people with marginalised sexualities (Guardian)
The idea that the UK Tories want to ban porn of "unconventional sex acts" when they're all "lock me in a cupboard in a diaper" fetishists.

— Anthony B, (@swearyanthony) November 23, 2016
"… We found that people who scored higher on altruism also reported they were more desirable to the opposite sex, had more sex partners, more casual sex partners, and had sex more often within relationships (although this latter finding was not statistically-significant after controlling for personality variables). "
* Altruistic People Have More Sexual Partners (Scientific American)
This wasn't "fake news" — it was complete idiots reporting some high rando's tweets thinking they're true. Big difference. The low number of retractions is a real problem. "No, despite what you read, CNN did not run porn for 30 minutes last night, as was reported by Fox News, the New York Post,Variety and other news organizations, several of which later corrected their stories."
* False CNN-porn report shows how fast fake news spreads (USA Today)
Guardian goes to Copenhagen and talks to Michael Lodberg Olsen with the Sexelance, converted from a former ambulance to give street prostitutes a safe place to work. "Tonight the Sexelance is parked on Istedgade, a street tucked behind Copenhagen's central station which is known for porn shops, strip clubs and prostitutes. Passersby peer in. A drunk clutching a can of Carlsberg rolls up and is shown the lubrication dispenser and tray of condoms, which come as oral, normal or extra large. … Lodberg Olsen predicts that it could be months before Sexelance draws in its first client, in stark contrast to Fixelance, which had eight people come in to inject heroin in its first three hours."
* Copenhagen sex ambulance is safe space for capital's red-light workers (Guardian)
"We've joked about obtaining him a secondary partner — not for sex, but for slumbering spooning. "The sex is great, but the sleep… leaves something to be desired," he once told me. According to the experts, we're not alone."
* When the Sex Is Great, but You Suck at Sleeping Next to Each Other (Vice/Broadly)
The prudes are shrieking like banshees over this one, and what's wrong with nudity anyway? "The row prompted last week by news that the Texan actress and former model Amber Heard is being sued for $10m for reneging on a supposed agreement to be filmed naked has put a compelling new twist on a familiar Hollywood puzzle: why is screen nudity such a big element of so many female stars' early careers?"
* Cinema trains lens on role of nude scene: artistic, erotic or gratuitous? (Guardian)
"I met my husband through a friend. He is a very nice man. Just like me and my girlfriend, he has been with his boyfriend for many years and has not come out. … After I got married, friends who knew my sexuality started asking me for advice. That's when my girlfriend and I realised that there are many people who are in desperate need of help… So we set up a service on social media called iHomo."
* 100 Women 2016: My sham marriage (BBC News)
Main post image via Dangerous Minds.