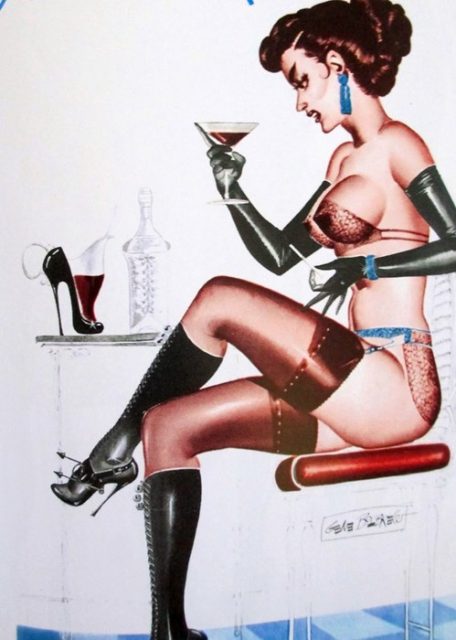 "As you've likely heard by now, Anthony Weiner has once again messed up his life due to his inability to not sext everyone all the time: His wife, Hillary Clinton's right-hand woman Huma Abedin, is leaving him, and he has lost two of his regular gigs in the wake of his latest sexting scandal, which includes the rather unpleasant revelation that he sent racy texts while lying in bed with his toddler son."
* Maybe Don't Call Anthony Weiner a Sex Addict (New York Magazine)
See also: How Real Is "Online Infidelity" And "Addiction"? (Voactiv)
"A 62-year-old man was arrested after allegedly filling a lubricant dispenser with hydrochloric acid at a sex club in Australia. No serious injuries were reported in the incident at "gay and bi social club" Aarows in northwest Sydney. Items in the room had been fitted with anti-tampering alarms after they had been interfered with in the past."
* Australian man 'put acid in sex club lubricant' (BBC)
Thanks to our sponsor in France, the exquisite Dorcel Club.
Warning for survivors of sexual assault, abuse and trauma. "Dead or Alive Xtreme 3's virtual reality update is slated to launch on the same day as PlayStation VR, and features a handful of experiences designed to let players ogle the female body. A video from Gamer.ne.jp shows that one of these game modes features active harassment — allowing a player to continually touch a woman who is verbally protesting."
* 'Dead or Alive' VR is basically sexual assault, the game (NAME)
"For some cisgender men, who make up the majority of my clients, humiliation that undermines their sense of masculinity or subverts the social expectations imposed by manhood can be particularly potent and erotic. But in the wake of last week's news, where statues portraying a naked Donald Trump with a minuscule dick and no testicles appeared in cities across the US, I've been thinking about where our obsession with small penis humiliation comes from."
* What You Learn About Masculinity from Making Fun of Men's Small Dicks for a Living (Vice)
"Torrentfreak points us to the news that some other FBI sites are serving up porn as well, though mostly out of FBI incompetence, rather than competence. Apparently the domain the FBI was using for its nameservers for the domains it seized from Megaupload expired, and someone else snapped it up and redirected all the sites using those nameservers to advertisements basically for porn. So, the FBI is now essentially pointing people to porn via Megaupload."
* The FBI's Megaupload Domains Are Now Hosting Porn Ads (Techdirt)
"A group of the world's largest adult entertainment companies have come together to announce #FreePornDay, which will be held on Sept. 8, 2016. Consumers can visit FreePornDay.com, where they can browse the list of 50-plus participating sites by genre and popularity, and click through to enjoy the full fruits that each site has to offer."
* Landmark #FreePornDay Set for Sept. 8 (XBIZ)
Much love to our delicious woman-run sponsor, FrolicMe.
If you want to see that Blac Chyna cover for Paper Magazine… "On the red carpet at the 2015 MTV VMAs, she and her close friend Amber Rose wore coordinated outfits covered in handwritten slurs, the kind of gendered insults you can find all over their social media pages. "Stripper, slut, ho, all these things people portray us as — we wanted to start a movement, because we're tired of this double standard …" Chyna says"
* Blac Chyna's New Reality (PAPER)
"A Progressive Conservative government would retain Ontario's updated sex education curriculum and Tory Leader Patrick Brown said it was "a mistake" for his party to claim otherwise. … "It is important to have sex education to combat homophobia and raise important issues like consent, mental health, bullying, and gender identity," Brown said. "The world has changed and so should the curriculum.""
* Tory leader Patrick Brown apologizes for sex-ed 'mistake' (The Star)
Main post image via Nine of the most iconic retro BDSM illustrators (Dazed), which left out so many of my faves!