Before we dig into this week's superb essays and other writings on human sexuality around the world, I have to say something.
This past week, the Washington Post published a series of articles on the topic of porn, for its "In Theory" series, which "takes on a big idea in the news and explores it from a range of perspectives." The Post explained, "This week, we're talking about pornography regulation."
This was borne out of the attention the Post received over publishing an op-ed by conservative feminist, anti-porn political activist Gail Dines. By running a politically motivated piece absent of editorial oversight — fact-checking — the Post angered a significant number of readers who called bullshit on the news outlet.
So under the guise of demonstrating objectivity and presenting a range of opposing views on pornography, the Post ran its "In Theory" porn series. The following articles were published:
* Pornography is more than just sexual fantasy. It's cultural violence. (anti-trans, anti-porn Julia Long)
* The anti-porn movement is growing. The public is just catching up. (Haley Halverson, Communications Director for the National Center on Sexual Exploitation, formerly Morality in Media)
* The conversation we're not having about porn (Alexander Rhodes, NoFap abstinence movement)
* How porn makes inequality sexually arousing (Robert Jensen, anti-porn, widely-debunked Gail Dines colleague, Creationist)
* Who defines pornography? These days, it's Facebook. (Jillian C. York, EFF's Director for International Freedom of Expression)
* The case for banning pornography (Matthew Schmitz, pro-life/anti-porn religious conservative)
* Is pornography a public health crisis? (Original title: Porn: You know it when you see it. Should it be regulated? – Christine Emba, pro-life anti-porn religious conservative)
* Porn isn't a public health hazard. It's a scapegoat. (Mireille Miller-Young, reputationally challenged Professor of Feminist Studies at UC Santa Barbara)
Out of seven articles, only one presents an opposing viewpoint (Miller-Young). When the two essays that could be considered positive or neutral viewpoints were published, they were simultaneously published with anti-porn essays. Except even York's out-of-place Facebook rant still positions pornography as harmful. Incidentally, my above footnotes on the authors are well-documented and links are provided as a starting point.
The Washington Post not only deceived readers about the agenda of its "In Theory" porn series, the outlet also deceived readers about the sources of these writings. For instance, its final day in the series featured an article by Haley Halverson which depicts the anti-porn movement as a cultural zeitgeist brought on by public common sense, thanks to the good efforts of The National Center on Sexual Exploitation. What readers are not told is that NCSE is the re-branded faith-based group Morality In Media, Inc., which changed its name in 2015. Halverson runs its PR department. This organization is a thread connecting most of the Post's authors.
The Washington Post deceived its readers. It presented a politically conservative agenda under a false banner. This reveals something deeply rotten in its editorial department, and a leadership who possess a calculated intent to sway and direct public opinion.
People who do this specifically use emotional and polarizing issues like porn, sex, and crimes against women and children to enforce their restrictive moral codes, to codify censorship, and when conflating sex and crime, to validate the culture of oppression suffered by women and LGBT people. (You'll notice that in all of these essays, LGBT culture and gay porn, as well as the queer feminist porn movement, are completely and conspicuously absent. As is anything about porn regulation in California, which includes a lot of very articulate state senate testimony by porn performers.) The Post deliberately distorted its snapshot of pornography and discussion of regulation.
That's because they don't think anyone will check the facts on their pseudosceince on sex addiction or their 'studies' which come from religious universities and debunked academics. Or that some of us will actually drag their topics out into the light. Because it's sex. If we do, it's all too easy to exploit emotions around child and adult sexual abuse to derail the discussion.
What the Washington Post did this week was wrong. But what I want you to remember is that this kind of manipulation is where censorship pulls its strength, and keeps the discussion of porn within the realm of saving women and children. Being so straight, it perpetuates a sexist agenda, where women have no voice, no agency, and no say in what they do with their bodies. It preaches that someone else will always know what's best for women, and works to curtail female sexual freedom.
I encourage you to never consider or cite anything the Washington Post publishes as objective.
#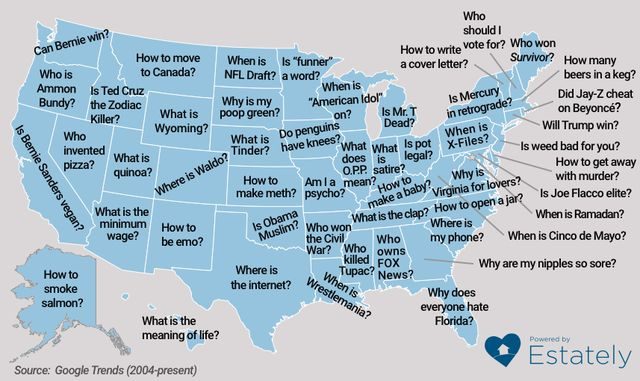 "South Dakotans ask, "Is it truly possible to understand another person, or are even those closest to us ultimately unknowable?" Ha, just kidding. South Dakota asked, "Why is my poop green?" more than any other state. … Kentucky asks, "How to make a baby?", and Tennessee asks, "what is the clap?"
* Be embarrassed by your home with this map of each state's favorite Google question (AV Club, via Thomas Roche)
"Former UCLA student and actor/director Tasha Reign said in her interview with the Guardian that "the porn industry is 100 percent ahead of any other industry when it comes to women in power." She admits that there are exceptions to the rule, but generally, she says porn is a business that respects women's opinions, supports them in roles of leadership, and discriminates a lot less than other media companies."
* 5 Things We Should All Stop Thinking About Porn Stars (Bustle)
"Before Tinder, before shopping malls, drive-ins, or speak-easies, young people searched for a place to meet and flirt. In 19th century America, wild political rallies offered the perfect opportunity. Courting young people mixed national campaigns with personal romances, shaping American democracy in their search for love."
* When Political Rallies Were for Sex (Daily Beast)
"Self-styled 'indie erotic film director' Erika Lust was more than happy for me to stop in on a day's filming however, given she's at the fore of a cabal of female pornographers trying shift the porn paradigm in terms of both ethical and aesthetical quality."
* Can porn be art? On the set of an indie erotic film (Independent UK)
Warning for survivors of sexual assault, abuse and trauma. "For many years we have documented human rights violations against sex workers in countries all over the world, highlighting the fact that they are consistently at heightened risk of abuse. Today we launch four detailed research reports into the situation for sex workers in Argentina, Hong Kong, Norway and Papua New Guinea. The picture is grim."
* Out of the shadows: fighting for the rights of sex workers (Amnesty International)
"In other words, it's a no-brainer that people would want to be blown by Emma Stone or fuck Kurt Cobain in their dreams. But how to achieve this is another matter. Many theories about lucid dream sex all boil down to the same concept: Lucid dream is not about fucking, but about emotional connection with the dream figure. The "carrot on the string" theory explains why that beautiful woman in your dream suddenly turns into your perverted uncle when you get too close: You're self-limiting. The fantasy is in the relationship, the connection, no matter how short-lived."
* How to Have Lucid Sex Dreams That Fulfill Your Kinkiest Desires (Broadly/Vice)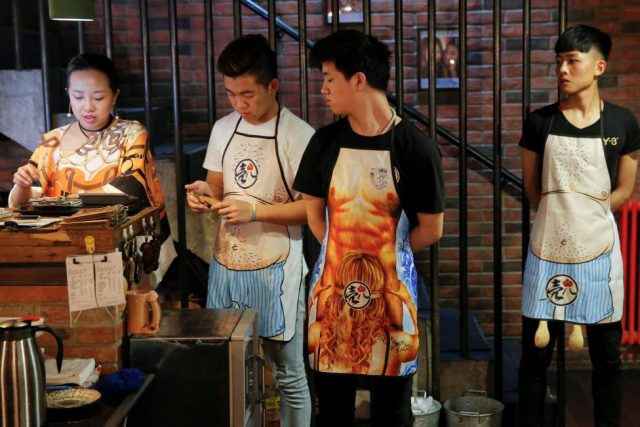 VB note: Something is wrong with this article, possibly the restaurant's name. Can anyone help me actually find verification of this restaurant? ""With drinks served in breast-shaped cups and beers opened with bottle openers shaped like a wooden penis, the father and daughter team behind a Beijing S&M restaurant are encouraging customers to mix food with sex. Owner Lu Lu, a 27-year-old divorcee, said business has been good since opening just under a year ago, with young Chinese streaming in to feast on seafood, such as lobster, under the gaze of mannequins wearing bondage gear."
* Beijing fetish restaurant teases with lobster and sex (Reuters)
"Case in point: The clients who see me in search of fetish wrestling. Men pay me hourly to wrestle with them, usually topless or in a bikini, and it supplies a significant part of my income as a sex worker. Sessions can be athletic or playful, competitive or whimsical. My monetary rates and physical boundaries are clearly negotiated ahead of time, and we meet in a secure, private, comfortable location of my choosing. It's an incredibly fun job that keeps me fit and allows me to meet a multitude of interesting folks with whom I would never interact otherwise."
* Talking to Men About Why They Want Me to Kick Their Asses (MEL Magazine)
"This winter, as the election dominated the headlines, President Obama made a major decision: He removed all $10 million of annual funding for abstinence-only sex education from the 2017 federal budget. If Congress approves the budget, ending federal funding for abstinence-only sex education—which studies show fails to prevent teen pregnancies and STD transmission—will be one of Obama's lasting legacies."
* Thanks Obama: The Future of American Sex-Ed May Not Include Abstinence-Only Funding (Bitch Media)
"Evolutionary science has shown that, for humans, flirting is a key test of emotional and social intelligence. It assesses exactly the capacities that AI researchers are trying to endow machines with: the ability to generate feelings in others, and to understand context and subtext—or the difference between what a person wants and what a person says."
* How to Teach A Robot to Flirt (New Republic)
"A few beers later, he pranced across the room and whistled like a furious carnie, throwing his dollars on my stage during my set. He wrote his number on a matchbook in blue pen and threw that too. I hovered in the DJ booth until he was out of the parking lot before I left the club because my need for safety will always trump their need for my comfort."
* What Does Safety Feel Like When You're A Sex Worker (Buzzfeed)
"Rokudenashiko is a Japanese artist who followed her muse into legal and social strife, all documented in her newly translated graphic novel, What Is Obscenity? The Story of a Good For Nothing Artist and Her Pussy. … In July, 2014, Rokudenashiko's home was raided by police. She was arrested and jailed a week for violating obscenity laws, which do not clearly define what is considered obscene."
* Japanese artist Rokudenashiko on sexuality, obscenity and jail time (Globe and Mail)
"Ancient, magical spells of love, subjugation and sex: It may sound like a "Game of Thrones" episode, but these things are also found on two recently deciphered papyri from Egypt dating to around 1,700 years ago. One spell invokes the gods to "burn the heart" of a woman until she loves the spell caster, said Franco Maltomini of the University of Udine in Italy, who translated the two spells. Another spell, targeted at a male, uses a series of magical words to "subject" him, forcing him to do whatever the caster wants."
* Sex spells discovered on ancient Egyptian papyri (CBS News)