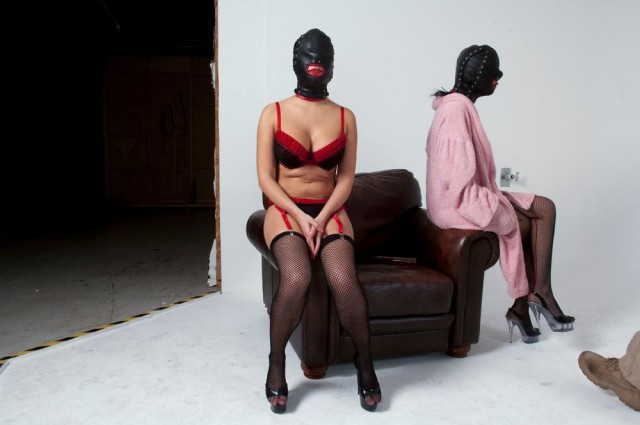 "What surprised you about working in porn?
There are probably a million things. One of the most obvious things is that I never, ever saw a girl have an orgasm—it's all obviously really, really good acting. And if you ever see a cum shot in a still, then it's probably a mixture of soap and lube."
* NSFW Photos from the Four Years I Spent on a Porn Set (Vice UK, image above via)
"PornHub has launched a bug bounty program for security researchers and bug hunters who can find and report security vulnerabilities in its website. Partnered with HackerOne, PornHub is offering to pay independent security researchers and bug hunters between $50 and $25,000, depending upon the impact of vulnerabilities they find."
* Pornhub Launches Bug Bounty Program; Offering Reward up to $25,000 (The Hacker News)
"There were only 26 permits issued in 2015 for Los Angeles-area adult entertainment filming, according to FilmL.A., the local authority that processes film production permits. …Permits issued for porn productions have declined stunningly since November 2012, when Los Angeles county voters approved Measure B, which requires performers to wear condoms during sex scenes. … In 2012, adult filmmakers filed 480 permits, according to a FilmL.A. estimate."
* L.A.-Area Adult Film Permits Dip to 26 in 2015 (XBIZ)
Thanks to our sponsor in Spain, women-run Lust Cinema.
Missouri adds "advertising" to conduct that can be sex trafficking https://t.co/OckiDsPxNP

— ElizabethNolanBrown (@enbrown) May 11, 2016
VB note: they neglected to mention that malachite is also breakable, and can crack with razor-sharp edges. I know because I dropped a sculpted malachite obelisk once, and it broke. "An apparent geologist on Tumblr posted a beautiful malachite stalactite that bears an unfortunate(?) resemblance to, well, a phallic object used for penetrative sexual play, commonly known as a dildo. But as soon as Tumblr noted the stalactite's possible utility as a sex toy, other users were quick to point out that malachite is a poisonous, water-soluble mineral."
* Please don't use this stalactite as a dildo, even though it totally looks like one (Daily Dot, via Ariel Waldman)
"Some 43 million users worldwide have a presence in a virtual world, a number that is expected to quadruple in the next few years. Platforms such as Active Worlds, Blue Mars and Second Life are among the most popular. Players immerse themselves in video game-like environments where you control everything from dance moves to sex positions. On Red Light Center you can join a wild orgy party happening in real time with strangers all over the world. Or do it Kama Sutra-style in, say, a glittering castle on the moon."
* How Virtual Hookups are Leading to Real Sex (Playboy)
"AIDS Project Los Angeles (APLA), one of the state's leading public health and advocacy organizations, has announced its opposition to a pending ballot measure pertaining to adult film production in California. The controversial "Safer Sex in Adult Film Production Act" is awaiting approval to appear on November's ballot."
* AIDS Project Los Angeles Formally Opposes Adult Film Ballot Initiative (XBIZ)
"Jason Galanis, a man who in 2004 was [once] called "Porn's New King," was arrested by FBI agents at his Los Angeles home on Wednesday and charged with taking part in a $60 million scam that ripped off impoverished South Dakota Sioux and others. It was the third time in nine years that Galanis had been accused of engineering a financial fraud."
* 'Porn's New King' busted for ripping off tribe in $60M scam (NY Post)
Much gratitude to our thoughtful sponsor, Nubile Films.
Another journalist wants to discuss porn addiction. Why do journos hate pornography so much? pic.twitter.com/hIcGxAXv4F

— Alan McKee (@ProfAlanMcKee) May 11, 2016
"London Bridge Plastic Surgery clinic advertised its services for labia reshaping in the Metro newspaper. The clinic promised women they could "achieve a more natural appearance" and "relieve the discomfort caused by enlarged labia." … However, five readers complained about the ad to the Advertising Standards Authority (ASA) on the grounds it was socially irresponsible to encourage women to consider unnecessary cosmetic surgery. The ASA agreed and banned the advert."
* 'Designer vagina' surgery ad banned for promoting negative body image (RT)
"The Nova already looks realistic, albeit more doll-like than human-like (which is likely the goal). It will be very interesting to see improvements once an actual prototype is revealed. Abyss Creations plans to be in the prototype stage in early 2017 and begin taking preorders later that same year."
* The Early Makings of a Talking Sex Robot (Future of Sex)
"I recently came across a list on eBaum's World of intellectually-gifted porn stars. It's an impressive catalog, but it's comprised mostly of straight actors. Inspired by the eBaum list, I am proud to present but a few of their queer counterparts… who are also (at least) as smart as you are."
* Seven Queer Porn Stars Who Are Probably Smarter Than You (Huffington Post)
Panned for not being straightforward about sex, interestingly. "Tinder's new ad in India has been swiped left — rather decisively — on social media. The ad, released on May 7 on Facebook, shows a young Indian woman preening in her bedroom mirror. Her mother enters the room and asks about her plans. The daughter is reluctant to admit that she is going on a romantic date—but the cool mom not only knows what Tinder is, she is also quite happy to have her daughter use it."
* Tinder's new ad stars an Indian mom who's cool with casual sex—and kids are freaking out (Quartz)