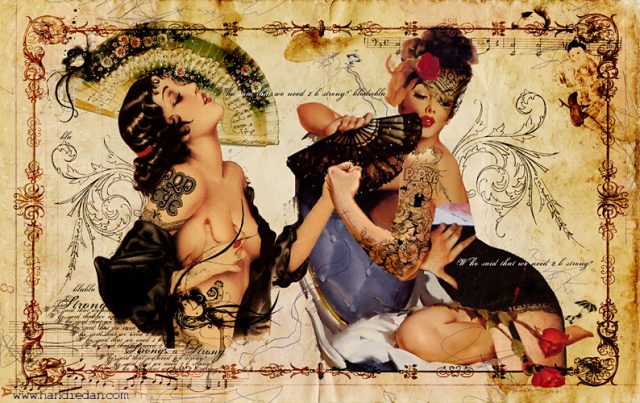 "It's official: On Wednesday night, Amnesty International released its long-awaited policy on an incredibly contentious issue, calling on governments around the world to "decriminalize consensual sex work." Amnesty also wants countries to "include sex workers in the development of laws that affect their lives and safety" and ensure they are "protected from harm, exploitation and coercion."
* Why Amnesty International Is Calling for Decriminalizing Sex Work (NYT)
Warning for survivors of sexual assault, abuse and trauma. "For many years we have documented human rights violations against sex workers in countries all over the world, highlighting the fact that they are consistently at heightened risk of abuse. Today we launch four detailed research reports into the situation for sex workers in Argentina, Hong Kong, Norway and Papua New Guinea. The picture is grim."
* Out of the shadows: fighting for the rights of sex workers (Amnesty International)
Thanks to our sponsor in Spain, women-run Lust Cinema.
Who slut shames & attacks women on Twitter? 50% of such Tweets are by other females. Not by "patriarchy." https://t.co/w3zSjn7ffq

— David Ley PhD (@DrDavidLey) May 26, 2016
The video has been removed from YouTube "for violating YouTube's policy on nudity or sexual content." "Erika Lust put up [a non-explicit edit of] Do You Find My Feet Suckable? on 13 May and it still hasn't been taken down, suggesting it meets YouTube's rules, which state that "sexually explicit content like pornography is not allowed".
* First SFW porn hits YouTube (Independent UK)
"In other words, it's a no-brainer that people would want to be blown by Emma Stone or fuck Kurt Cobain in their dreams. But how to achieve this is another matter. Many theories about lucid dream sex all boil down to the same concept: Lucid dream is not about fucking, but about emotional connection with the dream figure. The "carrot on the string" theory explains why that beautiful woman in your dream suddenly turns into your perverted uncle when you get too close: You're self-limiting. The fantasy is in the relationship, the connection, no matter how short-lived."
* How to Have Lucid Sex Dreams That Fulfill Your Kinkiest Desires (Broadly/Vice)
"Last week, employees at the three New York City locations of Babeland, a Seattle-based adult toy store, voted to join the Retail, Wholesale and Department Store Union, the group said on Monday. The move, workers said, would help them address a number of wage and training issues, as well as some concerns related more specifically to the nature of adult retail work and to a handful of transgender employees."
* Babeland's NYC sex shop workers vote to unionize (Seattle Times)
Much gratitude to our thoughtful sponsor, Nubile Films.
Snake bites man on the penis. The final gif in this story just adds to the horror. https://t.co/b2lGT6cOjn

— Ms Naughty (@msnaughty) May 27, 2016
"A British survey on how people feel about the future was conducted by ComRes in the lead up to FutureFest, a festival of future ideas. Up to 1,002 British adults were interviewed online. Of these adults, a quarter of young people aged 18 to 34 said they would date a robot if they could, one, ensure a perfect match, and, two, not tell the difference between dating a robot and a human."
* Artificial Lovers: A Quarter of Young People Would Date Robots (Future of Sex)
"Tingle's short erotica may at first seem like straightforwardly bad writing. … His books also skewer the open culture of self-publishing, where everything and anything goes. … His works, which he dubs "tinglers" and which are all 100 percent gay, are a deliberate absurdist response to homophobia. In the few interviews he's done about his work (which are generally delightful), he's continually parodied homophobic "slippery slope" arguments and general conservative moral panic."
* Satirical erotica author Chuck Tingle's huge troll of conservative sci-fi fans, explained (Vox)
Main post image: Art by Handiedan, via Unbiased Writer.