Check out my anthology on cybercrime and passion: Wetware: Cyberpunk Erotica ($3.89)
Susie Bright weighed in on the just-released Paris Attacks terrorist manifesto on her Facebook page, reposted on Towleroad. The manifesto said it "set out targeting the capital of prostitution and vice" and Bright elaborates on "Their obsession with sexual revenge, the revenge of the sexually rejected." Warning for survivors of sexual assault and trauma.
Susie Bright on the Sex-Obsessed Paris ISIS manifesto (Towleroad)
One year after demonstrators convened outside Parliament to protest a change in regulations for online adult content distributors, organizers are planning another one. This year's demonstration, called "(Pro) Porn Protest 1 Year On," is slated for Saturday, Dec. 12, at noon at the Old Palace Yard opposite the Palace of Westminster.
London Porn Protest Slated for Dec. 12 (XBIZ)
November 14 saw an unnamed porn performer interviewed by UK media alleging that she'd had sex with a Hollywood actor who is HIV positive, and that the actor had sex with at least 50 adult movie actresses, despite knowing his condition. It wasn't hard to guess it might be Charlie Sheen — who had now disclosed that he is HIV positive. Added: The actor said he had paid "millions" to unnamed individuals who had threatened to expose his HIV-positive status. Sheen said he was diagnosed with HIV about four years ago. He insisted that it was "impossible" that he could have transmitted the virus to someone else since his diagnosis, while acknowledging that he had unprotected sex during that time with two people.(Variety)
TMZ and People Magazine: Charlie Sheen Is HIV Positive (XBIZ)
Earlier this week, PornHub announced a 10% drop in traffic among videogame fans the day Fallout 4 was released. Using anonymous user affinity profiles from Google GOOGL +1.47% analytics, the site saw the biggest drop between 6AM and Noon, and then again between 6PM and 10PM, hours it assumed most people were just beginning their trips into the wasteland.
Pornhub Says Its Gaming Audience Dropped 10% The Day 'Fallout 4' Came Out (Forbes)
Indie porn film fest Porntopia was last weekend, and it looked amazing! I can't find any coverage or afterglow posts (yet), but the thank you post is here, and some really nice photos are up here.
Porntopia 2015 photos (Gourmet Book Design, Porntopia 2015)
I love Sara Karola's "Dirty Dishes" on display at Unseen Gallery. #GUSH #pornotopia2015 pic.twitter.com/pYGYDrxpnG

— Jiz Lee (@jizlee) November 16, 2015
Thanks to our sponsor in Spain, women-run Lust Cinema.
San Francisco grand dame and larger-than-life '60s cultural figure Carol Doda has died. The 78 year old was beloved and revered for her bare, entrepreneurial spirit — not to mention her bare, once world-famous, silicone-injected 44D breasts — and will be missed and remembered by many for her legacy of positivity and free expression.
Carol Doda, '60s Stripping Sensation And Cultural Icon, Dead At 78 (SFist)
Doctor Who producers are bringing back flirty female favourite River Song to serve up a Christmas Day "sex storm" for fans. They decided to include River – played by Alex Kingston – as surprise guest star in the raunchiest-ever episode of BBC 1's long-running sci-fi show.
Doctor Who is serving up a 'sex storm' as favourite character returns (Mirror UK)
Much gratitude to our thoughtful sponsor, Nubile Films.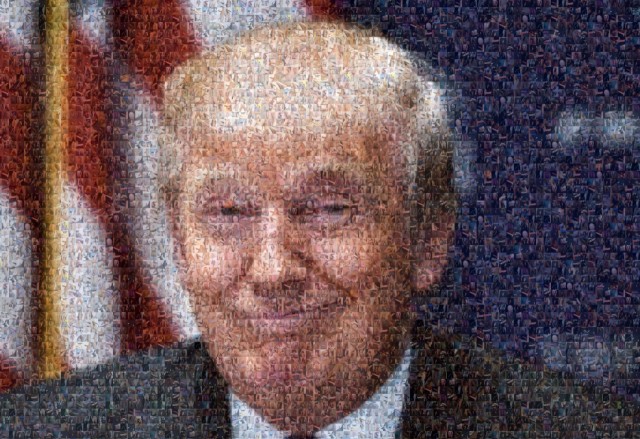 The mosaic portrait of Donald Trump made entirely of dick pics is uncredited on every website right now, including NY Mag, Esquire and many others. It's actually by HomoPower, who says, "I give you a pic showing what Donald Trump is really made of. This is a high-resolution photo mosaic of Trump made with 500 dick pics."
HomoPower: Donald Trump (homopower.tumblr.com)
Larry Flynt appeared on the Nov. 11 episode of Bravo TV's "Million Dollar Listing," negotiating the sale of Hustler's Sunset Strip property to developer Zachary Vella of VE Equities. It will reportedly be turned into an upscale restaurant and nightclub.
Larry Flynt Sells Hustler Store on 'Million Dollar Listing' (XBIZ)
Thank you to our sponsor in Holland, Abby Winters.
A Secret Service officer assigned to the White House was arrested after he was caught in a sting sending naked pictures of himself to someone he thought was a 14-year-old girl from Delaware, according to a criminal complaint unsealed last Thursday. The complaint comes after a series of high-profile controversies for the Secret Service.
Secret Service officer arrested in child sex sting (CNN)
After 10 years honoring some filmmakers in erotica, organizers of the Feminist Porn Awards have decided to draw the curtains on the show. Carlyle Jansen, owner of Toronto adult toy store Good for Her, which launched the awards program in 2006, said that the show will take "a short break" in 2016 and return at a later date.
Feminist Porn Awards Won't Be Held in 2016 (NAME)
A man who admitted to stealing nude photos from women's email accounts and selling the images for publication on a website was sentenced Monday to more than two years in federal prison. Charles Evens confessed to breaking into the Gmail and Yahoo email accounts of hundreds of women, obtaining nude photos and selling the images to another man, Hunter Moore.
Judge sentences 'revenge porn' hacker to 2 years in federal prison (LA Times)
Thank you to our sponsor and friends, Pink Label TV.
A Christmas print ad for retailer Bloomingdales shows an image of a woman and a man with a very questionable headline between them. The headline reads, "Spike your best friend's eggnog when they're not looking." Like every brand which finds itself in this situation, an apology has been issued on a Facebook post. It begins by avoiding accountability, saying "In reflection of your feedback …"
Bloomingdales's Slammed With Social Media Outrage Over Date Rape Ad (Adrants)