Meet indie erotica's perfect couple: Filthy Housewives and Bisexual Husbands.
After discovering the incredible body of work belonging to Australian photographer Justin Fox late Friday night, and all the stunning, dreamy nude editorials, I was hooked. Then I found the gallery dedicated to his photography cohort and cat companion Mia, and all her work in photo sets and videos with beautiful babes of all kinds, and realized I was hooked.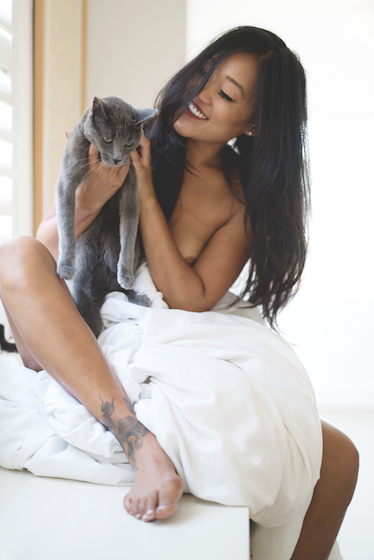 Like many readers here, I've loved spotting cats in porn, and especially cherish the Indifferent Cats In Amateur Porn Tumblr. But Mia is the opposite of indifferent, and when you see her mimicking the poses of Fox's all-natural glamour nudes, you know she's really digging her impromptu modeling gigs.
We can tell how much the models love working with this feline pinup superstar, but Mia, your fan base just got bigger!