To celebrate the release of Best Women's Erotica 2015 (and the great reviews it's already getting — thank you!) I asked Alison Tyler for permission to reprint her story from the book here. And she said yes!
The book has a range of compelling stories with a refreshing variety of sexual encounters, and each of the authors has her own distinct style of literary erotic storytelling. In one story, a hacker finds himself in a predicament when he accidentally leaves his webcam on — and his female chat partner won't let him off the hook. Another holds us as captive voyeur when a female ghostwriter indulges a wealthy businessman, and he uses her for far more creative purposes than just writing — even loaning her out to his business associates. In another, a woman becomes determined to find a dirty stranger to feel her up on the subway, and with the help of a clever and resourceful friend, she gets what she wants.
Among the collection's stellar lineup of finalists is Alison Tyler's story "A Not-So-Subtle Spice". In it, Tyler takes us into an immersive and creative scenario, where "mild-mannered housewife" Bonnie discovers the fantasy of figging in a collection of Victorian erotica… and gets caught in a compromising situation. Illustrated with images from "Shibari Reverie" starring Tiffany Doll and Marc Rose.
A Not-So-Subtle Spice
By Alison Tyler, reprinted with permission
Excerpt from Best Women's Erotica 2015
Bent over, bottom exposed in the split of the leggings, plump arsecheeks.
There was a time when I read Victorian pornography that I kept hidden beneath my mattress so my husband wouldn't know. I'd bought the book at a secondhand store — clearly shelved by accident with the mysteries. The title had piqued my interest, and when I pulled the tome from the shelf, the fat spine split open, and I found myself mesmerized by the text on the yellowing pages.
Words leaped out at me: birching, pantaloons, figging, flogging, martinet. I knew what some meant, didn't understand others. I'd only read a few paragraphs, growing wetter and wetter with each sentence, before deciding I needed to own the book.
I paid for my purchase and immediately left the store on shaky legs. I couldn't even wait to get home. I hurried to my car parked in the dusty little parking lot behind the bookstore, and I fell inside the driver's seat, trembling all over. I'd never read anything like this before. With no control of myself, I slid my fingers under my dress and into my panties. I devoured the stories about taboo topics — the printing odd and almost indecipherable in places, the descriptions of the undergarments like something from a twisted lingerie catalog.
My car was parked beneath a magnolia tree. Late afternoon sunlight spilled through the purple-tinged white petals, heating their scent. I couldn't catch my breath. I couldn't stop myself. I leaned into the steering wheel, groaning as the climax took me.
That was my first.
I'd seen porn before, of course. Everyone had spied the stack of Playboys kept in the garage or in a toolshed — even mild-mannered housewives such as myself. But the models in those spreads were blonde and shiny and clean. Their bios were penned in darling handwriting as they confessed a love of strawberry ice cream and sunset walks on a white-sand beach. These stories were filled with secret longings, dark desires.
Birch rods, quim, flog, spirit, naughty, cocks.
I was supposed to buy Hamburger Helper at the grocery store, to have my husband's ice-cold Bud on the Formica table when he came home from work. But I couldn't make myself.
Wide-open cunt, lovely bottom hole.
At home, I touched myself to story after story. I had never done this before. I knew men masturbated — it was something they did for release — but I hadn't felt the urge. Now I was in a frenzy. The pieces had been originally printed as serials — and the layout of the collection was true to the publication. So in order to read an entire story from start to finish, one had to flip forward, trying to find the next installment, trying to devour the whole situation. A naughty maid, soundly punished for a minor indiscretion — figged — there was that word again — to keep her from clenching.
Clenching how? Clenching what?
The time got away from me. I made Sloppy Joes at the last possible minute, an old standby and Henry didn't seem to notice. He didn't smell my scent on my fingers. I'd scrubbed myself fiercely after climaxing for the fourth time—and my skin was tinted pale green under my nails from Palmolive. Henry bent and lightly pressed his lips to my cheek before taking a second beer to the living room to watch TV. And that was that for us. That was that for the night, except for the occasional call for a fresh Bud.
I washed the dishes. Then I sat at the table and waited for him to go to sleep, needing to read more of the book. Taking the book into the closet with me, sitting by Henry's work boots and trying to figure out every phrase in the story. Henry rolled over heavily in the bed, and I started, then snuck the book to the living room, reading curled up on one corner of the settee until I'd finished the whole thing, breathless and confused.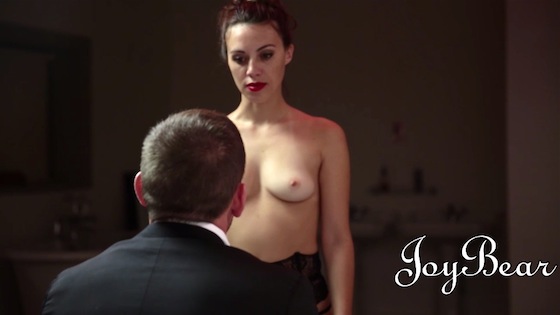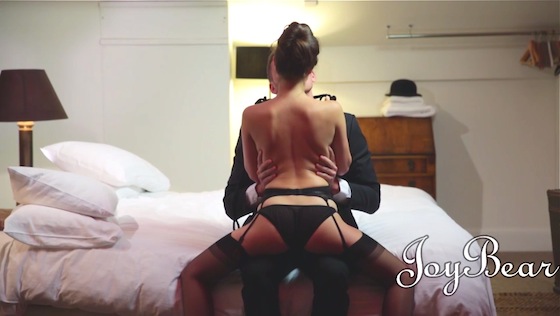 This was a fairy-tale collection. That's how the stories read to me. Taboo fantasies that could never come true.
Until…
I went to the library to research figging. I was desperate, my panties wet as I learned more about the term. I unraveled the mystery slowly. The way the piece of ginger was peeled and often kept in a glass of water until the appropriate moment of use. Appropriate. What a word to go with the act of sliding a fresh piece of ginger into a woman's asshole. The way a naughty miscreant would be bent over and forced to hold her asscheeks apart for the insertion.
Oh, sweet mother of mercy, insertion.
Finding a grocery that sold ginger root and not powdered ginger in sanitary bottles was difficult. I had to drive thirty minutes to a specialty store and purchase the knobby, gnarled bulb. By then, I was keeping my battered copy of the Victorian erotica in my handbag, stealing moments in alleys, on shady streets, reading and rereading the words until I had entire passages memorized.
I stashed the root in the vegetable crisper, certain that Henry would never discover my secret. He was a simple man with simple tastes, both easy to anticipate and to please. He was fine with my chipped beef on toast, happy with a tuna casserole, grateful every time I mixed Lipton soup mix into sour cream to create his favorite dip. If he sensed a change in my behavior, he didn't let on. We made a good team—we always had, and if — as people say — variety is the spice of life, then we were both satisfied with life on the bland side. A little salt. Not too much pepper. Nothing unexpected, foreign or gourmet.
We had a routine. He went to work, and he put in a full eight hours. I kept the house, and that meant something. There was dusting, vacuuming, gardening, making his meals, ironing his shirts. My days were filled — at least, they always had been — until I found the book.
I sat in the kitchen late at night, fondling the root while he slept, wondering if I'd have the nerve, if I might take the parer to the tanned digit-like protuberance and shave away the thick skin. I imagined what the ginger would taste like if I sucked the tip into my mouth. I fantasized how the root would feel if I got up the nerve to put the thing where I wanted it most.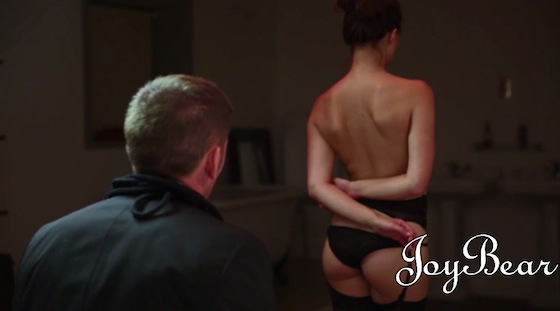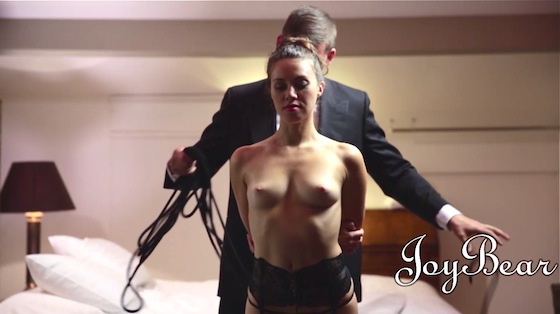 But soon I needed more. The stories all described the clothing — pantaloons or pantalettes with ruffles at the edges, undergarments that split and tied. I went to secondhand stores, then costume shops, then finally to vintage stores I found listed at the back of the Yellow Pages. I searched until I located the closest pieces I could to the ones featured in the tales. I coupon-shopped and scrimped and saved until I could afford one pair of underwear — old-fashioned with ribbons that laced and a seam at the crotch that would part like a ripe peach and reveal the nakedness beneath.
And oh, dear lord I will confess to clutching that garment in my hands, awash in shivers as I brought the crisp material to my face, breathing in the scent of laundry soap and rose sachets.
By then my ginger had shriveled and wilted, from age I knew, but I felt somehow it was from lack of use. I had to return to the store once more — that thirty-minute drive like one long bout of foreplay — to buy a fresh root, an even larger one this time.
The next day, I waited until Henry left for work and put on a white sundress. I took off my nylon hip-hugger underpants and slid into the pantaloons. I did my hair in braids with ribbons at the end and added only spots of petal blush on my cheekbones and bit my lips hard to bring up a natural red.
Turning in front of the mirror I told myself the story. Henry, searching for beer one night, would find the root and ask, "What's this, doll baby?" The root would almost disappear in his big fist, the question would illuminate his sky-blue eyes. He understood carrots and potatoes, frozen peas and creamed corn. An odd-shaped root like this would have no meaning to him.
"What is this, Bonnie?" he'd ask me, and I recalled in a flash the time I'd bought a fancy type of lettuce instead of iceberg, and how he'd tried to eat it, pouring on the Thousand Island, wincing at the bitter taste. I'd purchased a head of iceberg the very next day.
What would he say if I shoved the book in his hands, if I begged him to do to me what the man did in the story to the bad wife with her rosy orifices and her need for birching before fucking.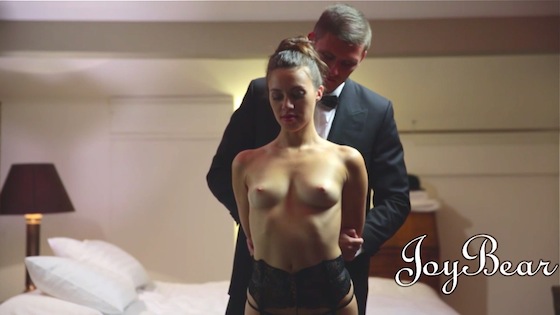 I no longer considered that part of myself as my "pussy." In the stories, the sensual space between a woman's legs was always a cunt or a quim. I liked to say that word aloud: "quim," and mine was too wet at the thought. I sought release, relief, rushing to the kitchen and gripping up the ginger, paring the rough skin with a few forceful strokes. It was time. It was finally time. I submerged the naked root in ice water while I tried to catch my breath. I would do it myself. I would put the ginger up my ass and feel the slow burn. I'd read every bit of information I could gather about the act. How at first, there wouldn't be much pain at all. Then, slowly, I would understand the sensation intimately, the gradual heat that would build. And if I clenched, I would…
The kitchen door opened unexpectedly, and I gasped and dropped the blade into the stainless-steel sink. Henry, home only forty minutes after he'd departed, found me staring at him wild eyed, wearing an antique-looking costume, holding a spice from a far-off land.
"What's all this, doll baby?" he asked in his deep baritone, that soothing voice I'd loved the first time he spoke. Why was he home? I glanced over and saw his lunch box forgotten on the counter, the shiny metal reflecting my frightened expression. Henry came closer and I could see him taking in my odd outfit — the floaty dress, the ruffle of those pantaloons peeking out beneath, my hair done simply in an antique style. "What's this?" The root — odd-shaped but smooth now, almost glistening in the glass of water. And me… stammering and useless, robbed of all sense of speech.
I couldn't explain. All I could do was to show him — as I had in my fantasy — leading him to the bedroom, pulling out the battered old book, which fell open to my favorite page.
Henry looked shocked at first by the existence of the book. Why was I keeping a book under our mattress? And why was I such a wreck? Henry read the sports pages, and I knew he had a dirty magazine or two out in the garage, but I never saw him reach for a book that wasn't some sort of manual—fix the car, fix the water heater, fix the plumbing. Now he sat on the edge of our bed and he read the words, his lips moving along with them, his brow furrowed. I clasped and unclasped my hands. I moved back and forth from one foot to the other. Henry and I didn't talk about sex. Yes, we had intercourse, and that was the word I'd use—every Friday night. Sometimes Sunday mornings. We loved each other, but we didn't do this. Whatever this was. With me almost panting, my throat dry, my cheeks hot, with Henry squinting at the words as if willing them to make sense.
Then he tilted his head at me, and he smiled, and my stomach unknotted. He wasn't angry. He wasn't upset. He looked at me, and then he spun me around, so he could see the outfit. Face-to-face once more, he lifted up my dress, taking in the ruffles on the pantaloons, admiring the way the antique garment fit. Not sleek like the nylon briefs I wore daily, but slightly loose and beribboned at the rear.
"You want this," he said, and he motioned to the book discarded on the bed. He drew me closer, between his big thighs, and he stroked his hands over my braids and he kissed my bitten lips. "You want this." Not a question, not a flicker of judgment.
"Yes."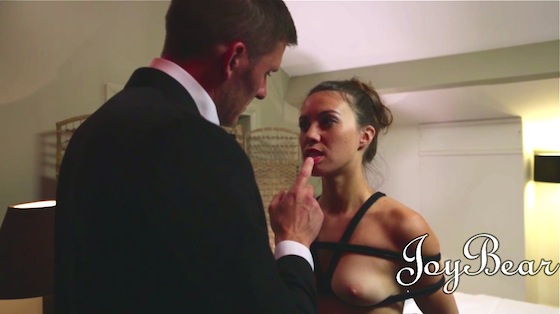 "Bend over the bed," he said, and that voice was gruff and raw, different sounding than I'd ever heard it speak. I gripped the blanket, a wedding gift. I stared at the tiny sprays of delicate daisies dancing over the pale-blue background. Henry left the room, and I knew where he was going, and I knew what this meant. He returned with the ginger, and he said, "It's going to burn."
"I know."
"You want it to burn."
"Yes."
He undid the ribbon at the back of the new/old knickers, and he parted the split and he held me open. I closed my eyes, then I felt him press the knobby head of that ginger root against my anal opening. We had had intercourse—that was the word. We had slept in the same bed, and he had put his penis in my vagina. But he had never put his fingers here, opening me, displaying me. And now, he was inserting the root, and I could feel the whisper of heat, growing bigger, growing bolder. I could feel the promise of the pain, and my cunt spasmed.
"You aren't meant to clench," he said, and he sounded intrigued and he sounded aroused. I looked over my shoulder at him as he reached for the book — my book — and read more. "But this is only the prelude, because now you need to be whipped."
We had eaten at the dining room table together. Sometimes talking about the weather or about what one of the men had told him at work—a used pickup truck for sale, a neighbor's son joining the military. We had talked, like husband and wife, like a couple. Like you do. And now he was unbuckling his belt and he was going to tan my backside while I didn't clench my cheeks around the ginger root slid up in there. My quim was dripping. I'd never thought much about how my cunt would feel when I imagined the ginger. I only concentrated on my ass. But the truth was that I could have come if I slid a finger between my nether lips, if I pressed down hard against my clit.
Henry, as if sensing my thoughts, leaned over me on the bed, his body pushing against mine so that the ginger slid even deeper into my ass. "Don't touch yourself," he said. "Don't even think about it."
I kept my hands on the blanket where he could see them. He rocked the ginger in and out of my behind, and my cheeks flamed pink.
"The point is to not clench," he said, "while I thrash you."
My heart pounded. I heard him snap his belt. I'd watched him thread that belt through the loops of his slacks for seven years. I had never thought he would ever use that strip of leather on my ass. He made the first blow count. I clenched unwittingly, and then I cried out. The burn intensified immediately, as the stories had said it would. "Ah, Bonnie," Henry said, and I could hear a smile in his tone. "That's exactly what you're not supposed to do. How'd that feel?"
I didn't answer. His big fist found my braids and pulled. I wasn't expecting that, him forcing me to turn my face to him. My eyes were tearing as I stared at him. "How'd that feel?" he repeated, and I whispered, "It hurt."
"Tell me."
"It's like fire inside me," I said in a rush.
He reached beneath my body and his fingertips strummed my clitoris. We had never — he had never — thought to ask about my pleasure. We had done it— the "it" being sex—the way we thought you should, the way we thought you were supposed to. But now Henry had his fingers on my button, and he was rubbing hard while the burning built inside me.
"I'm going to whip you again," he said, "and you're not going to clench this time."
"No, Henry," I whispered.
"No?"
"I mean, yes, Henry." I was out of my head with desire.
He struck me again, then again. I could hardly feel the pain from the belt on my skin because of the burning ginger in my ass. But I knew one thing. I knew that I needed this. My body was electrified like never before. I was panting, thrashing, squirming with every blow of his belt on my backside. Then he dropped the belt and he rocked the ginger into my ass by spanking with his palm repeatedly against the base of the root.
"Oh, oh!" I whimpered, and I thought of all the characters who cried out from pain and pleasure in my book. I had never made much noise in bed. Henry had never given me any reason to — and I hadn't thought to tell him how.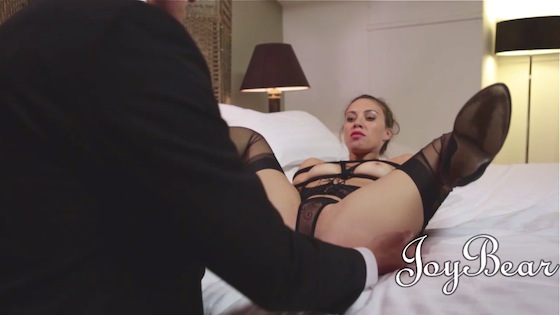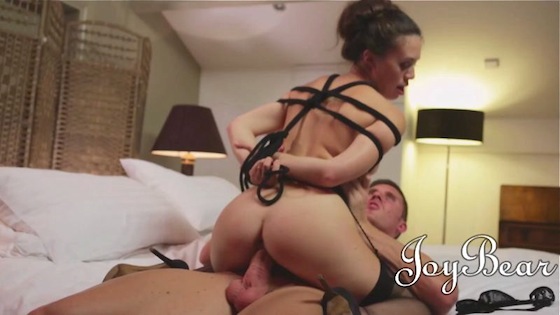 Just as the fire from the ginger started to dissipate, Henry pulled the root from my ass. He took off his clothes and got onto the mattress with me. I felt him probing me from behind, his cock sliding into the copious wetness between my legs. Then he thrust into me while running his fingers up and down my clit, and I came like a wild thing. The spasms of my cunt made Henry groan. He'd never been in me while I climaxed because I'd never climaxed during sex, and this was something new and exciting for him, too.
When he was slicked up with my juices, he pulled out and pressed this head of his cock to my asshole. "Do you want this, Bonnie?" he asked.
Oh, I did. So much. I thought of the words in my book, the characters crying out that they were dying when they were coming. I felt as desperate as they had sounded.
Henry waited for me to say, "Yes, please, yes," and then he drove his cock into my sore and throbbing asshole and fucked me there as the last rays of the pain flickered away and a true, beautiful pleasure took over.
He kept using his fingers on my clit as he drove into my ass, and he waited to orgasm until he had taken me to another level. Only when I was delirious with pleasure, only when I was practically sobbing his name over and over did he let loose, filling me up with his come.
When he pulled out, he got us both under the covers and he held me to him. "You're going to be late for work," I said, glancing at the clock on the bedside table. I wondered how we'd ever go back to normal now.
"Yes," Henry agreed. "I'm going to be late. In fact, I'm going to be late again and again today. I'm going to be so late as I fuck your ass, and whip your holes, and lick every inch of you."
I could feel the thrill building inside me once more. I hadn't known Henry could be like this. I recalled the time I had brought in the rogue lettuce, and I said softly, "I thought you liked a routine. I thought you liked simple."
He laughed and he tugged one of my braids, and he kissed my lips. He said, "Some changes simply take getting used to."
And then he was on me once more, kissing my lips, moving down my body to press his mouth between my legs—something he'd never done before, something I never wanted him to stop.
He was true to his word. He carried me to the shower and washed us both. He read aloud to me from my book, and he forced me to show him my treasured scenarios, so that he could bring the different ones to life. We spent all day fucking, until we were limp and useless and we had to go out to dinner for sustenance, sitting across from each other in the diner booth and laughing at our newfound secret. Henry added more pepper to his meal than I'd seen him do before.
#
When he arrived home from work the next night, Henry had a bag from the grocery store. I peeked in and saw a new type of cheese, not our standard Wisconsin cheddar, a bottle of wine, not a six-pack of beer, a box of gourmet cookies — not vanilla wafers. And a ginger root.
"You know," he said, as he lined up the groceries on the blue-and-white countertop. "I always did wonder what life would be like with a different kind of spice."