Make sure you never miss a TinyNibbles post: Follow TinyNibbles on Twitter or via RSS.
I must see R100! Info about watching it online is here. "In this audaciously kinky, meta-comedic thriller, a lonely father with a secret taste for S&M hires a boutique dominatrix agency that specializes in guerilla acts of public degradation. Although the rough treatment and humiliation Takafumi Katayama receives from these leather-clad women––in cafés and on the street––drives him to ecstatic pleasure, he soon finds himself over his head during a surprise house call by one of the mistresses. After a freak and fatal accident, Takafumi is forced into action with a slew of vengeful dominatrices chasing him down."
R100: Never Take A Dominatrix Out For Coffee! (TwitchFilm)
Asking your partner to tie you to the bedpost, telling them to slap you hard in the throes of lovemaking, dressing like a woman if you are a man, admitting a fetish for feet: Just a few years ago, any of these acts could be used against you in family court.
BDSM Versus the DSM (The Atlantic)
Thank you to our French sponsor, Explicite Art.
A fantastic look at the study of porn: "At 8:30 on a Tuesday morning in the fall of 2013, about 40 students filed into a York University classroom to talk about porn. It was the first day of a new course on pornography launched by Bobby Noble, associate professor of sexuality and gender studies…"
The evolution of porn studies (University Affairs)
As peculiarly postmodern as these men's identities may be, the women in TLC TV show My Husband's Not Gay have very traditional roles in their relationships. They're defined by the men in their lives. Megan cracks the same joke several times: "Out of all of the women, he chose me, and out of all of the men." She was an object to be chosen by her husband; she is lucky, not him. The men have the agency in these relationships, while the women are there to be supportive.
The Profound Lack of Empathy in 'My Husband's Not Gay' (The Atlantic)
@LexingtonClubSF #BathroomSelfie #NYE #QueersInLove pic.twitter.com/tKvf1lgQz1

— Andre Shakti (@AndreShakti) January 1, 2015
Instagram censorship is why I don't use Instagram. C-Heads writes, "Some time ago I read the article Why Instagram Censored My Body by Petra Collins and I felt that it was some sort of wake-up call, especially being a woman myself. And only recently the instagram account of the rad Australian agency Sticks and Stones got deleted, either coz of a nipple or part of a bush. But seriously, is either of those two reasons something so offensive that it cannot be shown and that you should receive this sort of "punishment" for and your 2 1/2 years of work gets deleted in an instant?"
"Natural female bush gets shamed" Instagram censorship – A talk with Ainsley from Sticks and Stones Agency (C-Heads Magazine)
Thank you to our Australian sponsor and friends, Bright Desire.
FriXion is the first ever social network that's working to allow its users to touch one another using various haptic devices — over any stretch of distance. And for the average user, the "touching" will involve hand holding, kissing, even full-on penetrative sex.
This Robotics Designer Has a Plan for Sex to Go Social (Nerve)
One of the most moving and well crafted personal essays I've ever read. Warning for survivors of sexual trauma. "When I was younger, someone took a knife to my clitoris and cut out a small but significant part of me. I blamed my mother. I despised her. I loved her."
Damage (The Big Roundtable)
In the largest study to date on infidelity, Chapman University has learned men and women are different when it comes to feeling jealous. In a poll of nearly 64,000 Americans this study provides the first large-scale examination of gender and sexual orientation differences in response to potential sexual versus emotional infidelity in U.S. adults.
Impact of sexual vs. emotional infidelity (Medical News Today)
Mehdi Bayati, the cleric who directs Iran's Strategic Center for Chastity and Modesty, has been putting forward the same argument as my middle school teachers. "The growth of feminism in the West and the fact that 60 percent of Western women prefer to sleep with dogs rather than men is the result of the absence of hejab and the diminished threshold of women's sexual arousal," he told the Resa News Agency, run by the Qom seminary."
50 Shades of Iran: The Mullahs' Kinky Fantasies about Sex in the West (Daily Beast)
Thank you to our French sponsor, Dorcel Club.
Foria spray is a blend of coconut and cannabis oils to create a "therapeutic aphrodisiac." The spray, which is for women only, will be available for sale in Colorado during the X Games in Aspen which start Jan. 22, 2015. It has been sold in California to people with a medical marijuana card and a doctor's permission.
Pot-based sex spray for women hitting Colorado shelves (USA Today)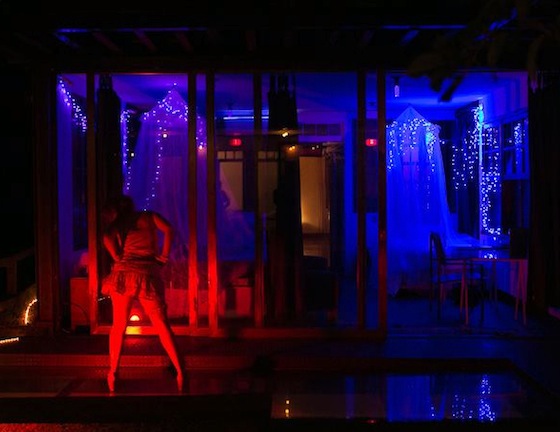 Warning for survivors of sexual abuse. The year-end holidays spurred a sharp rise in sales of incest-themed porn, says a new report conducted by GameLink.com. GameLink said family role-play porn is defined as any movie containing fictional acts of incest between adult performers pretending to be related. The report shows Utah had the highest increase with 765.14 percent during the time period.
GameLink Study Says Holidays Create Rise in Sales of Incest-Themed Porn (XBIZ)
Check out my new indie book, Filthy Housewives (Kindle) – all sales split with the authors!