If you're unfamiliar with Erika Moen's comics – Oh Joy, Sex Toy – then you should really drop everything and see why her comics have attained a truly beloved cult status in fun, smart, sexy places all over the internet. Oh Joy, Sex Toy is more than just a sex comic, it's a delightful dose of sex ed, sex product ogling, erotic inspiration, whipsmart social commentary on gender roles (and skewering of gender expectations), and a great source for accurate sex info.
Oh Joy, Sex Toy is a light-hearted, humorous, sex positive educational weekly webcomic that covers a wide spectrum of the sex world; from sex toy reviews to sex education to interviews with sex industry professionals and more.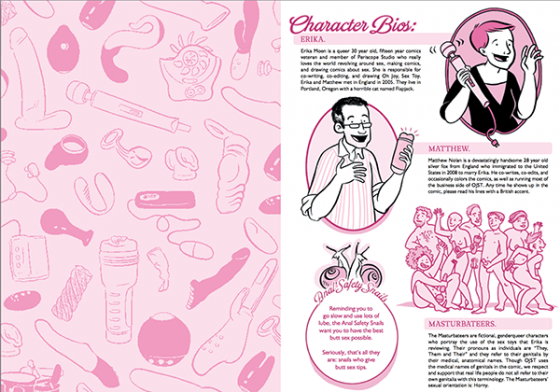 this weekend, the fundraiser for Oh Joy, Sex Toy, The Book nears its end. Lots of us went YAY! when Moen launched this Kickstarter for a real-life collection of Oh Joy, and this post is my endorsement.
If you have a few bucks to spare, this Kickstarter – and the artist behind it, the pleasure-focused sex positive message, the communities it represents, and the uplifting subversion behind the artwork – is worth it. The minimum is only $2! The Kickstarter funding also gives all of the book's guest artists a pay bump, and you can't beat that :)