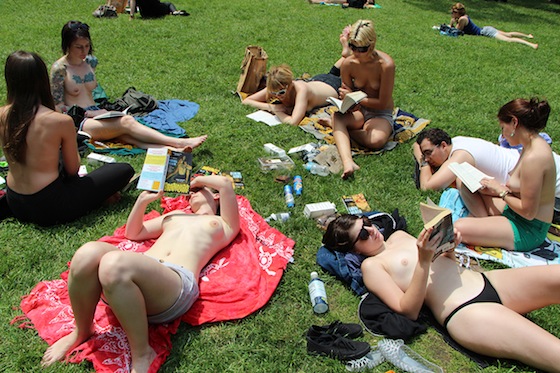 I discovered The Outdoor Co-ed Topless Pulp Fiction Appreciation Society while making my regular stop over at Unscathed Corpse, and quickly concluded that I need to visit NYC as soon as possible. This wonderful group of like-minded pulp fiction enthusiasts embrace the wild spirit of one important genre's ham-fisted heroes, femme fatales, crime noir nosebleed reads and sci-fi adventures — to shed clothing, get a little sun, pretty up picnic blankets in the park and foster literacy (of course).
Books in the pulp fiction era were printed on cheap paper and writers were underpaid — but jobs for writers were plentiful, and the mass production of pulp magazines and paperbacks (plus its mass distribution) contributed to the explosion of literacy in America. The pulp phenom also heralded the emergence of free-thinking, challenging genres such as sci-fi and hardboiled crime — my favorites.
All I'm saying is, this book club should be sainted. Here's what they have to say for themselves, and here's hoping to the creation of new chapters around the world. For literature!
We're a group of friends, and friends of friends, and friends of friends of friends, and complete strangers, who love good books and sunny days and enjoying both as nearly in the altogether as the law allows. Happily, in New York City, the law allows toplessness by both men and women. So that's the way we do our al fresco reading. If you're in New York and the weather's good, won't you join us sometime…?

To find out when and where we'll be meeting next, write to us at toplesspulpfiction[AT]gmail.com.

You can also follow us on Twitter: @toplesspulp

If you live somewhere else in the country (or somewhere else in the world) and would like to start a branch of our club where you are, we welcome it. Just drop us a note…