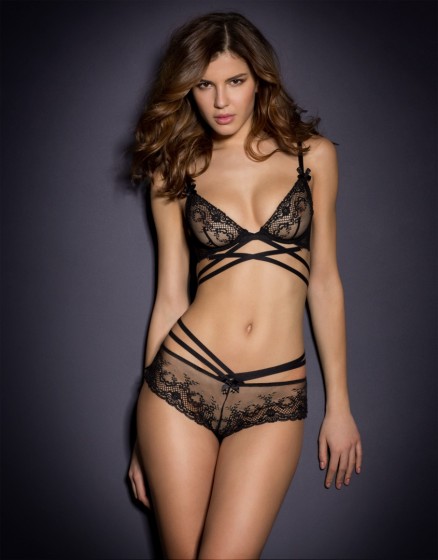 Our favorite can't-afford-it lingerie company has announced its Spring/Summer 2014 campaign and released the first images of next season's line. Agent Provocateur's new theme is "inspired by the pristine and glossy 1950s suburban woman," the "primped, perfumed, and ready to pounce 1950's housewife." As unthrilling as the theme is, and annoying seeing nonassertive models posing with cleaning implements, I'm actually more disappointed that AP has no extra media, photoshoots or exciting easter eggs like they used to. Someone please give Miss AP back her budget.
Here's the landing page for Agent Provocateur's Behind Closed Doors, but this breakdown page has separates and more items. What's hot? Sandra (French Knicker version), Mazzy, Terese, Sandra, Bobbie, and I guess Gloria too…
They write,
"Behind Closed Doors" Spring Summer sees the false Utopian world, synonymous with the suburban housewife of the 1950s, brought to life by globally renowned photographer Miles Aldridge. The distorted perfection of the Stepford Wife is the inspiration behind the Agent Provocateur Spring Summer Campaign.

Creative Director Sarah Shotton describes the inspiration, "The Campaign embodies my inspiration for Spring Summer 2014, the pristine and glossy 1950′s Housewife. I was interested in the irony behind the idea of the 'Perfect' woman, unfazed by the everyday pressures of life. Our campaign girl has it all, she's a lady in the street and a wild cat in the bedroom and the collection mirrors her pretty perfection. It is a fantasy of silk and lace in the modern day world."
No irony, and no danger. Oh well.
AP's blog posts are more exciting – below, images from their Kate Moss Playboy 60 shoot, Beyonce in AP, and scenes from its in-store holiday promos.