Some people prefer porn films, some prefer quick get-to-the-point scenes. While I have usually found myself in the latter category more often than not (depends on utility vs. quality, etc), I can't wait to see new porn film "Come Find Me" by TROUBLEfilms, which officially released today and has a release party/screening tonight.
There are already so many things to love about this film. It is heterosexually-focused, kinky, romantic, and it stars Poppy Cox and Gasper Johnson, the real-life couple behind Bike Smut. I remember how much you liked their work when I posted Bike Smut: joyful filth for bikesexuals last year.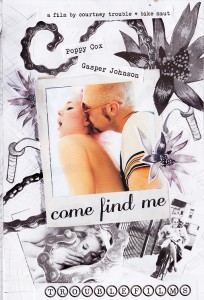 From TROUBLEfilms:
Gasper sends his girlfriend Poppy on a bike-powered scavenger hunt ending at an empty house with a gorgeous man ready to ravage her inside out. He binds her with bike tubes, spanks her, and taunts her until she's too wet to stand – and then with an HD cam in hand, Poppy (and award-winning director Courtney Trouble) document an afternoon full of lustful oral sex, fingering, and finally – some deep, desperate, hard core fucking that makes both of them come hard – at last!

Challenging the formulaic male gaze of mainstream heterosexual pornography, Come Find Me is a fine example of independently-made, female-foward pornography. Come Find Me features spoken and visual consent patterns, a focus on female pleasure as well as male, and an altruistic approach to character development that allows you to fall in lust with both the woman *and* the man. It strays from the stereotypical "porn for women" trope by offering up hardcore close-ups, rough sex, and HD cinematography, alongside its romantic authenticity.
It's the newest flick from TROUBLEfilms Founder, CEO, director and occasional coder Courtney Trouble. As of today "Come Find Me" is available for VOD and a limited-edition run on DVD ($25).
The VOD (Video on Demand) date for "Come Find Me" was also set for today, but I think there were tech issues: I'll let you know and update this post when you can watch it online. It'll be available as VOD on TROUBLEfilms, Indie Porn Revolution, and RealQueerPorn with mainstream global VOD representation at Hot Movies, PinkLabel.TV, and more.
If you're here in San Francisco tonight, there's an exclusive screening and release party at The Center for Sex and Culture from 8pm-10. The Facebook page for Come Find Me's screening is here, and a direct link to buy tickets is here (cost is from $6-$26, plus service fees).
This film, and its people, are also well worth supporting since apparently anti-porn feminists have been attacking Bike Smut and Courtney since the film's release was announced in early May. And I can tell you from personal experience: you know you've arrived in style when the feminists come after you…
dealing w 2nd wave porn hate. This video is pretty excellent, any other suggestions? @violetblue @courtneytrouble ow.ly/kX7bg

— Bike Smut (@BikeSmut) May 12, 2013