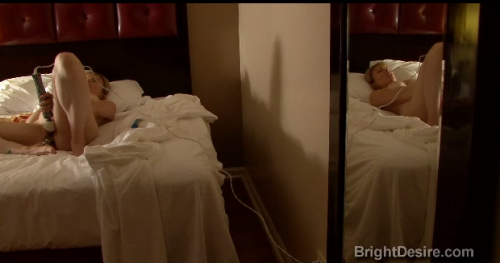 Introducing the newest indie porn for women (and men, and couples) website, Bright Desire. (Congrats!) With a pro-porn, feminist webmistress from Australia, Bright Desire is a refreshing entry into our porn galaxy.
The site has an uncluttered and tasteful aesthetic, with a start featuring adult film favorites (such as Adrianna Nicole and new Australian adult performer Viola Turtle Dove) and amateurs alike. Friend, colleague, and fellow 'porn for women' activist Ms. Naughty describes her exciting new paysite best, saying:
The aim is to move beyond the old cliches, boundaries and negativity of standard, old-style pornography and to offer something fresh, inclusive and intelligent.

Bright Desire is a celebration of sex. It's a deliberate attempt to show all the good stuff that we love about sex – intimacy, laughter, connection and real pleasure. It's also about enhancing and exploring fantasy – because our brains are just as important to our sex lives as our genitals (…)

The sex looks more like the sex people have at home – and that includes things like lube and vibrators. I use two cameras and edit carefully so the scenes don't become boring or monotonous. I try to enhance the experience with voiceovers or other effects in an effort to add emotion or fantasy to the scenario.

My performers have all been active participants in the setup of the scene and they get to decide what sex they have, how and when. My films show real female orgasms and the guys are free to ejaculate internally if they wish. There's no expectation that the performers be "open to the camera" or hamming it up for the viewer. They simply do what they do and I try and capture what I can.

The site takes a feminist perspective of sexuality. This accepts that sexuality and gender can be fluid and diverse. There are no "straight" or "gay" sections on this site and it includes content that would be labelled both gay and straight in the mainstream industry. Bright Desire believes that fantasies are fun but they don't necessarily define your sexuality or gender.