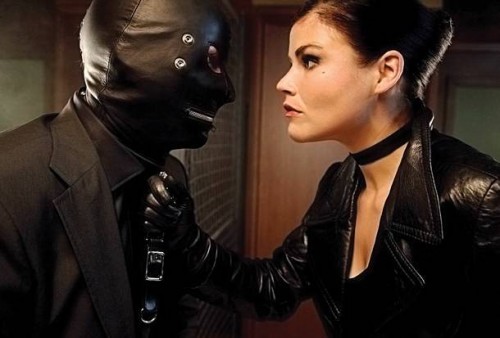 A scene from "The Pawn Layman," one of the films featured at CineKink 2010, image via.
The tenth annual CineKink will be February 26-March 3, 2013; the call for entries is currently closed. But I emailed CineKink saying I was sorry I missed telling my readers about the call for submissions, and they decided to do us a little something special…
They just emailed to tell me there's a special deadline waiver:
Any of your readers still wanting to submit can indicate "deadline waiver" and then write "Violet Blue" so we know it's coming from you. Entries must be completed and postmarked by Friday, 12/14 to qualify. Submission details are on the Call For Entries page.
If you're not familiar with CineKink, it is a very popular "Sundance for porn." The publicity is excellent, and this is where full-length films can get their day in the sun and much more – including having your film tour the U.S. as part of the festival throughout the year, plus a chance at winning a coveted CineKink Award.
Thanks for the cool deadline extension, CineKink. Now, dear readers, go submit your films….! More infos:
Scheduled for its tenth annual appearance in February 2013, the specially-curated CineKink NYC will include a short film competition, audience choice awards, an adult industry showcase, presentations, parties and a gala kick-off, with a national screening tour to follow.

Cutting across orientations, topics covered at CineKink have included — but are by no means limited to — BDSM, leather and fetish, swinging, non-monogamy and polyamory, roleplay and gender bending, sex work and sex geekery. We're looking to blur some boundaries and will be considering offerings of any length and genre drawn from both Hollywood and beyond, with works ranging from documentary to drama, camp comedy to artsy experimental, mildly spicy to quite explicit — and everything in between.