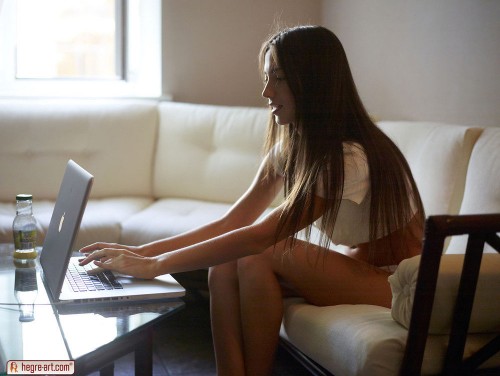 On September 17 (9 days ago) I got a cold-call email from an Account Executive at PR firm KCSA Strategic Communications. This is what it said:
Hi Violet,
Later this month, ICM Registry, the company that created and now operates .xxx domain names, is launching their very own search engine just for adult entertainment websites, Search.xxx. Similar to your favorite search engine, consumers looking to surf the web for adult content only have to input a few keywords or topics and thousands of .xxx websites will appear.

Not only is Search.xxx the first search engine dedicated to over 13 million .xxx websites, it is the only porn search engine that brings you "clean" porn –clean in a good way! The .xxx domains are the only ones in the world that benefit from a daily malware scanning as a standard, which makes it one of the safest top level domains on the Internet; no cookies, no tracking, and no unwanted viruses will be stored on your computer when you visit a .xxx site.

In addition, it has a very simple user interface, with zero clips – so when you visit the site and search for what you like, you will only run into the porn of your choice (no accidental glimpses of something that is NOT your speed).
I have the CEO and brainchild of Search.XXX, Stuart Lawley available to interview, as well as porn star Nina Mercedez. The search engine launches on Sept 27th, so I'd love to set up something that runs towards the end of the month.
Let me know your thoughts on this.
Thanks! [NAME REDACTED]
When I read this email, I honestly contemplated doing some good old fashioned trolling on ICM Registry and their PR company. Not that I wouldn't love to interview Nina Mercedez and Mr. Lawley about competitive search engine marketing and optimization for its clients, or their opinions on determining user intent, especially as related to current trends in semantic search among their competitors. Because I think that would be good fun. But I couldn't tell if ICM and KCSA Strategic were trying to place a PR-disguised-as-news piece on my blog here, or on one of the other channels I write for, such as c|net or ZDnet. Either way, a quick search on any engine in the universe with my name and their client would have told them that I was so so so the wrong person to ask for promotion of anything dot-XXX:
More importantly, the chances of me ever taking someone's PR and passing it off as news are about as likely as the odds of me deciding it would be fun to ruin the twelve years of reader trust I've built in one fell swoop by regurgitating a press release for one of the most pernicious, malfeasant actors in the gTLD space to date.
Aside from my previous coverage of their client, and the fact that I'm not a shill, one must ask is this – an overly specific search engine in a walled garden of low number content – among many other great porn search engines, newsworthy? No. No, it's not.
I got busy with breaking the Wikipedia story for c|net, and forgot about the email.
The Account Executive at PR firm KCSA Strategic Communications emailed me a couple days later with a resend of the text, and telling me she'd love to send me a press kit. It got lost in the developing Wikimedia hurricane that kept my inbox on fire (and still does, for the story seems to be unfinished and on slow burn).
Today, looking over my news filters and feeds, I was amused like Willy Wonka to see which outlets are "reporting" the "news" – I mean, regurgitating the press kit and pissing in the actual news pool – with ICM Registry's content via KCSA Strategic Communications. Right on time, as per the solicitation.
Here's who fell for it and hit publish on a press release today, and thinks you won't know any better – file under you're being lied to:
This happens all the time, but I thought you might find it interesting to actually see it in action.
Main post image: Kiki and her MacBook (Hegre Art).