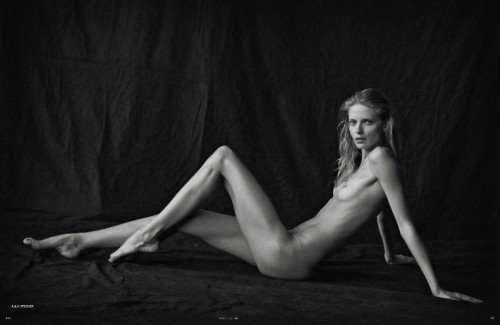 As you might (or might not) have heard, in early May the editors of all nineteen international editions of Vogue Magazine signed off on an agreement – of sorts – for what they called the Health Initiative. This, they said, was a commitment to no longer use unhealthy body images for the models in their magazines. In all June issues they have each run a photo editorial representing healthy, natural and diverse bodies.
The above photo is from Vogue Germany's June issue: the "Naked Truth" editorial features eleven German women of varying ages in intimate portraits as part of the health initiative to promote healthy body image.
The primary focus, they said in a joint statement from all editors, was to ban the use of models who suffer from eating disorders, or models that appear to encourage anorexic body images, or are younger than 16 years of age. The final point in their pledge was to discourage designers to showcase items in really small sizes, and discourage designers from "the use of extremely thin models."
The different magazines' covers for June are not as hypocritical, but I was struck by this pictorial in particular. The porn performers and adult models I feature regularly on these pages look far more healthy and not nearly as perilously thin as the women in this shoot. I mean no offense to these models, or anyone that has this body type. Granted, I do purposely select adult businesses, scenes, galleries and performers that show healthier bodies than fashion magazines and the wider porn market as a rule. Frankly, it's what you, the reader, have demanded over the past 11 years of my curation on this blog. I still think most of the porn models (like Met Art's) are too thin, but they're not as intense-looking as the women in Vogue's healthy bodies Germany spread. I would never use an image like the ones I've just seen in Vogue's "healthy body" showcase because my readers would not only complain, but because the viewer might be inclined to think the girls depicted were desperate, leading lives at the bottom, possibly on drugs, and might be abused or coerced to do porn.
Make no mistake: I have *no* problems whatsoever finding healthy looking, non-starving-looking porn performers and models.
It's just a very bizarre thing in and of itself – my Eye Candy porn picks have healthier looking women than Vogue. And I may need to come back and stuff this photo below the fold because I worry it'll scare off my readers, or worse – be misinterpreted as erotic imagery that I endorse.
In contrast, here's Plus Magazine's hot January issue.