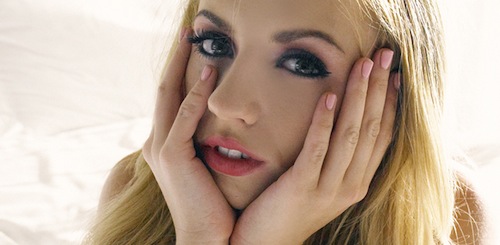 This is a pretty fantastic idea: Porn Star Life Coach is a new, open, positive resource website for porn performers. It's from porn star Juli Aston's paysite Juliland, which is adminned by fierce, outspoken and widely respected feminist porn star (and director) Bobbi Starr. PSLC has promo for all of Juli and Bobbi's paysites dotted across the pages but that's legit to me considering the bulk of the site is free, warm, practical and supportive content provided for the well-being of adult performers.
This kind of resource and its unlimited distribution is only possible in the internet age: I sincerely hope it blows the gaskets of ant-porn pundits that are currently trying really hard in Washington DC to portray female porn performers are lost and abused victims unable to make decisions for themselves. Porn Star Life Coach is yet another strong piece of evidence that porn performers are businesswomen, period.
Bobbi Starr writes,
[Porn Star Life Coach] is a how-to-website whose mission is to help grrls be smart and to make the right decision in their adult careers. With any grrl that comes our way, we'd like to give them all the advice and tips from our personal encyclopedia to better inform their choices. Essentially, the Life Coach is you, me, and everyone who decides to contribute to the site. We hope to learn and grow from one another!
Three main categories encompass "Advice," "Fun" and "Smart." Advice covers the sharing of tips, tricks and wisdom performers pass to one another to give women the tools they need to make the appropriate and right decisions for themselves – such as basic tips for starting out in porn. Fun is for storytelling: the sharing of "experiences, stories, personal anecdotes and embarrassments, triumphs, and achievements in the adult world." Smart looks to be for more concrete and specific articles from seasoned pros, such as learning how to be a pro femdom or hiring the right publicist.
I just clicked their excellent Resources page – and my book is there! Wow, I had no idea until right this minute. How cool! Thank you PSLC! They also link to a great identity piece by danah boyd (.PDF, Sexing The Internet) – this is so great.
Bravo! I hope this site lasts a long time so it can offer a wealth of information for many years to come. You can also follow Porn Star Life Coach on Twitter.
Image: the beautiful Lexi Belle.