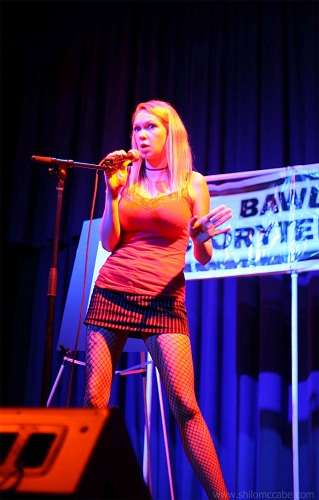 Many of you know Bawdy Storytelling from their prior events covered on Tiny Nibbles. Dixie De La Tour's always nerd-friendly performance series is getting even more nerd-friendly tonight, with Bawdy Storytelling: Geeksexual at the Verdi Club in San Francisco (buy advance tickets here).
Held regularly for 5 years now in Oakland, San Francisco and points beyond, Bawdy Storytelling even had a workshop at this year's controversy-steeped Sex Week at Yale. Bawdy Storytelling seeks to inject the storytelling community with a dollop of oversexed mojo, and the sex-writing community with a horny high colonic of inspired spontaneity.
Having performed at Bawdy once in the past, I can tell you it's a completely different experience for a performer than reading a written-down story. As an audience member, it's a whole new kind of entertainment — as different from the usual erotica reading as a bluegrass hoedown is from a band-saw recital.
Bawdy has been known to spice up events with intermittent dirty ukelele ballads and the spontaneous shedding of clothing; you never know quite what flavor of knickers or tassels might hit the floor (or the faces of those lucky enough to occupy the front row).
Tonight's event at the Verdi Club is close to our Tiny Nibbles heart…many of us like to think of ourselves as "Geeksexual." The gig promises "Hot nerd-on-nerd action," like so:
Ever notice the huge overlap between Engineers, Video Game Designers, Programmers, and … Perverts? Yep, their linear approach to issues that range from 'facilitating orgasms using factory equipment only' to 'an in-depth analysis of suspension rigging to maximize access for sensory input' – well, that research may be improving the life of some lucky lab assistant RIGHT NOW. Remember, when a geek says "actually, you can have multiple orgasms in fairly rapid succession," believe them – but ask for proof. It's more fun that way.

Want a peek inside an Engineer's unique approach to sex and dating? From providing answers as a Sex Educator to building Dildonics in their basement, GeekSexuals apply their technical prowess to everybody's favorite riddle, and the Earth is a better place because of it. Join us on Wednesday, April 11th and go home with some new tips and tricks, and an evening of great true stories. Long live the GeekSexual!

[Link.]
Tonight's performers this time around include Miss Maggie Mayhem, Sarah Dopp, Reid Mihalko, Todd Arthur, Allison Moon, and a "Scientist/Storyteller" known only as Ted, who reportedly "Not only talks, he tells!" And Geeksexual will feature the return of what is perhaps my favorite thing about Bawdy — Dirty Ukelele, this time by Iris Brilliant. If you want a feel for what the stories are like, check out the very geeky and very sexy trailer below on Vimeo.


Again, it all goes down at the Verdi Club, 2424 Mariposa in San Francisco (that's between 17th and 18th, Potrero and Harrison). Doors are at 7, show at 8. You can
get tickets in advance
for $12 or pay $15 at the door. These events can get
crowded
, so buying in advance is highly recommended.
Check Bawdy's Facebook page for full-on geek-on-geek pre-meetup interactivity, or put on your propeller beanie and drop in at www.BawdyStorytelling.com. "Because there's a horny, nerdy kid inside all of us."
Image: Rain DeGrey at Bawdy Storytelling, by Shilo McCabe, from The Sex Positive Photo Project.