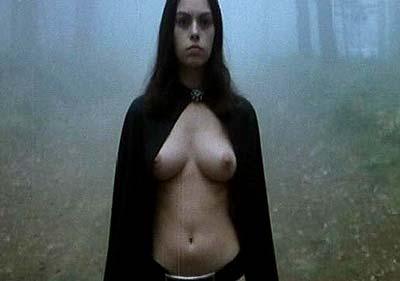 The "Bare Breasted Countess" has died. It has been confirmed that actress Lina Romay, x-rated horror actress from Europe's heady heyday of blood-spattered lesbian vampire films of the 1970s, died on February 15.
If you're not familiar with Romay's work, and you like cheesy horror films that take themselves seriously as art films, I highly recommend that you investigate the truly strange and sexy, cinematographically rich films she starred in. Her more notorious appearances were in films made by Spain's legendary Giallo and horror director Jess Franco, and she was seen as his muse.
In Video Watchdog's beautiful obituary for Lina Romay they write (snipped):
[Lina Romay] came to Franco's attention as the movie-loving girlfriend of his stills photographer Ramon Ardid. Their attraction ended Franco's marriage. For Franco's part, having found it difficult to reassemble himself following the 1970 accidental death of his most promising actress Soledad Miranda, he claimed to sense a reincarnation of Soledad in Lina, and she – who never met her predecessor – claimed to sense her presence watching over them at times, as if from within.

Her first starring role for Franco was 1973's FEMALE VAMPIRE, which exists in no fewer than three distinct variants: mainstream, erotic and hardcore.

A self-proclaimed exhibitionist, Lina had no problem with performing hardcore straight or lesbian acts onscreen, and she was adamant offscreen that these were things she did in character, not as herself.

(…) As Franco's muse, she inspired and facilitated as many as 200 or more films, and in many of them she withheld nothing of herself from his voracious camera, body or soul.

Theirs was an ideal meeting of exhibitionist and voyeur, both giving generously to one another in one of cinema's most provocative love stories. (…read more, videowatchdog.blogspot.com)
I'm a big fan of the genre Romay embodied, and she was a central part of the Euro-sex-horror films that shaped me as a young Violet. In 1999 I wrote my first work-for-hire article about these films, published on Gothic.net, discussing the forbidden sexuality they explored and suggested, and the art of depicting the erotic, murderous female sadist on film.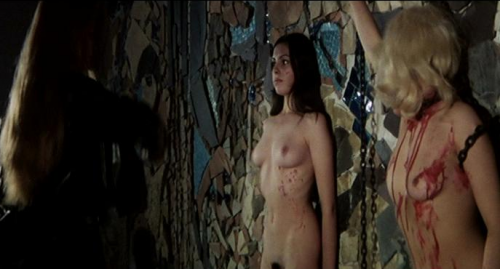 I republished my 1999 article The Cult of the Fallen Woman on Mubi, but here is an excerpt of I wrote about my favorite Lina Romay film, The Bare Breasted Countess:
Jess Franco, a man with a reputation for many excesses himself, came from Spain to direct literally hundreds of films. The manner of production and perhaps also the sheer volume of projects have branded him as Europe's Ed Wood, with campy hit and miss movies that are mostly miss and whose weaknesses lie sadly in production values.

But when Franco is on, you are captive to nothing short of brilliant filmmaking and feel as though someone is passionately trying to tell you something. Such is the case with The Bare Breasted Countess, made in 1973 and starring Franco's fetish-actress Lina Romay.

This X-rated confection centers on the delectable Romay as the mute and mysterious Countess Irena Karnstein taking a bloody little (then present-day) holiday in Portugal. Apparently for our vamp, her sustenance is only satisfying when orally extracted from trouser snakes and sweaty little crevasses, a display of nature at its best.

Romay's portrayal of unconscious animal eroticism is flawless, the story ends rather nicely, and the entire film is a pleasure to consume.
Lina Romay was in a wide variety of films (below is Doriana Grey), and was also a director. She will not be forgotten.