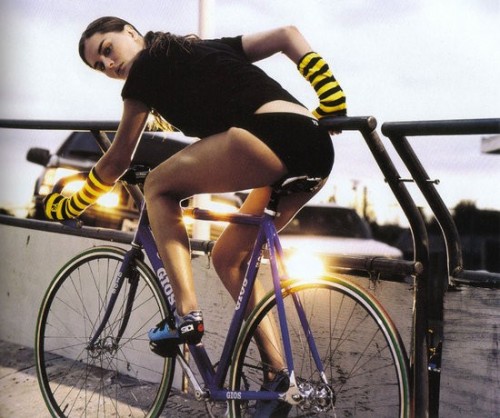 Imagine the tragedy if, during a hot party with one or more of your bestest battery-powered and/or silicone friends, one of them suffers from vibrator breakdown or nipple clamp metal-fatigue. And if a toe-curling orgasm causes you to accidentally propel that dildo out the window before you're finished with it? Never fear…if you're in Brooklyn, at least!
That's because Babeland's Park Slope location delivers sex toys by bicycle — within an hour! According to this piece in The Brooklyn Paper, the women-owned Babeland has partnered with Clementine Courier to offer faster-than-fast sex toy delivery. Best of all, while bicycle delivery is usually $30, "It's free on Valentine's Day — just like last year, when workers on two-wheelers wore bow ties for the occasion."
The door-to-door of service works like this: whoopie-makers can scope out items online, then call Babeland to place an order. A receptionist at the shop, which is located on Bergen Street near Flatbush Avenue, then assigns the delivery to a cyclist at the forward-thinking bike messenger company, Clementine Courier. A pedal-grinder then drops a "discreet-looking box" at any address in Brooklyn, usually in less than an hour.

[Link.]
The story says it was Babeland shoppers who made the suggestion that the store begin offering bicycle delivery. And check out this tidbit of information:
Babeland staffers say shoppers use the service most on three-day weekends and claim hotels get the majority of the action when it comes to delivery.

…For some, getting dressed and heading to the sex shop could ruin the mood. For others, a broken toy could cause a bedroom emergency. And, of course, there's bad weather — one of the main reasons people order delivery in general, and a great incentive for frisky Brooklynites to stay in bed.

[Link.]
What I find most interesting about the whole thing is that hotels get the majority of the orders. I love the idea of adding a hand-delivered sex toy to a romantic weekend away — and, not having to fly with it.
According to Babeland spokeswoman Pamela Doan, it's the venerable Hitachi Magic Wand that gets the most delivery orders. That's not surprising; it's versatile, powerful, and in a pinch it can bring almost as much pleasure to a sore back from a day spent at the Met as it does on erectile tissue!
Update: The folks at Babeland inform me that it isn't only their Brooklyn store that delivers! They offer local delivery from all their locations — that is to say, their Seattle store plus three locations in New York (SoHo and the Lower East Side, in addition to the Brooklyn store).
Lead photo from A Twisted Spoke.