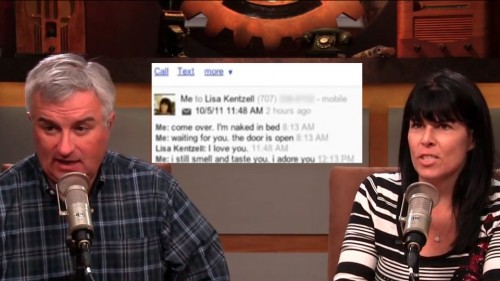 Let me interrupt this edition of Sex News to explain why I think the downfall of tech personality Leo Laporte is well worth noting.
For whatever his reasons, Mr. Laporte has seen fit to characterize me as a 'whore' since the early days of his podcast (TWiT #16; TWiT #86). More succinctly, he has suggested I am a sex worker in at least two episodes of his technology podcast. And no, I don't think anyone believes he was actually "confused" on any occasion. When he most famously did it to me in 2007, he went way too far and there was an angry backlash that sparked wider discussion about sexism in technology. The public condemnation compelled him to issue an apology – but not to me. He apologized indirectly, to one of my editors. Classy.
Let me be clear. I have never done sex work, nor have I ever performed in pornography. I am a woman that writes about sex; author, an online columnist, and a sex educator. I have no idea why this guy has behaved so repugnantly toward me, or why guys like him think it's okay to do this to women in technology – or the wider world.
So when I read today that Mr. Laporte accidentally leaked his own illicit sex chats on his video podcast, revealing his extramarital affair with his female boss, I had to pause and observe the hypocrisy. Of a man that would devalue a woman who writes about sex, devalue sex workers as if their job made them discount for anything else – and then be a someone that isn't what he represents in the very area of life that he harshly judges and discounts women for.
Because, you see, I really think that guys like him, guys that attempt to insult, humiliate and degrade women over sexuality are exactly the kind of guys you think they are in real life, in their own lives. Dirtbags.