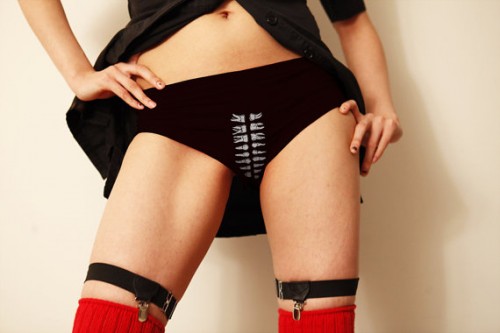 What I love the most about these vagina dentata panties on Glukkake's Etsy store is not just that the teeth glow in the dark…but that they're images of actual teeth.
Like anyone familiar with vaginas that bite,  Glukkake knows that they don't sport some cartoon snaggletooth; a pussy needs molars.
Well, there are numerous molars here, plus a few canines, complete with roots. Silkscreened by hand on American Apparel spandex cotton panties, the image is a row of x-rayed teeth, which explains why they glow in the dark. These NOM-able knickers also come in red. Says the Etsy store:
Never fear dancing on a mirrored surface in a skirt again. Perfect for deterring up-skirt photographers and disturbing your lovers!
Those of you truly obsessed with bony protrusions, incidentally, can also pick up Glukkake's silkscreened spine shirt.
What better way to beg the toothsome orifice on your holiday list to make you her chew toy?
Photo by Lauren Goldberg, from Glukkake's Etsy store.