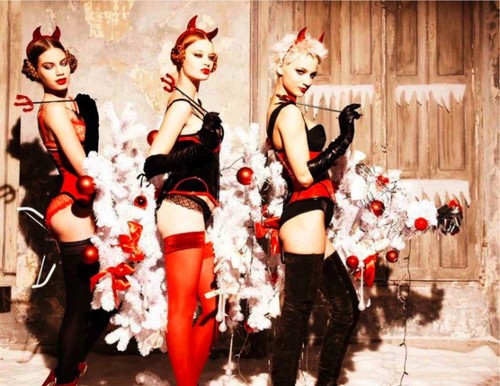 Last year when my friend Veronica expressed her disappointment that "Cyber Monday" was not, in fact, about cybersex, I was inspired to begin this annual post: Cyber(Sex) Monday.
If you're looking for a Cyber Monday post for tech and gadget fetishists (without the sex but including Kindle Fire cases, nerdy cat toys and more) check out my *other* new post Offbeat Holiday Gifts for Geeks.
Below you'll find hot toys for gifting this year, and a few items that I think are truly excellent standards. I've provided shopping options in the below links, but if you decide to shop at Babeland I just got their Cyber Monday email saying you can take 20% off your Babeland order with code CYBER20 – today through Wednesday, Nov. 30. I personally endorse the sellers I link to. Shopping in the UK? I highly recommend Lovehoney UK.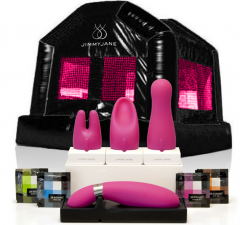 Kits
Coco de Mer – 'Naughty' Gift Kit (£140.00)
It contains a Lelo Mia Vibrator, Coco de Mer adjustable cock ring, Coco de Mer black bondage tape, Coco de Mer silk blindfold, Lelo feather teaser, Lelo leather flogger and a bottle of Coco de Mer's Gentleman's Relish.
Coco de Mer
Sex and Romance Kit ($150)
Contains Babeland Massage Candle, crotchless Peepshow Princess Panty, Babeland Satin Bondage Kit, curved Bcurious vibrator, Laid P.3 Cock Ring, and Babeland Edible Body Chocolate.
Babeland
Kinklab Pink Bound Leather Kit ($89.95)
It contains 2 buckling nylon and pink leather cuffs, 1 pink contour padded leather blindfold with an elastic band, and a leather heart shaped paddle with an easy hang loop.
Stockroom
Jimmyjane's Pleasure Sets (main post image; $7-up)
They have so many exciting and arousing – and clever – sex and seduction kits, I couldn't pick just one. See for yourself!
Jimmyjane Pleasure Sets
Lightly Kinky Gifts
Bunny Tail Anal Plug ($55)
This fuzzy puff is securely attached by hand to a black rubber anal plug.
Stockroom
Agent Provocateur's The Game ($21.95)
Strip Poker with a sophisticated adult twist.
Agent Provocateur
Hot Toys
Lelo Tiani ($159)
Tiani's smooth, U-shaped form slides easily into place, hugging the clit and G-spot in a cuff of remote-controlled vibrating pleasure; the bonus here is a new technology known as SenseMotion where you can change Tiani's vibration pattern and strength with a mere flick or tilt of your wrist. (Also has a smart manual mode, with a remote control range of up to 39 feet.)
Amazon : Babeland : Lelo : Lovehoney UK
For men: The Japanese Tenga Egg and Tenga Flip ($5.50-$64.50)
The Tenga Egg is the most popular men's masturbation toy in the world right now; the Tenga Flip is its Cadiallac version (see my post about it here).
Amazon : Babeland : Lovehoney UK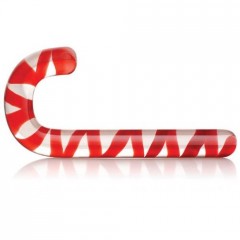 Candy Cane ($34.99)
Made of waterproof, hypoallergenic, odor and phthalate-free Pyrex Glass that wonderfully retains and transmits heat and cold, this firm, hefty stick can conjure delight every day of the year.
Stockroom
Fairy Mini Wand ($69.95)
One of the best toys, ever. This adjustable speed, petite and light wand is a mini Hitachi, and gets extremely powerful.
Amazon : MyPleasure
Also recommended: body-safe silicone dildos and plugs from Tantus, and Babes-N-Horny. Someday I want a beautiful Jaguar Harness.
A Little (A Lot!) Outrageous
The Monkey Rocker ($765.00)
Amazing non-electric, custom color sex machine with changeable dildo, thrusting controlled
entirely by the user.
Monkey Rocker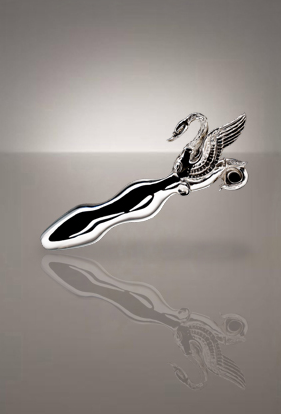 Leda Silver Plated Dildo (£920.00)
'Leda' is hollow cast brass to give the best cast surface while offering weight and density; plated in sterling silver (approximately 15 microns) and polished to a high sheen finish.
Coco de Mer
Liberator Wedge/Ramp Combo | Black Label ($270)
This set includes the Wedge (tuck it under the hips to tilt the pelvis for deeper penetration or better oral sex access), the larger Ramp (pair it with the Wedge for countless possible positions), and a leopard mask and cuffs (that clip on to the Wedge or Ramp) to spice things up.
Babeland : Liberator
Main post photo by Ellen Von Unwerth.