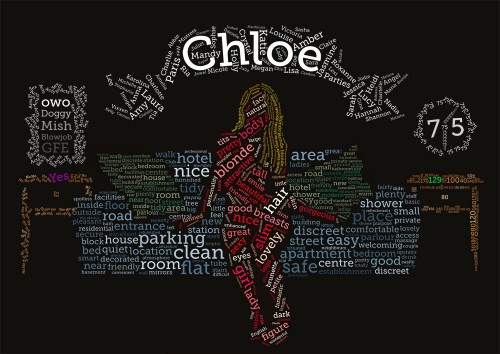 On his new blog, Jon Millward has published the results of 5,000 escort reviews based on data from the UK sex work review website PunterNet. Don't miss his infographic, in the shape of a blonde woman on a couch (the most popular hair color and location for sex acts, respectively).
Millward spent two weeks stripping, scraping and analyzing UK escort clients' meticulously written reviews about their experiences with sex workers from the ten most populated UK cities. The results include how much men pay, what sex acts they engage in most often, how they describe the women's bodies and sex locations, in addition to compiling the most common escort names and hair color. They are most commonly named Chloe, and blonde.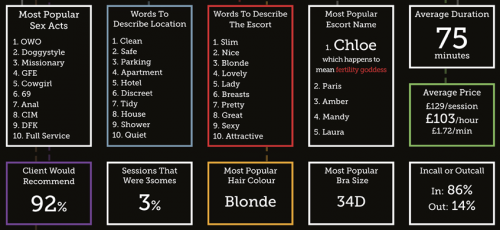 Those ringing the alarm in the UK against pornography while claiming the prevalence of internet porn over the past decade is making boys and men want women to be porn stars in bed will be upset to find out that more men paying for sex want a "girlfriend experience" (GFE) than want a "porn star experience" (PSE).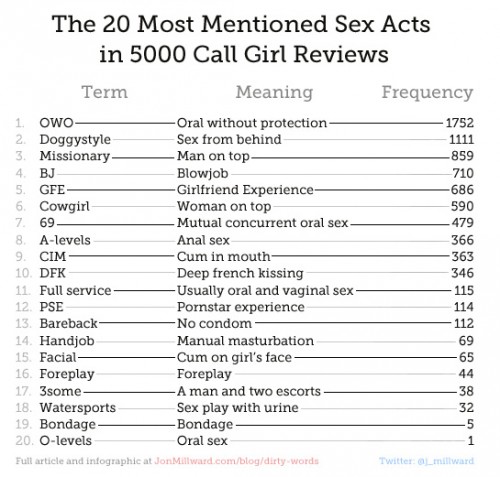 The average cost for a UK sex work session is £103 ($161) an hour and average duration is 75 minutes.
The most common sex act is "oral without" (OWO) – fellatio without a condom – though it's important to keep in mind the the PunterNet data source does not include unprotected vaginal or anal sex reviews, because this kind of review is not allowed on the website. It could be that these rank higher but the information is unavailable – I wonder, is it illegal to publish this information, or is it simply that the technical description of barebacking with a sex worker are considered unethical to discuss from a moral perspective?
In case you're wondering about PunterNet and sex trafficking, Millward writes, "A link to Crimestoppers is provided for anyone who suspects an escort might be underage or working against her will—there's even a video about trafficking for visitors to download and watch."
According to the data, clients "care most about the location being clean, discreet and with safe parking, and make the most remarks about the girl's hair, breasts and figure. Liverpool is the most expensive on average, while Leeds apparently has the best customer satisfaction in the UK. Who knew?
The most popular adjectives are slim, nice, lovely, pretty and attractive." Average body size is UK dress size 8 (I'm between a UK 8-10; a US Banana Republic 4 if that helps you visualize). The second most popular name? Paris.
The results are fascinating – and I think it's a really well-written post that deserves a read if you have a minute.
Millward is a data porn nerd, and that's exciting – I also saw that in the Reddit comment thread of his post, a sex worker started a great conversation with him about respectful and accurate terminology, and he wants to update the post with her comments/insight.