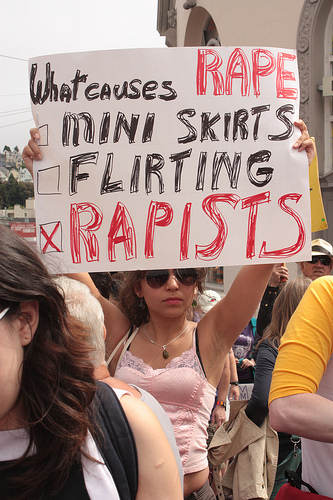 In the wake of 10 unsolved sexual assaults, South Park Slope, Brooklyn women are being harassed by cops — told that if they want to avoid being raped, they shouldn't wear skirts. According to today's Wall Street Journal article: "In a neighborhood with a reputation for liberal and feminist tendencies, the message is, as to be expected, not going over so well."
Here's what the Journal says, in its article titled "A Thin Line on Skirts":
Lauren, a South Slope resident, was walking home three blocks from the gym on Monday when she was stopped.

The 25-year-old, who did not want her last name to be used, was wearing shorts and a T-shirt when she claims a police officer asked if she would stop and talk to him. He also stopped two other women wearing dresses.

According to Lauren, the officer asked if they knew what was going on in the neighborhood. When they answered in the affirmative, he asked if they knew what the guy was looking for.

"He pointed at my outfit and said, 'Don't you think your shorts are a little short?'" she recalled. "He pointed at their dresses and said they were showing a lot of skin."

He said that such clothing could make the suspect think he had "easy access," said Lauren.

She said the officer explained that "you're exactly the kind of girl this guy is targeting."

Asked whether officers were warning women against wearing shorts or skirts, the New York City Police Department responded in no time.

"Officers are not telling women what not to wear—there's a TV series that does that," quipped Deputy Commissioner Paul Browne in an email. "They are simply pointing out that as part of the pattern involving one or more men that the assailant(s) have targeted women wearing skirts."

[Link.]
Personally, I think it should go without saying that this kind of asshattery has no place in policing. The "thin line" to which the WSJ refers is the line between cops advocating safety and dictating dress. But the "thin line" as I see it is the line between telling women that if they behave a certain way they are in danger of being sexually assaulted, and telling women that if they are sexually assaulted, they are to blame. But that's not a line between appropriate and inappropriate; they're both incredibly inappropriate for anyone…let alone cops, who should have enough training to know better.
But "Lauren," quoted in the above article, observes a divergence between the way women see this "helpful" "advice" and the way men see it:
Lauren said she's been surprised by the male responses to the incident—including from her own father. She said the consensus among men is that while it was inappropriate for the officer to broach such a topic, they all think he has a point.

"I completely disagree," she said. "Where do you draw the line? I can't wear shorts? Besides the fact that I wasn't wearing anything that was inappropriate or provocative….I don't think that should be part of the problem. At all."

Lauren said she thanked the officer for patrolling the area but said she would prefer that he focus on apprehending the suspects, rather than the dressing choices of women.

[Link.]
Do I even have to say it? I'm with Lauren. Attributing the actions of a criminal or criminals to the way women dress is rankly offensive both on feminist grounds and as a common-sense approach to neighborhood policing. Spreading misogynistic shame is not the answer. But it's suspiciously prevalent in cases like this because it conveniently allows the re-assertion of male privilege by men who are then allowed to believe they are "well-meaning."
But in my view there's nothing "well-meaning" about it. It implies a deep distrust and even contempt for female experience and, need I say it again, a reassertion of male privilege, as if by observing something patently untrue about sexual violence ("Wearing a skirt may get you raped") a man — and/or a cop — is explaining something in the "male realm" to women whose silly little heads must be filled with helium to wear such a thing. How exactly is that "well-meaning?"
Unfortunately, on the NBC News article about this topic, the comments are — at least, as I write this — solely concerned with how the "liberals" in Park Slope "deserve what they get" for NYC's and NY State's relatively strict gun laws. In this, male commenters get to disavow any hint of compassion or social consciousness by showing their intimate knowledge of other men's genitalia — whoops, I'm sorry, did I say "other men's genitalia"? I think I meant "firearms." It's so hard for me to keep those things straight.
Keep in mind that this is NBC New York — a page for New York and environs. And here are the choice drive-by's from the the top of the comment thread — "helpful" blasts of "friendly advice" from the NBC-reading Mansplainerati:
From a Texan:
They shouldn't be telling women not to wear skirts, they should be telling women to carry a concealed handgun, and if their law still stupidly prohibits it, then get the law changed so people can protect themselves. Common sense.
Another Texan:
"The message should be that, 'Here are ways that you can protect yourself.'"….How, by not wearing what you want? No, the message should be, if you lived in Texas, these two would be laying dying on the ground with a woman standing over them in a skirt and a smoking pistol.
From an undisclosed state:
You libs keep believing that the police will protect you. They are there to administer the rape kits, and zip you up in the bag if necessary, not chase the bad guys away….God didn't make men and women equal… Smith & Wesson did.
…to which Cal, from right down the road from me in Woodland, California (Hi, Cal!) showed his feminist cred and pipes in with a bizarrely cryptic comment:
Colt with at least one 4 in the caliber.
(Cal's meaning is clear, but how many gun-crowd in jokes do we really need? What's next, "Mess with the best, die like the rest?") Then another commenter with state unmentioned says:
When the idiots in NY keep electing these gun grabbing liberals so only the bad guys have guns then they deserve everything they get.
And another:
What the women should be wearing is a sidearm.
And another:
Maybe if they were able to wear a 38 or a 45 this would not be happening.
But wait! There's more!
That would be a "SIZE" 44 magnum in snub nose, preferably smoking from which the bloody boogers from the muggers woudl be getting wiped.
— at which point the comment thread devolves into an argument over whether women, who tend to have smaller hands than men, should be given a .44 magnum, which is difficult for smaller hands and shooters with less upper body muscle mass to control or if a .38 or .25 would be more — I'm sorry, is anyone else feeling like they just stumbled into a Quentin Tarantino movie? Immediately after the .44 magnum discussion, the racist commentary about hijabs and headscarves starts.
Mind you, I did not do much cherry-picking of these comments. There are slightly less insane (and violence-obsessed) comments further down, but I omitted very few at the top of the comment thread when I visited…the A-Team fanaticism occurs in an avalanche. I'm not debating gun policy here — and I'm not in any way an opponent of responsible private gun ownership, by people of any gender. But none of that is what this is about. It's about rape, remember? It's about women having their behavior dictated by men trying to spread "caution," when what they're really spreading is fear, and a socially enforced lack of agency. The enforcers are male authority figures — not just cops, but any man who feels privileged to explain to a woman why her behavior is responsible for the rape that's about to occur…maybe.  How creepy is that?
The point is that sexual assaults on at least 10 women in Park Slope, Brooklyn, should not be an opportunity for men in Texas, California or wherever to show off the size of their Magnums. The blatant and unapologetic psychosexual weirdness of online gun fanatics is borderline masturbatory at the best of times. Here, in a story about women's safety on the street, in response to 10 actual sexual assaults, the commenters quite frankly hauled out their peckers and started peeing all over each other…not to put too fine a point on it. Does anyone else see the co-opting of female experience in this trend? Does anyone else see a strange inability to see anything other than an excuse to talk as loud as possible…maybe to shut down a discussion that makes the male commenters uncomfortable? I mean…what could be more "comfortable" for a guy from Texas than telling women in New York to STFU, stop whining and buy a gun, and then she won't have to get raped?
In other words…"Honey, if you would just act more like a man…wear pants…carry a gun…then you wouldn't be a victim."
Is that, um, "helpful"? Is that "well-meaning"? Is it less well meaning or more well meaning than telling a woman if she wears shorts she'll be raped?
It's patently offensive for a man to respond to a discussion about rape by lecturing women on any aspect of their behavior — wearing skirts, carrying firearms, or walking home from the gym. The behavior in question is the behavior of the rapist, and a rapist is a criminal.
The fear of sexual crime is a concrete weapon used to beat women down — and specifically to beat down women's sexuality. In Park Slope, organizations like Safe Slope and the Brooklyn Bike Patrol have cropped up to escort women in the affected neighborhood — recognizing that the best tool against all crime, but particularly crime that targets women, is a strong and supportive community.
But the most important message is the same one that swept the country in the wake of offensive comments by another police officer on the other side of the country.
In her August, 2011 article for Acceler8or.com about Slutwalk, Violet said it well enough to bear repeating:
Some people will bristle when I say SlutWalk represents a significant tipping point in cultural evolution. Yes: I think scantily clad girls marching in the streets around the world are agents of change for our species. Maybe that's why its critics are panicking and handwringing as if Invaders From Mars have come out of a time machine from the future in heels and hose, reminding everyone that their face is up here.

(…) It's a mindfuck to wade into that mess, meaning the whole "asking for it" ideology. Being a target is being female, no matter what we wear. And slut-shaming, a relatively new name for an old concept, is the acceptable way of shaming a woman for exploring, owning and expressing her sexuality in whatever way she sees best, most enjoyable, or even most empowering.

[Link.]
I would only add that wearing workout shorts while walking home from the gym is about as far from being slutty as can be. The events in Park Slope only underscore the fact that women are judged for being "slutty" when they're not being slutty at all. They're being women. And for some people, that's just un-fucking-acceptable from the get-go.
The message? "If you weren't a woman, you wouldn't be a target. Your problem, not mine."
Providing prejudicial and misogynistic "cautions" to women on how to avoid sexual assault is nothing more than a way to keep "uppity" women down — "uppity," as in "independent," "fearless," "willing to walk alone," even "willing to walk with other women, rather than a man." There are lots of people out there who don't like women walking alone or together. And others who don't mind women walking alone…but think they should be obligated to act like men in order to do it safely.
That's misogyny, pure and simple, and it has no place in a reasonable society.
Photo from Slutwalk San Francisco by Jenna Pinkham (Flickr user Yakotta).